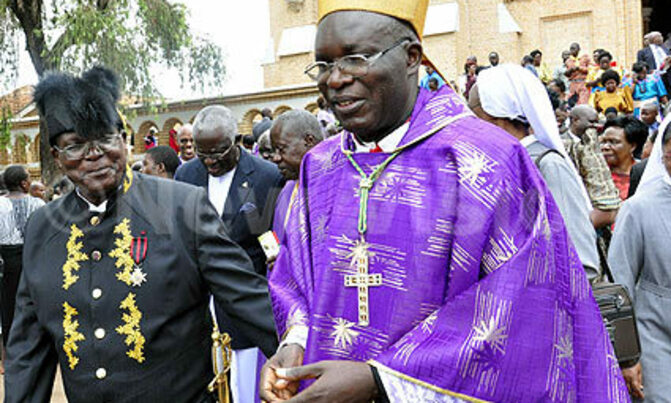 The Catholic Church in Uganda is due to consecrate Christopher Kakooza Katongole as the new bishop of Lugazi diocese.

By Juliet Lukwago           

LUGAZI - The Catholic Church in Uganda is set to consecrate Christopher Kakooza Katongole as the new bishop of Lugazi diocese.

The 62-year-old is the former auxiliary bishop of Kampala Archdiocese and was appointed by Pope Francis to head Lugazi diocese.

Kakooza, who will be installed at Our Lady Queen of Peace Cathedral, Lugazi on Saturday, replaces departing Bishop Mathias Ssekamaanya, 79.

President Yoweri Museveni is expected to grace the function.

The now-retired Bishop Ssekamaanya became the first bishop of the see in November 1996 – installed later on February 23, 1997. He retired on November 4 last year.

His successor was born into a family of six to the late Elia Kaggwa and Serena Nagawa in Kampala.

Kakooza later on attended several primary schools, including Kasubi C/O, Mackay Memorial Primary School Nateete, St James Bbiina and Naggulu Katali Primary School.

After his secondary school studies, he became keen on religious vocation especially priesthood, working, reflection and study.

After his education, Kakooza joined St Mbaaga's Seminary Ggaba, started by Emanuel Cardinal Nsubuga.

"I am happy that I was one of the fourteen pioneers and most of my colleagues are now priests," he says.

Two of those have since died.
 

Bishop Kakooza (right) and the Archbishop of Kampala Dr. Cyprian Lwanga at Rubaga. (Photo credit: Juliet Lukwago)

Kakooza recalls that when they completed their philosophical studies, one of his classmates Ssemwogerere (now bishop of Kasana-Luweero) was sent to the US and him (Kakooza) to Rome to complete their formation to priesthood.

He says: "I was ordained a deacon on July, 3, 1982 in Uganda Martyrs Church Rome. As deacon I returned home and I was appointed to assist at Naggalama Parish."

He was ordained a priest by on June 3, 1983 – Uganda Martyrs Day – at the St Mbaaga's Seminary premises together with seven of his colleagues.

After a leave, which is given to new priests, Kakooza was sent to teach at St Joseph's Seminary Nyenga then later appointed as rector of that seminary, broadening his experience.

In 1992, he was transferred to Nakasongola parish as assistant parish priest where he worked for a couple of months and later appointed parish priest.

The following year, Emmanuel Cardinal Wamala was transferred from Nakasongola to Kamwokya to start a new parish named Holy Trinity Catholic Church Kamwokya. While there, Wamala appointed Kakooza as his Vicar General of Kampala Archdiocese.

After 16 years in priesthood, Pope John Paul II (now saint) appointed Kakooza to be auxiliary bishop of Kampala archdiocese on January 2, 1999.
Lugazi diocese gets new bishop