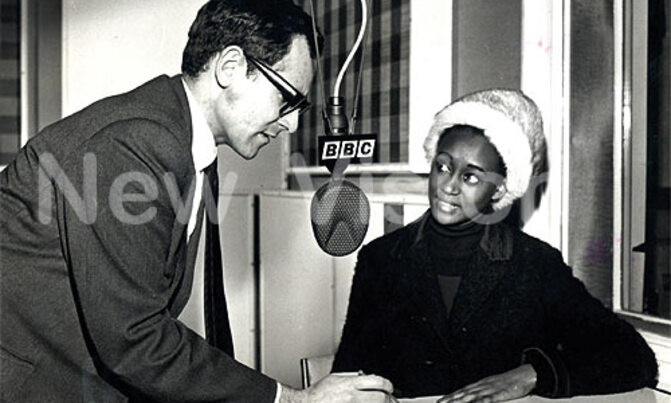 For turning down Idi Amin's advances, Princess Bagaya was sacked as quickly as she had been promoted.
SUNDAY VISION
It was a case of beauty and brains that saw Princess Bagaya rise up the ranks to become a minister. But for turning down Idi Amin's advances, Bagaya was sacked as quickly as she had been promoted. We dig into the archives.
By Carol Natukunda
President Idi Amin liked women. He was the proverbial fisherman who cast his net far and wide to catch good fish. And one of the most sought-after 'fish' of the day was Princess Elizabeth Bagaya.
Bagaya was not just striking physically; she was intelligent and hardworking too. Above all, she was a highly qualified lawyer and well-travelled.

How it started

There was no way she would survive the big man's eye. By 1971, Bagaya was largely known as a roving ambassador and a star model, becoming the cover girl of international fashion magazines.

Bagaya swears in as foregin affairs minister before a visibly attentive then-president Idi Amin.
One day, at a high profile meeting with foreign dignitaries in February 1974, Amin called Bagaya to the podium. To everyone's shock, he announced that he had fired his foreign affairs minister Michael Ondoga, and went on to announce his new minister — Bagaya.

In his book State of Blood, Henry Kyemba, the then health minister, recounts: "I looked across at Ondoga who was sitting not far away. He was clearly shocked and horribly humiliated yet he had no alternative but to clap like everyone else. Amin never told him what he might have done wrong."

It was clear that Ondoga's days were numbered. And true to this, his body was found mutilated at a city mortuary a few days later.

Bagaya opening a YWCA Easter fundraising fair.
As finance minister

Bagaya was in a dilemma. First, her new job was hard, with Amin always acting as if he was his own foreign affairs minister. At the same time, she had to constantly turn down Amin's sexual advances.
He would frequently comment about her looks, or ask her out to dinner. One former minister says because Bagaya was the only female minister, Amin always used this chance to bully her.

"He would repeatedly ask; 'You are the only woman in Cabinet, why don't you join us the boys (male ministers) at a swimming pool," a minister who prefers anonymity says.

Another tale has it that Amin repeatedly told Bagaya: "Have you heard rumours concerning me and you? But I say to them, am I not a man, and is Bagaya not a woman?"

A younger Princess Bagaya opens the landlocked countries conference at Kampala International Conference Centre in 1974.
When all his antics failed, Amin sent one of his blue eyed boys with the message: "If Amin asks you, will you marry him?"

But there was never any answer.
To this, Kyemba says: "He may have appointed her in the hope of winning her affection, but if so, he was disappointed. She was intelligent, brainy and beautiful, which angered Amin further."

In her autobiography, Elizabeth of Toro: The Odyssey of an African Princess, published in 1983, Bagaya also recounts that: "He seems to have felt that he was personally responsible for my achievements, and that marrying me would now be a way of increasing his stature."

A senior army officer, who preferred anonymity, says Bagaya, as an ambassador, was behind the acquiring of the Ugandan Embassy blocks in Rome and New York.

In November 1974, Amin sent her to New York to defend him before the UN General Assembly. Perhaps fearing that she might defect, Amin stood up to speak and praised her greatly even before she delivered the speech. He announced to everyone that she was even more intelligent than the then US secretary of state, Henry Kissinger.

According to Kyemba, Bagaya made an impressive defense of Amin and received an ovation in the Assembly. As if to reward her, Amin promised to bestow upon her a prestigious award.

Here, she poses for a photo with delegates attending the OAU Liberation Committee conference in Kampala.
The fall out

There was never any award. Instead, she was placed under house arrest for a week. Unconfirmed reports say while under house arrest, Amin ordered his boys to shave off her hair, if only to traumatise her.
On being freed, Amin summoned her to Makindye State Lodge.

Bagaya had had enough. She demanded to know why she was being fined sh15,000. Amin was clearly incensed and everyone knew Bagaya was in danger.

A few days after she was released, Bagaya was allowed to attend a cabinet meeting. In between the deliberations, a messenger called her to the president's office.
A few minutes later, she returned, picked her bag and books, and left the meeting without saying a word. Things had turned sour.

Later that day, Amin announced that he had fired Bagaya for embarrassing him. He told his cabinet that while on her way from New York, Bagaya had a sexual escapade with a white man in a bathroom at an airport in Paris. He did not mention who this man was.

"This was both an insult and a deliberate lie, but it was also comically nonsensical. One may, I suppose, have sex anywhere — but a public toilet?" asks Kyemba, adding that they all "laughed to tears" at Amin's absurd action.

Bagaya's dismissal came on November 28, 1974, eight months after she was appointed.

Several people helped her flee the country. On the night of February 8, 1975, Bagaya lay on the back seat of a car and was sneaked to Jinja.
The next afternoon, accompanied by three men and disguised as a "simple village girl", she made for the Kenyan border and walked four miles through the bush and across a river.

In her autobiography, Bagaya says the president's remarks were lies from a man whose advances to marry her met a cold reception.

It was difficult to seek fresh interviews from Bagaya as some of the Toro kingdom royals said she is out of the country.
RELATED STORIES
Masaka mayor was slain for 'betraying' Kabaka
Ofumbi knew too much to stay alive

Amin played Moses Ali against Yusuf Gowon

First Mugisu minister, Wakholi, killed by Amin
Bagaya fired for refusing to marry Amin