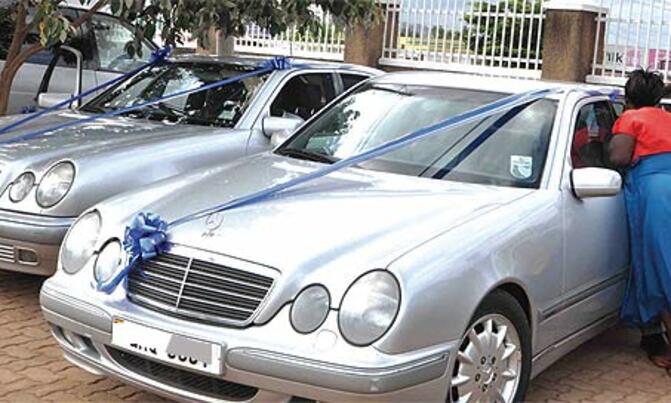 A bride was left stupefied when her husband-to-be was whisked away by police over armed robbery and kidnap.
By Joseph Mutebi and Ronald Mubiru

A bride was left stupefied when her husband-to-be was whisked away by police over armed robbery and kidnap.

The drama was at SDA Church, Najjankumbi on Sunday where family and friends were left astonished as they watched the suspect, Samuel Mutaka, being bundled onto a police pick-up and whisked away.
true
Guests stranded at church after Mutaka was arrested
Mutaka (below left), a shoe trader on Kagujje plaza located on Ring Road is accused together with six others for kidnapping Nicholas Tumusiime and his wife at gun point before ribbing sh15m from them.true

The Kabalagala police criminal investigations boss, Deo Kikomeko, said that on February, 14, 2013 Mutaka purchased airtime from Tumusiime's outlet at Kibuli. Tumusiime was in the company of his wife Sheila Ahimbisibwe.

Later at about 11.00pm, the couple closed their shop. As they stood by the roadside a boda boda stopped infront of them and they agreed to take them to Kireka where they reisde.

However as they approached Kibuli SS, a Toyota Noah, UAQ 888T, rammed into them. Kikomeko said a group of seven men jumped out of the car and bundled Tumusiime and retrieved his wife's handbag which contained sh15m and four handsets. They then drove off with Tumusiime and dumped him in Kololo.

The next morning his wife filed a case of kidnap and armed robbery at Kabalagala police on file number SD/15/ 02/2013. Kikomeko said their investigations commenced at URA where they traced the owner whom the car was registered to.

The vehicle was registered to "Mam Tour and Travel Agency Ltd who revealed that on the fateful day the vehicle had been hired by Mutaka.

When Mutaka's wedding was cut short, he confessed that he had hired the car but had lent it to a friend whom he could not recall.

Mutaka was however singled out from an identification parade by Tumusiime's wife as the man who had bought airtime from their shop that evening, and was among the thugs who had robbed them and he even fired two bullets in the air during the mission.
true
Mukanga was arrested for vandalising a journalist's camera
Kikomeko said investigations are still progressing to arrest Mutaka's accomplices. During the arrest, Mutaka's relatives attempted to block Bukedde photographers from taking pictures and during the melee, Alex Mukanga, who was arrested and whisked to Katwe police station, vandalised a camera.
Bride abandoned at church as groom is arrested