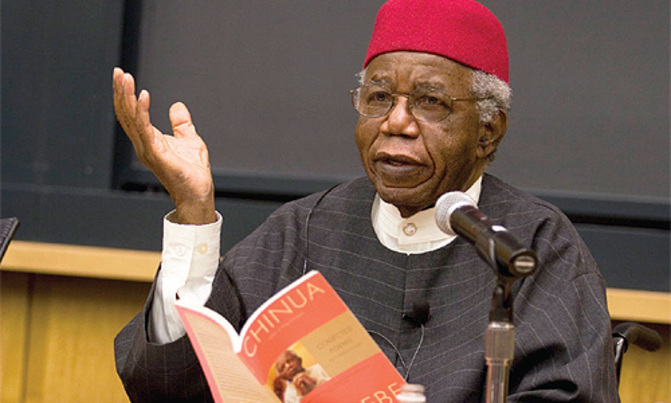 Chinua Achebe remarked in his collection of essays that three reasons for becoming a writer are: the compulsion to tell a story, to render it uniquely and the dedication to the task.
By Austin Bukenya, Okello Ogwang & Susan Kiguli

The name Chinua Achebe is synonymous with his legendary first novel, Things Fall Apart, which has rightfully earned him a stream of accolades, such as Grandfather of Nigerian Literature, Father of African Literature, African Literary Icon and many others.

Things Fall Apart, has made Achebe familiar to countless readers in Africa and the world. For over 50 years the name Achebe has become synonymous, especially in literary circles, with beautiful storytelling and with the question of the ownership of stories.

The news of Achebe's death came to us last Friday afternoon, on March 22, 2013, when we were in the middle of writing the story of a dear departed colleague of our own at Makerere. Even though the news was greatly saddening, it came at a time that we could identify with Achebe, a time of telling a story.
We could almost hear him say: "Finish that story. It is our story. Let the world hear it from us".

Achebe was one writer who believed in his people and their stories. In the books he wrote and the interviews he gave, it was clear that to him, all the mini-stories were important and they should be told because in the end they made the bigger story and formed and defined the image of a people.

Achebe and the writer's goal

When Achebe started writing, it was a defining moment in Africa's history. Things Fall Apart came out in 1958, at a time when African states were on the threshold of independence.
The story Achebe was telling in Things Fall Apart and in his subsequent writing was intricately about colonialism, race, freedom and primarily the question of who speaks for Africans.

trueAt the outset of his writing, Achebe was especially concerned about writing as a duty, something he raised in the much debated idea of the novelist as a teacher, in an essay published in the 1970s. In that essay, he explicitly states that African writers of the time could not be excused from the task of educating African societies on how they should think about themselves.

In writing his stories, Achebe emphasised the importance of shared experiences in Africa, and the crucial importance of belonging somewhere, and of being proud of it.
In this way his writing codified one of the central debates in modern African literature that led to various critics to speak of an Achebe School of Literature.

Achebe's popularity in secondary schools is founded on his love for making characters in his stories deeply involved in the events around them, as a way of understanding themselves, even when that understanding, as in the case of the character Okonkwo, is imperfect and incomplete.

'Achebe' the household name

In the first two decades of independence, readers, and even writers, grew up with Achebe's name and around his stories, the most common being Things Fall Apart and No longer at Ease. Numerous people proudly recite the opening paragraph of Things Fall Apart with ease.

The stories of Achebe's novels are linked to the stories that were told by our grandparents and parents at home; we can recognise the story of the greedy tortoise who named himself 'All of You' in order to eat all the food at the feast prepared for him and his friends, or proverbs like 'If a child washed his hands, he could eat with kings' or a saying like 'looking at the king's mouth, one would never think he sucked at his mother's breast' and so on.

There are moments in Achebe's books that a reader vividly remembers, not because they necessarily teach profound lessons, but simply because they are a wonder to turn over in one's mind, such as the story, in Things Fall Apart, of the man who went to a feast and the mound of fufu was so high that he only saw the person opposite him after the mound was levelled.
Achebe and the manner of his writing

Achebe remarked in his collection of essays titled Home and Exile that there were three reasons for becoming a writer. The first was the compulsion or force to tell a story, the second to render it uniquely, and the third the dedication to the task.
He took these three reasons seriously and expected other writers to reflect upon them.
true
Achebe with his wife Christie Achebe at Brown University in 2010.
Achebe, the African literary icon, rendered his stories uniquely. He was a captivating story-teller who used wit, humour, powerful images and an endless reservoir of proverbs and sayings in a spell-binding way.
From Achebe's books is a string of memorable quotes, for example: "Ours is ours and mine is mine', 'Living fire begets cold impotent ash', 'The drummers took up their sticks and the air shivered and grew tense like a tightened bow', That man was one of the greatest men in Umuofia. You drove him to kill himself; and now he will be buried like a dog…"

The poet, editor and essayist

The African Writers' Series, which was crystallised at the historic conference of African writers at Makerere University in 1962, had Achebe as its editor for a long time.
Thus Chinua Achebe is a byword in the making of who is who in written African Literature.

Perhaps not always remembered is Achebe the poet, essayist and critic. Not many would even remember that he won the Commonwealth Poetry Prize for his collection of poems Beware, Soul Brother.
His essays have shaped many key debates in African literature and are known for their wit. In the essay, Named for Victoria Queen of England, he explains that the dropping of his name Albert was the one thing that he and Queen Victoria had in common.
They both lost their Alberts.

In his last memoir titled, There was a Country, he tells of his memory of the Biafran war and this reminds us of Achebe's role as a short-lived envoy of Biafra. It is not necessary to delve into the merits and demerits of that painful episode in Nigerian history.
Suffice it to say that for Achebe, it was part of his and many others' expression of what they thought was wrong with their country.

Achebe as an outstanding writer won many prizes and was awarded many honorary doctorates. Memorably in 2007, when he won the Man Booker Prize International, he was asked by a BBC reporter what he would do with the prize money, and he answered in a laid back manner: "I am going to paint this town red".
Nothing can beat Achebe's wit, humour and his knack for words.

Achebe and Uganda

Achebe had his links with Uganda, and in fact he visited this country in 1962, 1968 and 1974, besides his permanent 'residence' in the hearts of the hordes of Ugandan who loved his books.

Achebe is physically gone but he leaves an indelible record. Future generations have a lot to learn from this larger than life literary figure.
Achebe concretised the importance of telling one's story and life literary figure. Achebe concretised the importance of telling one's story and emphasised this as the most important component of African self-identity.
Chinua Achebe: The man and the story