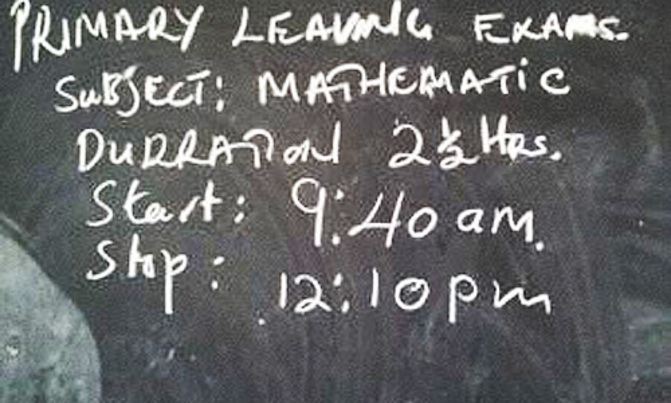 In Uganda, there are many of changes that can be introduced at zero cost to the Government or its agencies but with positive impact on the culture of doing things.
trueBy Thomas Ddumba
In Uganda, there are many of changes that can be introduced at zero cost to the Government or its agencies but with positive impact on the culture of doing things.

Earlier this Month, primary seven (P7) pupils sat for their Primary Leaving Exams (PLE) and as usual every year, the exams got wide coverage in the print, broadcast and social media (Twitter in particular). This time round, I did not join in the usual twitter banter but the picture below caught my attention - not for its grammatical mistake but of something else…

12 year olds were sitting for a mathematics examination lasting two hours and thirty minutes! The
Uganda National Examinations Board (UNEB) ought to rethink the duration of these exams relative to crafting a creative and competitive mindset in children.

The duration of class lessons should be a good yard stick to measure concentration levels. In Uganda, primary class lessons last under one hour. However, Finland, a country that leads at proficiency in literacy and numeracy according to a major study by the Organisation for Economic Co-operation and Development (OECD), values recess during class lessons.

Finnish school pupils enjoy playful break times of ten minutes after rigorous academic time of 30-45 minutes thereby maximizing their attention and more general cognitive performance across their life span.

Early this year, we were left baffled by news of Ministers and MPs sleeping through important speeches. This sparked criticism on their performance but it further showed that adults too, struggle to be attentive for two hours or more so having primary pupils sit down for such long hours is not fair to them.

During PLE exams, some pupils often finish well before set time, wait for the invigilators to collect scripts. Weak or strong exam candidates, time should always be of the essence and a pupil should leave the exam room having carried out a challenging task that forms part of his end of primary school time and a preparation for secondary school.

Besides testing application of knowledge and skills, exams should be testing a child's ability to put his ideas across clearly and concisely together with his ability to follow instructions, planning well for the set time.
In this year's, PLE math exam, the second question on the paper set, required children to write 99,040 in words. In my view, literacy and numeracy go hand in hand and if one is able to read numbers by looking at figures, they should certainly be able to write them out without further ado.

With such questions, one size does not fit all as the system fails to cater for pupils who are more able in mathematics and likely to exceed the standards and it also depicts gaps in knowledge and learning at primary level.

Few, challenging questions instead of many cheap questions should form part of an exam. I am of a view that one hour should be enough to test a child's math capability meaning that UNEB ought to turn the clock backwards for PLE exams to get school children off the ground.

Laziness is crafted in a system where too much time is given to finish a simple task. We need a population of creative mindsets that can think quickly on their feet from an early age.

There is need to bring back joy into education and this can only be achieved if the learning assessment is also challenging, engaging and a worthwhile process.

High literacy and numeracy skills would mean that our children are equipped to compete in the global economic race that is strongly linked to educational performance hence bringing in economic and social rewards to Uganda.
 
UNEB, on PLE exams, lets turn the clock backwards and get school kids off the ground!