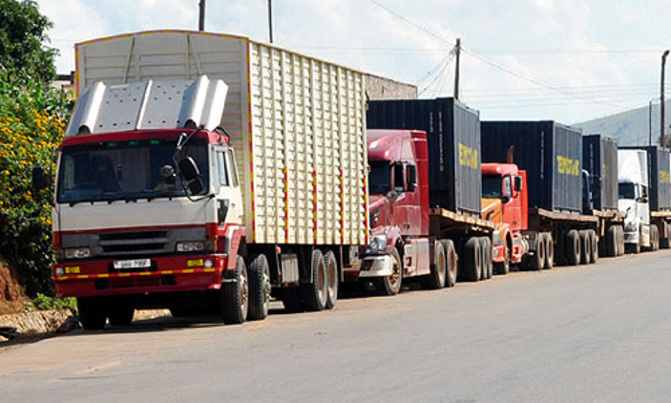 In Gulu Industrial Area, Lacor trading centre and Atiak at the Uganda-South Sudan border are the hotspots for commercial sex trade.

trueMore than 30 years after HIV/ AIDS was first detected in Uganda, risky sexual behaviours are still rampant, threatening to increase HIV infections again. As the world marks the World AIDS Day on Monday – December 1 – New Vision highlights some of the trouble spots, with particular emphasis on the trade routes used by long-distance truck drivers. Bonney Odongo and Frederick Turyakira explore the northern and western routes.

In Gulu Industrial Area, Lacor trading centre and Atiak at the Uganda-South Sudan border are the hotspots for commercial sex trade.

In Lango, the most common stopovers with risky lifestyles include Amach Market, Kitgum stage, Juba Road, Uhuru Bar and cosmopolitan Kamdini town in Oyam.

Who is involved?

Residents of Lacor and Atiak trading centres say most of the sex workers are divorced housewives, barmaids, former camp dwellers, school dropouts and students on holiday.

The clients for sex workers are the unemployed semi-illiterate, youth and visitors; mostly long-distance truck drivers from Uganda's neighbouring nations en route to South Sudan.

Ventorina Okot, a retired teacher who runs a guest house in Lacor, says some of the sex workers are girls as young as 13.

"Sometimes when they come with young girls, I send them away and threaten to call the Police," Okot says.

Tony Onen, a bodaboda rider at Atiak trading centre, says many of the truck drivers are afraid of taking young girls to guest houses.

As a result, they have sex in their vehicles. "They sleep with them in their trucks until the wee hours of the morning," Onen says.

Lira another hotbed
 
true

In Lira the situation is more worrying as the notable stopovers are now happening night spots.

At Kitgum stage, Uhuru Bar and Blue Corner on Juba Road, one cannot miss the long queue of heavy vehicles parked along the road and young women talking to occupants inside.

"When you see them talking to a person inside the vehicle, it is obvious that they are negotiating with either a turn boy or the driver for sex," says Dick Ocen, who owns a metal fabricating workshop on Juba Road.

Ocen says there are makeshift lodges that charge between sh8,000 and sh10,000 depending on the time to be spent together.

The Lira district HIV/AIDS focal person, Ben Okao, says irresponsible sexual behaviour along the trade routes in Lira has made the HIV prevalence in those areas high.

He cites Juba Road as one of the hotbeds where commercial sex is flourishing.

Kitgum

In Kitgum, sex workers have devised a way of meeting the demand for low-income earners who cannot afford sh10,000.

"Low-income sex buyers form a group and each of them contributes sh1,000. Each man is allowed two minutes only with a prostitute," Okao says.

Such clientele includes turn boys, car washers and drug addicts. One cannot help but wonder if the sex workers are not bothered about contracting sexually transmitted diseases, especially HIV.

Okao says many people are no longer afraid of HIV because they have seen others who have lived with it for so long. On top of that, there is a high rate of alcohol consumption, which corrupts people's judgment.

Also, the impoverished nature of sex workers makes them engage in extreme behaviour just to put food on the table.

What local authorities say

The LC3 chairperson for Ojwina division, Lira municipality, says the commercial sex trade is getting out of hand. Recently, the division was declared as having the highest prevalence of tuberculosis. This, he says, could also mean that there are many people infected with HIV/AIDS.

George Mawa, a councillor representing Bar Ogole parish, Ojwina division in Lira, says the district should come out with a by-law regulating people's behaviour.

The western route
true

For the sex workers in western Uganda, their client base does not stop at the truck drivers. They also target road construction workers, traders dealing in produce, workers on flower farms, miners and brick layers.

Along the Mbarara-Ntungamo- Kabale highway in the developing commercial centres, truckers and businesspersons patronize lodges, bars and nightclubs. Just like in Gulu and Lira, in the west, alcohol is a major component of the trade.

Loud music pounds out of the bars and alcohol flows endlessly. At 8:00pm, the truckers, produce dealers and bodaboda men converge in the bars.

In Kakoba

 In Kijungu, a slum in Kakoba division, Mbarara town, Miria who is in her 30s, says she is a bar attendant, but moonlights as a sex worker.

After being offered alcohol, she loosens up.

Miria got into commercial sex after separating with her husband and says she has been in the business for two years. She meets her clients after working at the bar.

She earns between sh5,000 and sh10,000 per client, and serves an average of five clients a night, taking home between sh25,000 and sh40,000 daily, which caters for rent and school fees for her two children.

Miria says she would like to abandon commercial sex work, but she does not know where else she will get money for rent and fees.

High prevalence

Umar Masereka, the Mbarara district HIV/AIDS focal person, says the HIV prevalence is high in western Uganda because it neighbours DR Congo, Rwanda and Tanzania.

This, he says, allows for the concentration of trade that in turn boosts development, and with these come vices like prostitution.

Masereka says many people who engage with commercial sex workers opt for unprotected sex. He, however, says, they are making little headway with more sensitization being carried out and recruitment of peer groups among sexual workers.

Peace Kiconco, a counselor and peer educator, says the district has made interventions by recruiting truck drivers and sex workers under the umbrella of Most at Risk Population (MARPS) who sensitize the community on HIV testing, counseling and condom use.

"We have trained 14 drivers and 10 sex workers as peer educators to distribute condoms in over 30 lodges," says Kiconco.

Dr. Francis Twesigye, the district HIV focal person, says: "Apart from distributing condoms, peer educators have been equipped with knowledge and carry out moonlight voluntary testing in rooms and refer a client who tests positive to health centres offering ARVs."

Martin Atuhaire, the chairperson for the Truck Drivers Association in Katuna, who is also a peer educator, says the drivers formed an association to unite them in the fight against HIV because many of their colleagues were dying silently without seeking treatment.
 
true
Trucks parked in Rubaare town in western Uganda

Atuhaire, a truck driver plying the Kenya, Uganda, Kigali, Burundi and DRC route, says it is hard to resist the temptation to pay for a sex workers' services.

He explains that they might resist at first, but finally give in after two weeks away from their wives. He reveals that some drivers who are HIV-positive do not adhere to treatment because the side effects of the drugs may put them out of work for some time.

Girls from Rwanda invade

However, the problem is more intricate because the sex workers move across the Uganda-DRC-Rwanda borders.

In some of the bars, one is welcomed by good-looking girls speaking Kinyarwanda. Many of the sex workers are also the bar owners, and recruit beautiful bar attendants to attract clients.

At about 2:00am, such bars seem to be a favourite for truck drivers as they constantly stream in and out. Jennifer, who is in her 20s, works in one of the bars.

She says she has been in the business for two years after her friends from Rwanda living in Mbarara recruited her.

Jennifer supplements her bar earnings with sex work and charges between sh10,000 and 15,000 for an hour if the client hires a hotel room and between sh20,000 and 25,000 when she hosts a client in her room.

The district authorities have now stretched their intervention as far as the border town of Katuna, an entry point into Rwanda. In Katuna, the commercial sex trade is more widely spread and sex workers are as young as 14.

In the evenings, they emerge from the wooden kiosks and makeshift restaurants and go on the hunt for clients.

One of the girls, Sheilah Abwooli, says she got into the commercial sex trade to get money to enable her pay school fees for her brother who is in secondary school. She charges sh5,000 if a client takes her to his hotel room and sh10,000 if she hosts him.

Moses Nuwagaba, the deputy resident district commissioner for Kabale, attributes the increasing rates of HIV infection to prostitution and appeals to the Government to outlaw them.

Despite the numerous interventions by authorities across the country, many truck drivers across the country say sex using a condom is less enjoyable.

So, the sex workers are caught between a rock and a hard place — to shoulder the risk in order to put food on the table or to live a life of destitution. At the end of the day, they take AIDS as an occupational hazard; something they have to inevitably live with.

Attitude: caution is thrown out

Most of the girls in Lira and Gulu admit to engaging in sex after taking alcohol, as one lady of the night who operates on Juba Road in Lira testified.

"One time, I woke up in the morning and realized that I had slept with a certain man. I did not know whether he had used a condom or not," she said.

Another sex worker at Kitgum stage says if you talk to a client about HIV, most of them will say they do not have time for HIV testing and counseling.

Some of the girls say they are willing to leave sex work and try their hand at other income-generating activities. However, the NGOs which train them with business skills do not give them start-up capital, which keeps them in the vicious cycle. 

trueIntervention: peer educators leading the fight

Precious Asiimwe (left), a mother of two and a peer educator with the Straight Talk Foundation, has lived in Katuna for over eight years. She says girls between the ages of 14 and 18 are lured into the business due to poverty.

The other age group between 25 and 50 come from other districts and Rwanda.

Those from Rwanda are said to come here for sex trade on the Ugandan side (Katuna and Rubaare) because of the strict laws in their country Asiimwe says the connection between the trade routes, commercial sex and HIV/AIDS is that many truck drivers opt to have unprotected sex.

"We offer them counselling and testing services and distribute free condoms. Those found positive are referred to Kamuganguzi Health Centre III for treatment," Asiimwe says.

 Research

Dr. Peter Waiswa, a researcher with Makerere University School of Public Health (MUSPH), says that a fouryear study funded by World Bank and the United Nations Population Fund, confirmed a high HIV prevalence among commercial sex workers.

"The study that started in 2007 and ended in 2011 showed that four sex workers out of 10 are most likely to have HIV/AIDS, implying a prevalence rate of almost 37% within the group," Waiswa says.

Meanwhile, a recent Ministry of Health AIDS indicator survey puts the prevalence rate among women of reproductive age at 8.2%.

Waiswa believes the HIV/ AIDS and STD prevalence rate is high among the truck drivers because of tendency to have multiple sexual partners, who they usually sleep with under the influence of alcohol.


Also related to this story

From Busia to Lugazi, HIV trails the trucks
Trading HIV across the different borders