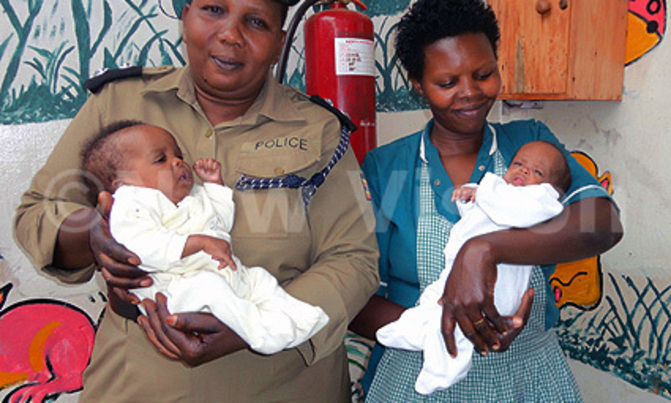 Health reports indicate that more than 6,000 women die every year due to pregnancy or childbirth-related problems.

By Gladys Kalibbala

KAMPALA - Health reports indicate that more than 6,000 women die every year due to pregnancy or childbirth-related problems in Uganda, while many others suffer disabilities or lose their babies.

Over 90% of pregnant women make at least one out of the four recommended antenatal visits but unfortunately only 40% go back to these health facilities to deliver.

About 60% are believed to deliver away from skilled health workers, ending up with Traditional Birth Attendants (TBAs) or relatives who are not skilled.

Reports from the ministry of health indicate that only a handful of TBAs can detect a problem early enough.

This was the case last year with Alice, a Karamojong woman living in Kisenyi, a slum area in Kampala. She was helped to deliver by a Karimojong TBA commonly known as Ssenga among the Karamojong community in Kisenyi.

After delivering a healthy baby, Alice continued to bleed profusely. This led the TBA to suspect it was the cause of the placenta which had delayed to come out.

"She inserted her hand inside my womb to pull it out and instead it was a second baby that came out!" explains Alice. She had carried twins.

Unfortunately this boy was weak and had difficulties in breathing, yet, this did not compel them to take the baby to hospital for medical care.

Meanwhile Alice who depended on local herbs for treatment was still bleeding and had no money to cater for her needs. The twins' father from Teso abandoned her when she conceived. Alice resorted to their Karamojong housing units where they sleep in big numbers and pay per night.

A friend to Agnes called Moru offered to help her by 'hiring' the twins who were barely a week old to beg on Kampala streets with. Begging while carrying the babies would earn her sympathy from the people of the streets.

Moru promised she would get her sh20,000 per day. To draw sympathy easily, she took the babies naked to the street.
 
true
Moru was arrested for begging with babies on the streets

By the time a Good Samaritan alerted police about this irresponsible act, she had collected sh87,000 by 11am local time (EAT). While others gathered around the twins and contributed money along Namirembe road, this one teacher got concerned over the twins' health.

So she cautiously planned ways of taking this woman off the street.

"I asked her to follow me inside a shop where I bought them clothes and dressed them," she says.

She later convinced her to go with her for more clothes and headed towards a police booth near the Old Taxi Park where she alerted police. Moru was arrested and taken to Old Kampala Police Station while the babies were rushed to Sanyu Babies Home along Namirembe road.

The twins' mother, accompanied by many Karamojong women, stormed the police station the following morning demanding for their kids and the release of Moru.

After three days under police custody, Moru was released but the babies remained at Sanyu Babies Home as they were very weak. Their mother was allowed to check on them once in a while but she always demanded for money for her upkeep whenever she showed up at the babies' refuge.

Sadly, one of the twins [Kato] later died and according to a doctor, he was exposed to the cold weather at a wrong time. In fact, it had rained the day police rescued them.

Moru arrested again
 
true
Agnes Moru arrested at Old Kampala Police

Early this year Moru was again after being found begging while breastfeeding two babies around a supermarket near the Old Taxi Park at about 10pm local time.

The local police handed her over to Old Kampala Police and the babies taken to Watoto Babies Home.

Again, a group of Karamojong women invaded the police station with one claiming to be the mother of the babies. It was never known how much Moru had collected by the time of her arrest – thugs made off with the plastic bag in which she kept the money as she faced off with police.

Moru, is one of scores of Karamojong people of all age and gender that stroll the streets of Kampala to beg from passersby and motorists.

It is understood that many children from Karamoja are hired out from three sub-counties known as Lokopo, Matany and Iriiri.

New Vision talked to some official people about the possibilities of mothers losing rights over their children. Here are their responses.

Rebecca Araba, the in-charge child and family protection unit (Old Kampala Police)

Any woman who has nurtured her pregnancy till the date of birth under normal circumstances and breast fed for some few days will always be attached to her baby. Attachment is the key a mother has to her child throughout a child's lifetime. The degree of attachment will be seen in a mother's action to protect the child from all dangers like disease, hunger, education, shelter, good morals, etc. Even when a child has misbehaved, she corrects him or her with love. The punishment is proportionate to the mistake done in line with the child's age.
 
true
Two children who were rescued from a Karamojong woman by Police and  kept at Watoto Children's home

Most of the women – my clients in office – who violate the rights of their children are pushed to the wall. Others were victims of sexual abuse, cohabiting or forced marriages, and they take their anger on innocent children. Unfortunately, most of them do not seek counseling and guidance from relatives, L.C. women representatives, elderly persons in the community or friends – who are sincere in the advice they give – and instead they end up being misled.  Failure to open up when you are stressed can lead to abandoning a child.

In the case of the Karimojong women, they discovered that in Buganda [region] twins are highly respected with a lot of superstitions surrounding them. It is a loophole they exploit and if you observe carefully, they like begging carrying fake 'twins' (like, carrying two babies who are not twins, and pretend they are twins).  On the other hand, it is business for them. Just like some Ugandans go to the UK or Dubai for kyeyo, the Karamojong come to Kampala.

Some women are aware that someone is going to pick the child they abandon and take to police. They keep monitoring where the child has been taken and after a few days or weeks, they report to our office begging for forgiveness or to take any punishment including prison so long as at the end of it all, she is gets back her child. 
 
true
The director of Sanyu Babies' Home, Barbara Mutagubya shows the surviving Karamojong twin 

The most interesting part is that we have not registered cases involving women with special needs (disabilities) violating their children's rights. However, we have registered a few who have come to register cases of neglect to provide basic necessities to their children by the (able) fathers. We give them our best because they really love their children and the children are disabled.

Most women who abandon their babies at birth are students and commercial sex workers. They have tried to abort but only failed. Hence, she rejects the child before giving birth. You will never reunite her with the child even if you traced for her. We have those cases and it is through social workers like Idah Nkinzi (formerly of Sanyu Babies' Home and now director at Peace Transitional Home) that we can reach them. Such mothers are not ready to nurture children. For the students or young mothers, they don't know the meaning of motherhood. 

Losing rights of a child by a mother should only be when she has committed a capital offence (proved murder, aggravated robbery, treason) because she will take long in prison. Someone has to take her role as a mother in the life of the child. Secondly, mental disorder and the life of the child will be endangered if the child is left with her. But with other offences, she can reform through counseling by a professional counselor.

I don't support the idea of taking a child from a mother and the custody given to the father because on grounds that she, the mother, is financially not stable.
******************

Kushemererwa Carolyne, the regional child and family protection officer, Kampala Metropolitan Police North
 
true
Carolyne Kushemererwa at Kawempe Police with an abandoned child

Any decision taken should be in the best interest of the child. The Children's Act Cap 59 stipulates the guiding principles to be followed while making decisions in cases that involve children. And it mentions the welfare principle and children rights to be the guiding principles in such decisions.

The authority is supposed to determine what is in the best interest of the child so that the decision being taken does not violate any rights of the child in question and that the child's needs are well catered for in the decisions made.

The mother has full rights of being with the baby until the child is 18 years of age – when he or she is an adult and can decide for himself or herself – but the father has full rights over the child too. The Children's Act Section 5 clearly spells out that it is the duty of the parent or person having the child to maintain it to be able to give its full rights like the right to education and guidance, immunization, adequate diet, clothing, shelter and medical attention, as well as protect the child from discrimination, violence, abuse and neglect.

Where the competent authority determines, in accordance with the laws and procedures that it is in the best interest of the child to separate him or her from the parents or parent, then the best alternative available is provided. However it implies that the same rights can be denied of children if such a denial is considered to be in their interest.

Note: The complexity of the meaningful interpreting of what is in the best interest of the child, with lack of clarity of what the best interest of the child entails, has greatly caused a challenge and children end up being denied their rights."
***************

truePeter Bahemuka, senior program officer, Media at Raising Voices

It is universal truth. All over the world, a mother has traditionally been viewed as the best caregiver for her child or children. This is the case socially, morally, and legally. The mother-child bond has been culturally accepted all over the world. A child's attachment to the mother has been seen as healthy in the early nurturing of the child.

Raising and nurturing children takes a lot of energy, care, attention, time, devotion, patience and love – attributes that mothers naturally have.

In most Ugandan households, mothers are most responsible for caring for the children's basic needs. They are most involved in the children's daily lives. They are the primary caregivers. They put in the time to feed, bathe, clothe, and do homework with the children. All this is in the best interests of the children.

The Children Act 1997 is the main Ugandan law that provides for the care, protection and maintenance of children. Article 4(1) provides that, "A child is entitled to live with his or her parents or guardians." Furthermore, Article 6(1) states that, "Every parent shall have parental responsibility for his or her child."

Although mothers have traditionally been viewed as the best caregiver for their children, this can change when certain things are not right with them [mothers]. This can happen due to abuse and neglect.

A mother can lose custody of children if she does not protect them or take steps to protect them from abuse.

Article 5(1) of The Children Act states in part that, "It shall be the duty of a parent, guardian or any person having custody of a child to maintain that child".

It states further, "Any person having custody of a child shall protect the child from discrimination, violence, abuse and neglect."
 
true
Moru and her friend breastfeed their babies who had been kept at Watoto Babies' Home

In the case at hand, if police find evidence that the mother did not protect her children from abuse and/or neglected them by 'lending' them to her 'friend' they can file for legal measures to protect the children. These include care or supervision orders, which are granted by the Family and Children Court to benefit the children. This court has power to hear and determine applications relating to child care and protection.

Article 19 provides for supervision orders and care orders. "On the application of probation and social welfare officer or an authorized person, the family and children court may make"

(a)    "a supervision or interim supervision order placing a child under the supervision of a probation and social welfare officer while leaving the child in the custody of his or her parents or relatives."

(b)   "a care order or interim care order, placing a child in the care of the warden of an approved home or with an approved foster parent in accordance with the Foster Care Placement Rules provided by the Act." 

Article 21 gives grounds for making a supervision or care order. "A family and children court may only make an order under this Part, if it is satisfied that"

(a)    "the child concerned is suffering or is likely to suffer significant harm; and"

(b)   "that the harm, or probability of harm, is attributable to"

(i)      "the care given to the child, or likely to be given to the child if the order were not made, not being what it would be reasonable to expect a parent to give to a child; or"

(ii)                "the child's being beyond parental control.
 
true
The writer shares a moment Moru and her friend after they received their babies from Watoto Babies' Home

Abuse can be physical, sexual, emotional or economic. If the mother does not take active steps to protect her children, she can permanently lose parental rights to her children.

In other systems, children whose mothers abuse substances – including both alcohol and drugs – are more likely to be removed from the home. It is critical for a mother to consistently act with good judgment and self-control.

A parent who regularly loses control, and who cannot control his or her anger will be at a disadvantage.

A critical question asked is: Does the mother have any mental health problems that could hinder her ability to care for the children?

If a mother is serious about protecting her children, then she must exhibit self-control and put her children's needs first. 
When should a mother lose rights over her child?