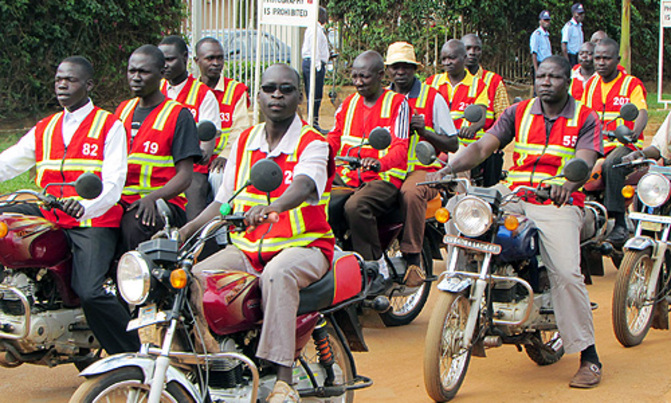 Motorcyclists in Gulu that have been trained to be First Aiders have expressed fears of contracting HIV because of the absence of First Aid kits.

By Jackson Kitara

Motorcyclists in Gulu that have been trained to be First Aiders have expressed fears of contracting HIV because of the absence of First Aid kits.

One of them told of how he used a polythene bag as a makeshift glove to save an accident victim.

Sam Opiyo, a motorcyclist (boda boda rider) from the Cuk Pa Oweka stage, said he is sometimes hesitant to offer immediate help to victims of road accidents.

"Sometimes, I hesitate to give first aid to accident victims because I do not have protective gear like gloves especially when the accident is bloody. I was recently forced to wear a white polythene paper as gloves in order to save an accident victim," he said.

Others said they use their bare hands while giving First Aid to such victims, despite the risks they are exposed to.

In other instances, some look on as helpless victims of road carnages die away – because they fear contracting HIV, especially when the scenes are bloody.

These were revelations from motorcyclists who had just completed training in defensive rising and First Aid in Gulu.

During the event of awarding 170 of them with certificates, Opiyo appealed to the Uganda Red Cross Society to provide them with First Aid kits like hand gloves, cotton wool, iodine, bandages, painkillers to enable them offer prompt assistance to accident victims.
 
true
Fresh from training, the motorcyclists were awarded with certificates. PHOTO/Jackson Kitara

In response, the Uganda Red Cross Society branch chairperson board of governors, Basil Odong Piny pledged to support the bodaboda riders.

But he admitted that they currently do not have enough funds to purchase the kits, saying that is because the America Red Cross has stopped supporting them.

"It is not very difficult to get gloves when you are in a group. You can go to the hospital and get gloves that you can use. Gloves are here, even in health centres. Let's start off with that," he advised.

Odong Piny however cautioned the riders against misusing the safety reflector jackets they were given.

"These reflector jackets are not like any other jackets that you can hang there and any other boda boda rider can pick and wear. Don't give it to whoever has not been trained."

Deo Mukii, the cluster manager of Uganda Red Cross Society Gulu branches said they have trained the 170 motorcyclists on First Aid, defensive riding and road rules.

This was part of an urban disaster risk reduction pilot project that the Society implemented to respond to road accidents and defensive riding.

"We have selected boda bodas because they are inexperienced – most of them did not go to driving school and do not a have a permit," he said.

"We linked them with Face Technologies, Inspector of Vehicles (IOV), paid for their learners' permit from Uganda Revenue Authority and took them for test with IOV so that they acquire permits."

Julie Arish, the country representative American Red Cross, said Uganda loses a lot of money into dealing with road accidents, and called on the motorcyclists to be very cautious on the road.
Fearful motorcyclists use polythene bags to save accident victims