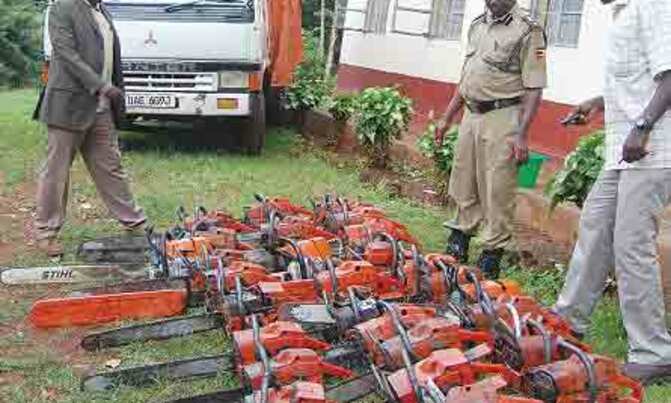 While on a visit to Bweramule, Rwebisengo in Ntoroko district early last year, a youthful man sprung from his watchtower nestled under a tree shade.
While on a visit to Bweramule, Rwebisengo in Ntoroko district early last year, a youthful man sprung from his watchtower nestled under a tree shade.
Pacing fast, as if he had springs in his legs, he accosted me with a barrage of questions, one after another, without giving me a chance to answer: "Why are you taking those photographs? And where are you taking them?"
I had landed on a huge consignment of timber in the district bordering DR Congo that had a huge signpost 'for construction of Rwebisengo community hall'.
I ignored the man because I was in the company of Government officials, who were waiting for me nearby.
But his questions unsettled my mind. Why would an unarmed photographer scare anyone? Was this a cover-up for illegal timber trade?
Two months ago, I returned to Ntoroko, where I discovered that after the construction of Rwebisengo Community Hall, a lot more timber was ferried in from DR Congo and that the sign post, 'for construction of Rwebisengo Community hall' was used as a cover-up for the illegal trade.
Every day, tonnes of timber are ferried to Ntoroko from DR Congo, across River Semliki. The dealers either pay lower taxes or smuggle it into the country, according to residents. This has been confirmed by a new report, Timber movement and trade in eastern DR Congo and destination markets in the region, which stated that 80% of the timber trade in Uganda was illegal.
The report, released by the Worldwide Fund for Nature (WWF), also confirmed that Rwebisengo was one of the routes used for transporting illegal timber into Uganda.
It also named Bunagana, Mpondwe, Busunga, Ntoroko at the lower part of the Uganda-DR Congo border as points through which the illegal timber moves. Further up on the West Nile border, the report named Goli, Paidha, Vurra, Lia, Odramachako and Oraba. 
The main exit points for timber destined to Kenya are Busia and Malaba in eastern Uganda. 
The investors in timber are unable to compete with smugglers, which forces them to close shop. But Dennis Semugala, a dealer in Kampala, has vowed to jump onto the wagon of illegally sawn timber. "I have to survive," he said. He added that timber from DR Congo was becoming the most traded in on the local market.
But Semugala is not the only one who has taken an alternative path to survive. Government employees, including magistrates and intelligence officers sent to rural areas, are discovering the potential in timber trade.
How timber trade is organised
In Congolese speak, 'there is nothing like illegal logging'. Local chiefs in villages issue 'permits', contrary to the country's laws. This is accepted by residents who are loyal to the chiefs.
At Rumangabo in eastern DR Congo, for example, a guide pointed out that authority of the DR Congo government was still absent.
The chiefs, the guide said, get $100 or $200 and beer to give artisanal permits, otherwise meant for Congolese artisanal miners.

Impounded timber at the National Forestry Authority headquarters in Bugolobi, Kampala
Ugandans used to go into DR Congo, but now remain at the border and send money to pay the Congolese chiefs. They also work with allies across the border, who carry the chain power saws, fuel and transport the timber at a commission. The Ugandan timber dealers then hire trucks to transport the timber to Kampala and sometimes to Nairobi or Mombasa for export to China.
At the border, the timber is cleared, but the dealers under-declare the volumes. This is because the customs officers are either not technically competent in forestry matters or are let down by the documents written in French.
The dealers who cross at non-gazetted points do not pay taxes and if intercepted, they claim the timber is from Uganda. It is alleged that they sometimes use names of high profile people to gain immunity from prosecution.
Another report, Timber Trade in Africa's Great Lakes: The road from Beni, DRC to Kampala, Uganda by Romy Chevallier and Mari-Luse du Preez, says the farther a place is from DR COngo, the higher the price of wood. For instance in Kampala, a cubic metre of mahogany costs about $595, whereas in Nairobi, it goes for $672.
Who loses, who gains?           
A few people dealing in timber are currently benefiting at the expense of the masses, according to WWF. But the timber dealers in the long term will also lose out.
"We are losers because the Government does not collect enough revenue worth ploughing back into forestry-related ventures," says David Duli, the country director of WWF-Uganda. He says the country loses sh23b annually through illegal timber trade.
Duli explains: "Everybody loses in illegal trade. This is because the resource is not managed well, since it is no one's business. The destructive extraction of timber leads to loss of livelihood. The timber dealers, too, would eventually lose business because of the dwindling trees."
Duli is sounding a calamity alarm of loss of livelihoods and catchment areas to water bodies. The East African region and the Albertine rift, collectively referred to as the Great Lakes Region, benefit from the chain of forests that act as catchment areas.  He says the Virunga, where timber is extracted, is an international heritage site, housing 800 mountain gorillas. 
He also warns of increased insecurity arising out of poorly governed natural resources.
"Many illegal timber dealers are thugs. They exchange fire with the rangers. Why should people spill blood over timber?" wonders Duli.
A source, who fled the armed conflict in the eastern DR Congo, told Saturday Vision that the local people in Congo do not know what they are losing.
"Ugandan businessmen give them peanuts and machines to cut down their forest," he said, adding that it is like giving a rope to a drunkard to hang himself.
In addition to the businessmen, freelance gunmen, calling themselves rebels, are stealing the wealth of DR Congo, including timber, according to a Congolese refugee. One of the trees affected most is the mahogany, which takes about 100 years to mature.
He says about 20% of the forest in Bukavu, South Kivu, where they have been operating in the last five years, has suffered deforestation. "The greenery is disappearing."
E. African countries losing huge forest cover

East African states have put in place policies which send a signal that there is a problem of timber scarcity. However, they have not worked together to promote sustainable use of the resource.
For instance, Kenya, in 1986, imposed a ban on felling trees in its natural forests. As a result, it had to rely on resources from her neighbours as its plantations recover.
In 1989, Uganda imposed a ban on timber exports, but has still lost her forest cover faster than any other country in the region. The loss is currently estimated at 92,000 hectares per annum. Because of inadequate enforcement, timber and charcoal from Uganda are exported to Kenya, South Sudan and Rwanda.
Uganda's construction industry, growing at 10% annually, consequently creates a high demand for timber. It is turning to her western neighbour DR Congo to supply the raw materials. Every year, DR Congo loses about 400,000 hectares of forest. A recent report by the World Resources Institute indicates that DR Congo has 156 million hectares of forest and the loss of forest cover between 2005 and 2010 was about two million hectares.
Uganda is losing more forest cover than it is gaining, meaning it is not growing enough to provide for future needs and it is going to remain dependent on its neighbours for timber. This will put a strain on the economy since timber is likely to become expensive with a peaceful DR Congo.
Kenya is currently the largest importer of mahogany from DR Congo, estimated at 32,100 cubic metres, followed by South Sudan at 10,750 cubic metres.
Uganda imports 8,320 cubic metres, Rwanda's is 7,000 cubic metres, while Burundi trails with 1,100. This is sending a signal that timber trade in East Africa is no longer sustainable and all this pressure is piling on the Albertine grabben, a globally rich ecological system.

Stakeholders meet to discuss timber scarcity
In the wake of the growing timber scarcity in East Africa, WWF organised a meeting in November last year, in Entebbe, where its report was discussed and delegates made recommendations.

A source in the water ministry said they were drafting a Cabinet paper to be able to manage forests as an enterprise that can employ more people and make more money sustainably.

At a regional level, interventions could come through the East African Community (EAC), which has a committee for natural resources. It is already implementing cross-border initiatives on Mt. Elgon, which is shared by Uganda and Kenya. The EAC is also implementing a World Bank funded-programme on the management of Lake Victoria, whose catchment is shared by

Uganda, Kenya, Tanzania, Rwanda and Burundi. "It is a big problem that requires attention from EAC," Jessica Eriyo, the deputy Secretary General of the EAC, said.

"EAC is ready to work with NGOs and the private sector to address illegal trade in timber." WWF-Uganda's David Duli says East African countries can transform the crisis of timber shortage into an opportunity. He says Tanzania has managed to organise communities which collectively own a forest, to sell certified products such as timber and honey from the forest.

As a result of certification, a cubic metre of timber has increased by 40%. Certified products are those whose source can be traced. Stewards of the forests are rewarded profitably and the timber is produced in an environmentally responsible manner.

Duli said WWF is working with communities in Kalangala Islands to deal in the more rewarding certified timber.  He argues that timber that sells at a higher price and whose source is monitored, is likely to be more profitable to the Governments because of increased revenue.

He notes that communities will share proportions of the proceeds. Also environmentally-friendly ways of extraction will be encouraged, with greater policing done by the grassroots communities.

With increased revenue from taxes on timber, the Government will be encouraged to plough back more money in natural resource management.

When this is done, Duli believes countries in the Great Lakes region will not trade away their national treasures for peanuts.
Uganda named in the plunder of Dr Congo timber