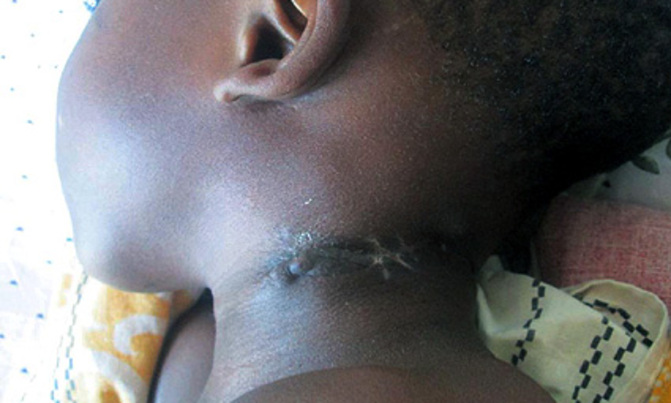 Reports indicate that one child is sacrificed every week compared to the seven cases reported back in 2011.

By Owen Wagabaza

Child sacrifice, a horrific practice that involves mutilation of children and removal of body parts which usually leads to death is back with a bang.

The gruesome mutilation is done while the child is still alive and very few survive.

This practice is a deep-rooted social economic/cultural phenomenon and is performed by what is commonly known as a witch doctor, their agents and clients. It is believed that children's' body parts combined with traditional medicine make a very potent concoction that treats all diseases as well as providing solutions to many other problems.

According to the 2013 Child Sacrifice and Mutilations in Uganda report, one child is sacrificed every week compared to the seven cases of child sacrifice reported to Uganda Police in 2011.

At Ngogwe Police Post alone in Buikwe district, 37 cases of disappearance, nine of abduction and three of kidnap were reported in 2013. In whole, 729 children were abducted in 2013 in Uganda, according to the Uganda Police report 2013.

Survived narrowly

Robert Mukwaya, a six-year-old infant, survived by a whisker.

While attending the Uganda Martyrs' day cerebration in Namugongo, Yonina Nakyonyi – Robert's grandmother – had left her two grandchildren at home. However, Robert's elder brother Patrick Kavuma left him alone and went to the garden to scare away monkeys.

It was during this time that Robert was kidnapped for sacrifice. Fortunately though, no sooner had the perpetuator begun cutting off Robert's head than a carpenter in the neighborhood came to visit Robert's family.

The wicked man took off and although the community was alerted of his ill intentions, they failed to catch him. Robert was rushed to Kawolo Hospital for medical attention by the community.

Robert, after the attack, sustained a deep stab wound from a sharp object that needed immediate surgery.

He was operated on at Kawolo hospital but the procedure was done poorly. So the boy was transferred and admitted at Case Hospital in Kampala and there he was diagnosed with anemia – from loss of so much blood.

The same can be said of Peace, who upon her discovery, was on the edge of her young life.

Locals say that for the 18 months Peace was in captivity, she was being used for ritualistic purposes.

"Whenever the witchdoctor wanted a human organ to use in his concoctions, Peace was the answer. Several of her fingers had been cut off, the dental formula disfigured as a result of regular grinding of her teeth by witchdoctors. Many of her teeth are half," says Vincent Ssebayiga, a resident of Kisaayi, in Rakai district.

Her body is full of scars.
 
true
Peace's belly is riddled with cuttings from which a witchdoctor drew blood. PHOTO/Owen Wagabaza

This, locals say, was a result of the witchdoctors cutting her regularly to draw blood whenever they wanted blood to mix in their concoctions.

In 2012 when Peace was discovered, she had almost lost control over all her senses and her growth had stunted. Two years on, progress has been slow.

"She is showing signs of improvement. We put her on physiotherapy and she can now balance in a seat without falling, which was unheard of before," explains Kasozi Shelin, the project coordinator of Kyampisi Child Care Ministries, an organization taking care of Peace. 

However, not all were lucky to survive. Victims like Kato Tabusweke, Moses Lukamya, Nabiryo Mariam, James Ssenyondo, Jimmy Yinda and many others lost their lives to the evil act.

 Buikwe, the capital of child sacrifice?

Although the problem of children being killed as human sacrifice is reported in several parts of Uganda, Buikwe has gained notoriety recently as the country's witchcraft capital.

One in three households in this part of Uganda keeps a shrine – a grass-thatched hut in which so-called witchdoctors can be consulted.

This frightening statistic explains the prevalence of superstitious practices that threaten the lives of many children and even adults. Some traditional healers use body parts to make potions for success in business and love, or to cure people of ailments.

The widespread fear of murder is why World Vision Buikwe has engaged civic groups through a series of social norm change community workshops focusing on fishing communities on the shores of Lake Victoria for change.

Eight children have been abducted and ritualistically killed in Buikwe this year, their mutilated bodies dumped in bushes and sugarcane plantations, according to local officials.

In response to the kidnappings and ritual killings of children here, World Vision Buikwe has supported the traumatized community to create a rudimentary but effective abduction alert system that has saved at least three children so far this year. 

At the moment, when a child goes missing in this central Ugandan district, courtesy of World Vision training, villagers beat drums into a pulsing rhythm that sends rescuers scampering through bushes to try and recover abducted children intended for child sacrifice.

Others, riding motorcycles, try to block exit routes and main community highways.
Buikwe, the child sacrifice capital