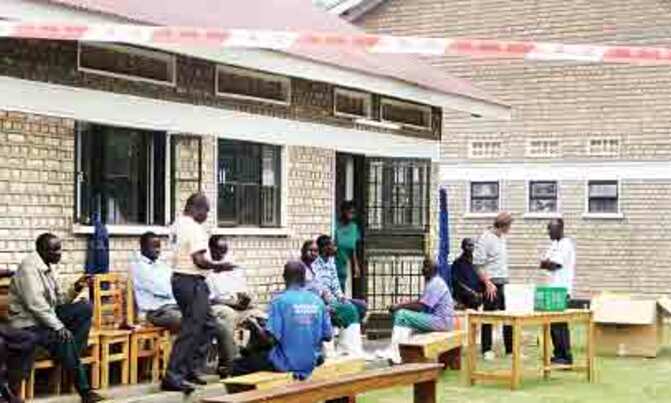 An audit into Kabale district established that millions of shillings spent by authorities remain unaccounted for, huge amounts were overdue and many projects were shoddily done.
By Chris Kiwawulo

An audit into Kabale district established that millions of shillings spent by authorities remain unaccounted for, huge amounts were overdue and many projects were shoddily done.
The report signed by the Auditor General, John Muwanga, for the year ending June 30, 2011 also discovered shoddy work done on several roads in Kabale despite payments being made to the contractors.
Over sh52m was found unaccounted for within the district, Kabale municipality, Muhanga, Hamurwa and Katuna town councils. The Auditor General advised management to ensure that funds are recovered from the responsible officers.
Investigators discovered that sh2.8m was incurred on motor vehicle repairs without a pre-inspection report detailing the repair requirements and a post-inspection report to ascertain that proper work was done.
The district also procured security services at sh8.5m without following procurement procedures.
Outstanding advances
Advances amounting to sh16.8m were not refunded for over three years. These included sh6.9m accruing to the former accounting officer, which was considered uncollectable because the accounting officer won a court case relating to the advance.
The balance of sh9.8m was made to a supplier. The Parliament's public accounts committee recommended recovery but it was not followed up.
The balance sheet was, therefore, overstated by advances, which management was in the process of                                      writing off.
In Kabale municipality, personal advances of sh1.7m remained outstanding for more than a year. Also, receivables of sh19.5m accruing during the financial year were not recognised in income and expenditure statements. A total of sh34.5m in respect of payables was outstanding.
The municipal council had sh40.6m in outstanding receivables (debtors) of which sh21.1m was outstanding for the last three years before the audit as of June 30, 2011.
"Money owed to the council represents an asset that is idle, as it denies the council the opportunity to use it to provide services promptly," observed the Auditor General.
Shared revenue
Auditors noted that Hamurwa never remitted sh51.9m to lower local councils, thereby impairing service-delivery at the grassroots. Besides, it was noted that Hamurwa town clerk's salary of sh11.8m was not disclosed in the financial records.
Road works
Auditors discovered that Muhanga town council did not have a master plan, while opening the 7km Butare-Buzoba-Nyakanengo-Ibugwe road. The roads were not surveyed and as a result, they were narrow with sharp bends and cost sh71.8m because the council avoided compensation to residents. Management said they did not have funds for compensation.
In Katuna town council, auditors discovered weaknesses in the 5km Nyinamuronzi-Karujanga road rehabilitation works. The payment vouchers and the cashbook for the works in respect of the sh94.4m rehabilitation of the road, were not provided for audit.
Besides, work was unsatisfactory and the road was not surveyed. Its road reserve was also encroached on. Out of the 5km stretch, only 3km had murram and the remaining 2km was almost impassable during the rainy season.
Periodic maintenance of the 10km road from Hamurwa Trading Centre to Nyakihanga-Nangaro-Habusinde was improperly done as the culverts that were supposed to be installed were not, despite spending sh36.3m out of the total road maintenance cost of sh36.4m.
Health sector
The renovation of Muko Health Centre at sh44.6m was to be completed by June 2011, but only work valued at sh15m had been certified by the time of the audit.
A verification of documents and a physical inspection of a sample of health centre IVs, IIIs, IIs and the only non-government hospital in the district, revealed that expired drugs were taken to district stores and subsequently to Nakasongola for destruction.
Management blamed the expiry of drugs on NMS, which distributes drugs without following the actual requirements at the health centre, rapid discoveries of medicines for HIV, which makes some drugs redundant, as well as negligence of some health centre managers.
The Auditor General also observed persistent drug stock-outs in health centres ranging from one to 475 days. He gave an example of Kamukira Health Centre IV. The district health services' director attributed it to delays by NMS to deliver and the Push system which was not driven by need.
The Auditor General advised management to improve on efficient utilisation of drugs. He added that management should liaise with NMS to develop a method of minimising shortages and ensure redistribution of drugs where there is excess.
Work plans
Kabale budgeted for sh28.1b but received sh27.4b from the central government. This led to a shortfall of sh783.9m. Out of the amount released, sh2.3b was committed to 116 projects in the health, education, water and works sectors but only 102 projects worth sh1.6b were complete by June 30, 2011.
Auditors discovered that Katuna town council authorities altered the estimated revenue from sh348.1m to sh324.4m and the expenditure revised from sh348.1m to sh322.1m without permission.
In Kabale municipal council, inspectors discovered that the council had budgeted for slightly over sh5b, but received sh4.9b occasioning a shortfall of sh151.7m. It was noted that the council had outstanding liabilities where retention money worth sh54.3m was unpaid by June 30, 2011 despite the expiry of the contractual obligations.
The liabilities included payables of sh160.7m that remained unpaid for over a year. There was also a shortage in local revenue collected. The council had planned to collect sh902.7m, but only sh664m was realised.
In Muhanga town council, it was observed that budget expenditure items were revised from sh321.6m to sh319.5m without following procedures.
Auditor General queries Kabale on advances