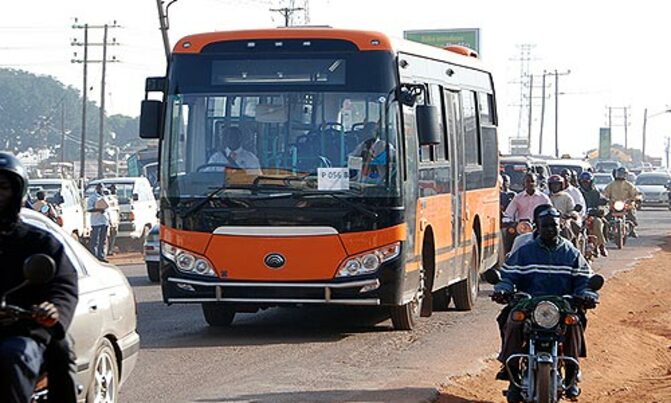 Pioneer Easy Bus Company was contracted by KCCA to manage the city bus transport system.
By John Bwire

Pioneer Easy Bus Company was contracted by KCCA to manage the city bus transport system.

There was excitement in Kampala on March 12 as 100 buses rode into the city to rescue stranded passengers, following an announced strike by taxis.

However, following the suspension of these buses, passengers are paying the price.

It was 6:30pm on Monday evening, but Sam Kiganda was stranded at Mapeera House because he was waiting for transport to, Gayaza after work.

Kiganda says he had been waiting for a taxi for close to one and half hours. He is one of thousands of people living in Mukono, Luzira, Gayaza, Nansana, Kajjansi, Mutungo, among other city suburbs, who have been hard hit by the suspension of the Pioneer bus operations.

Two weeks ago, nearly 100 buses of Pioneer were impounded and their operations suspended by the Uganda Revenue Authority (URA) over outstanding tax arrears amounting to sh8b.

A survey done by the New Vision revealed that the number of passengers waiting for transport in taxi parks and along taxi stages has increased.

It was also discovered that some people with private cars are making a kill as they have also taken advantage of the situation to ferry stranded passengers.

Passengers along Nansana, Kakiri and Gayaza road, among others, have resorted to boarding pickups and Canters and Fuso trucks, which are considered to be charging relatively less than the taxis, omnibuses and Boda bodas.

Boda boda cyclists have also not been left out as they have increased their charges, especially during the morning hours when people are going for work and in the evening when they are leaving. They charge differently depending on the destination.

Since the bus company began operations in March last year, it has been providing subsidised transport fares between sh800 and sh1000 for journeys within the city and the suburbs and sh1,500 for journeys outside the city.

However, the taxi, minibus and Boda boda operators have taken advantage of the situation to hike the fares due to an influx of passengers.

They now charge at least sh1, 500 to Kajjansi and sh2,000 to Nansana, Gayaza, Mpererwe, Bweyogerere and sh2,500 to Mukono.

Following negotiation with URA, the company had asked for extension of up-to February 27 to clear the debt.

However, the bus company set conditions for Kampala Capital City Authority (KCCA) if they were to resume operation.

They argued that for them to break even, each bus was supposed to carry 1,000 passengers every day, but that had failed because KCCA did not provide separate bus lanes and bus stops.

Pioneer speaks out
Brian Kyesitalo, the public relations officer, said clearing URA and resuming business will depend on KCCA's response to their terms of agreement. He explains that their (pioneer) problem was not with URA, but with KCCA, which he said had failed to fulfill its part of the contract.

According to Kyesitalo, as a result of traffic jam, each bus had been earning only sh400,000 instead of the projected sh800,000.

We are hopeful they will get the money," Paul Kyeyune, URA's manager for corporate and public affairs, said.

KCCA speaks out

The KCCA director of legal affairs, Mike Okua, said the issue of the buses was supposed to be decided by the political arm of KCCA and not the technical one.

"Under a statutory instrument issued by the works ministry recently, designating bus lanes in the city is a decision of the authority's political arm," Okua said. He noted that KCCA executive director, Jeniffer Musisi, had set up an internal team to scrutinise the agreement they signed with the bus company.

The team was constituted after a directive from Parliament to enter a new deal with the company.

 
Pioneer bus suspension affects passengers