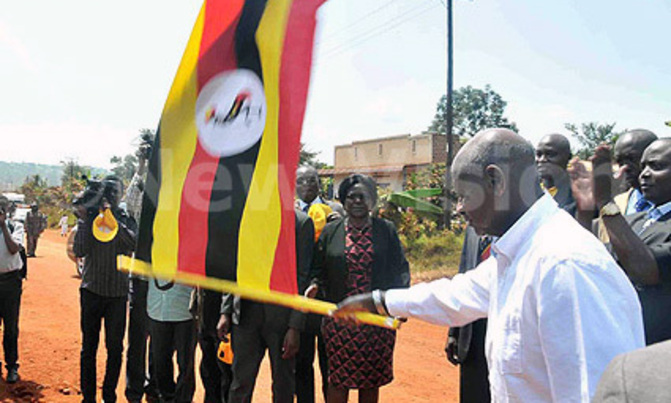 The substantive contractor for the 74km Mukono-Katosi-Kisoga-Nyenga road will be known by December 15, Uganda National Roads Authority (UNRA) has said.
By Chris Kiwawulo & Simon Masaba                      

The substantive contractor for the 74km Mukono-Katosi-Kisoga-Nyenga road will be known by December 15, Uganda National Roads Authority (UNRA) has said.

UNRA spokesperson Dan Alinange said; "We are procuring a new contractor as per the directive of the Inspector General of Government (IGG). We should have a new contractor by December 15."

Alinange said the IGG (Justice Irene Mulyagonja) allowed UNRA to carry out emergency bidding to allow the sh165b road project to go on. "We are carrying out selective bidding where two credible companies; SBI and Collin Construction Company were selected. The deadline for submission of their bids is today (November 14)," Alinange stated.

But the Chinese company, Chongqing International Construction Corporation (CICO), which has been working on the road is still there. It is not clear whether they will be given a sub-contract under the new arrangement.

The IGG recently ordered CICO to stop the works and a fresh contractor be procured. However, Attorney General Peter Nyombi wrote to President Museveni advising that CICO continues with the road works since there was no evidence linking them to the fraud surrounding the road.

Buikwe deputy resident district commissioner, Moses Ddumba said the issues arising from the delayed compensation and road works pose a serious effect on the district's development.

He said his office had earlier contacted UNRA over residents' complaints regarding compensation but did not get answers. "I thank you for being calm and coming to us to seek an explanation instead of turning violent," Ddumba said before he assured the residents of a feedback regarding their compensation in two weeks' time.

Early this week, scores of residents along the 74km Mukono-Katosi-Kisoga-Nyenga road stormed the Buikwe district headquarters demanding for their compensation, saying it was long overdue.

The residents led by Buikwe town council mayor, Godfrey Serunjogi, wondered why only a few residents had been paid and tasked the district leaders to explain reports that the road price was being raised yet their compensation was not forthcoming.

The residents threatened to demonstrate on November 30 if nothing was done as far as compensating them was concerned. They then met with Buikwe district chairman Mathias Kigongo and Ddumba, who calmed them down and promised to contact the relevant authorities for feedback.

Kigongo said besides the road delaying for over 15 years, they were shocked to learn that government had been conned by an individual using a ghost company. President Yoweri Museveni promised the road during the 1996 presidential campaigns.

UNRA entered into a contract with a fake company claiming to be Eutaw Construction Company of US whereas it was not. Apolo Senkeeto was the company's local representative, who was advanced sh24.7b basing on forged bank and insurance documents.

Kigongo said he had also heard reports that the road cost was slated to rise with the re-tendering of the contract. "I have received reports that the new contractor has asked for sh260b yet the earlier contractor was working at sh165b. They say that the dollar was at sh2,200 by the time the sh165b contract was signed and it has risen to sh2,700 today. So, why don't they leave the company (CICO) which had agreed to work at the old rate and save taxpayers' money?" he wondered.

Arafa Kintu a businessman and resident of Buikwe wondered; "We were not there when the contract was being awarded. All we want is to have our road constructed because it has now become almost impassable after the contractors started excavating it. Now that they have been ordered to leave, what will happen to us? How can one person con the entire government?"

Earlier, Alinange said they had received sh5b for compensation during this quarter (November 2014– February 2015). "There are 4,500 people affected by the road. We have so far paid out sh2.4b to 1,500 beneficiaries of those affected. We are going to start paying the sh5b beneficiaries this week and we will see how far it will take us because we receive this money on a quarterly basis," he explained.
Related
UNRA wants new contractor for Katosi road

Museveni commissions Mukono-Katosi Road works
Katosi road: substantive contractor to be known by December 15