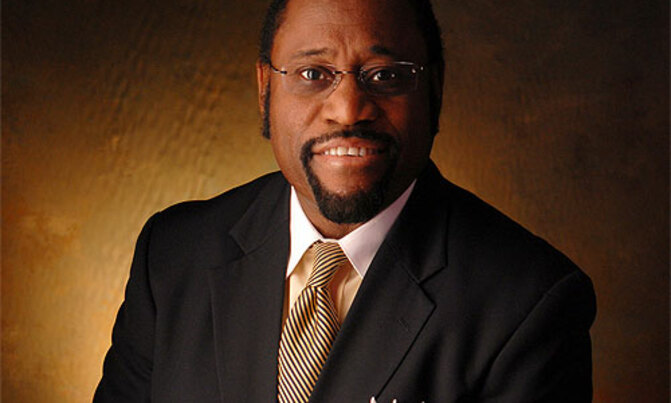 The late Dr Myles Munroe, who was killed together with his family in a plane crash, had planned to visit Uganda next year.

By Taddeo Bwambale

In October last year, the late Dr Myles Munroe made his first visit to Uganda and was a guest speaker at the National Prayer Breakfast, Christian Convention and Business Forum.

His lecture on the theme: "Business Leadership in the 21st Century" took place on October 9, the same day Uganda was celebrating its 51st Independence Anniversary.

The Conference Centre at Serena Hotel where the Business Forum was taking place was filled to capacity, as diplomats, heads of corporation and scholars listened to Munroe's words of wisdom.

Munroe joked that in spite of achieving independence, most Africans were still held back by intellectual bondage.

He compared Uganda to his home country, the small Island of Grand Bahama, revered for its pristine beaches, sand but with no known reserves of mineral resources.

Munroe wondered how countries endowed with a wealth of mineral resources can afford to lose their skilled professionals through brain drain.

"I want to encourage the government leadership in Uganda to think about brain drain. When you educate your people, keep them at home," he stated.

Munroe repeated his preaching that every human has a natural gift and a purpose to fulfill a specific duty on earth. "The greatest tragedy in life is not death, but a life without a purpose," he once stated.

By the end of the two-hour session, the congregation was scrambling for audio recordings of his lecture that had been quickly put on sale outside the conference hall.

The previous day on October 8, 2013, Munroe had spoken candidly during an evening Christian Convention titled: 'What is God Saying to the Church Today?'

He challenged the church to take an active role in other spheres such as politics, business and arts and demystified the belief that the church must only engage in spreading the gospel.

"The church must not be preoccupied with leaving earth. Don't pray to go to heaven; pray for heaven to come to Uganda, just like it is in the Lord's Prayer," he said.

Dr James Magara from the Uganda Jubilee Network, the organisation that hosted Munroe in Uganda said his message had a lasting impact on the world.

"We grieve his death but celebrate his life. Munroe lived a purposeful life and inspired many, especially in the third world to rise to greatness," Magara said.

According to Magara, Munroe was scheduled to visit Uganda again in 2015. He had also promised to help establish a leadership academy in the country, together with partners.

"We had contacted his team and what was left was only to set a date when he would come," Magara told New Vision on Monday.

Untimely death

The news of Munroe's death, along with his wife Ruth, daughter Charisa and six other travellers in a private jet on Sunday afternoon caught many people across the world in shock.

A world renowned preacher and evangelist, Munroe, the leader of Bahamas Faith Ministries (BFM) was on the way to the 2014 Global Leadership Forum that opened on Monday.
 
true
Dr Myles Munroe was with his wife and daughter on the ill-fated jet that killed them all

The Bahamas Ministry of Transport and Aviation said the plane, a Lear 36 Executive Jet, departed the Lynden Pindling International Airport at 4:07pm and crashed while making an approach for landing at a privately owned Grand Bahama International Airport at 5:10pm.

The plane struck a crane at the Grand Bahama Ship Yard, exploding on impact and crashing into the ground near a junkyard area, the ministry revealed as it announced a full investigation to establish the cause of the accident.

Senior Vice-President of BFM, Dr. Richard Pinder, newly installed youth pastors Lavard and Radel Parks and their son Johannan; Pilots Stanley Thurston and Farkhan Cooper and one additional passenger were confirmed to have died in the crash, a statement from BFM said.

Tributes pouring in from across the world hailed Dr Munroe as a mentor, leader and servant of God. Popular quotes from his motivational lectures went viral on social media yesterday.

The First Lady, Janet Museveni paid tribute to Munroe in a Twitter post, stating: "I'm deeply saddened by the death of Dr. Myles & Mrs. Ruth Monroe. Condolences to the family and the families of all those who lost their lives."

Dr Joseph Serwadda, the Presiding Apostle of the Born Again Faith in Uganda said the world had lost a great leader and teacher.

"While we mourn his death, we celebrate his life as a great teacher on government and leadership. He secured his life by dedicating it to the work of God," Serwadda said.

Enduring legacy

Born on April 20, 1954, Munroe grew up in a family of 11 in one of the poorest suburbs in the Bahamas. At the age of 13, he turned to the Bible to find answers to their predicament.

He went on to acquire three bachelor's degrees in four years, a masters degree and five doctorates from five different universities.

Munroe became an international motivational speaker, best-selling author, business consultant and advisor to over 50 governments across the world. He built a network of leadership training institutes; a publishing company, a television network, radio and web communications and a church community.

As a motivational speaker, Munroe travelled to over 130 countries, addressing government and business leaders and church congregations, with a reach of over 500,000 people each year.

He authored over 100 books and contributed to various Bible editions, journals, magazines, and other Christian publications.

In 1998, Munroe was awarded the Order of The British Empire (OBE), bestowed upon him by the Queen Elizabeth of England.

In one of his last media interviews with KTN's JKL Show in Kenya on October 24, he spoke about how he would die.

"I want to challenge every Kenyan to go to the cemetery and disappoint the graveyard. Die like the Apostle Paul who said I have finished my course, 'I have kept the faith and I have been poured out like a drink offering. There is nothing left. I am ready to die.' That's how I wanna die because there is nothing else for me left to die," he told the show's host, Jeff Koinange.

"When you die, die like I am planning to die. Empty. It's finished," he repeated, the Standard Newspaper reported.

In a statement, the organisation said the Global Leadership Forum would proceed as 'Dr Munroe would have wanted.'
Dr Munroe was due to visit Uganda again