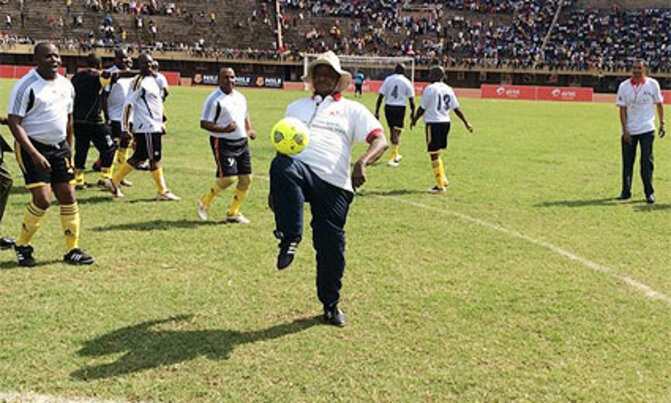 President Yoweri Museveni launches a health campaign at Namboole Stadium where he calls on Ugandans to test for HIV.

By Joseph Kizza & James Bakama

PROTECT THE GOAL CAMPAIGN
International friendly
Uganda 3  Ethiopia  0
Curtain-raiser
Cabinet  0  MPs    3

President Yoweri Museveni  launched a health campaign that climaxed into an international friendly match between Uganda and Ethiopia on Sunday at Namboole Stadium.

Dubbed "Protect the Goal Campaign", the six-hour event at Namboole was part of a global movement to use sports and entertainment as a means of combating HIV/ AIDS amongst the youths.

In the resultant match, which crowned the day, the Uganda Cranes beat visiting Ethiopia's the Walias 3-0 to wrap up a successful start to a crucial health campaign.

While launching the health drive, Museveni – donning a white campaign T-shirt, navy blue track-pants, sneakers and his trademark hat – said his government will continue to support the fight against HIV/AIDS.

The president, who publicly tested for HIV late last year, said it was a wise idea to use sports as a channel to steer the campaign, going on to say that he once used to be a good footballer himself.
 
true
President Museveni publicly tests for HIV last year. PHOTO/Enock Kakande

The president offered four pointers in the fight against HIV/AIDS;
 
Avoid reckless behavior which is avoidable, like promiscuity.

Sexually engage with a partner whose status you know, or if you don't know, use a condom

Make sure you check yourself. "Go to the medical authorities so that they tell you your status. When you find that you are sick, then you go for ARVs."

"If you an HIV-positive pregnant woman, you should take drugs that help prevent transmission of the virus to the unborn baby."
After his brief address infront of a fairly packed stadium, the president was led down the steps, holding a flag emblazoned with messages of the HIV/AIDS campaign, and intently strolled down to the pitch.

Once on the Namboole turf, he had a feel of the ball with a couple of determined kicks, including one final hard one skywards amid deafening cheers from a keen crowd.

Then with the sporting part of the campaign officially flagged off, the Cabinet team took on the Members of Parliament (MPs) for an entertaining curtain-raiser match that saw the legislators beat their opponents 3-0, thanks to three quick first-half goals.

Note that each half was 20 minutes long, as opposed to the standard 45 minutes per half.

This match was played prior to an international friendly between Uganda and Ethiopia ahead of next Saturday's Africa Nations Cup (AFCON) tie between the Cranes and West Africa's Ghana.

Uganda went on to beat Ethiopia 3-0, a result that will help buoy the spirits of the Cranes camp ahead of Saturday's clash.
 
true
Cranes striker Geoffrey Massa scored against Ethiopia on Saturday. PHOTO/Mpalanyi Ssentongo
Besides Uganda's support, the campaign also has the backing of all United Nations organizations, the American Government and all the continental football bodies.

The 11am-to-5pm activities were spiced up by performances by leading local artistes, which presented an opportunity for free entertainment, treatment and counseling as entry will be free.
It was a health program punctuated with ingredients that attractred youth, sports and music. Ministry of Health, its partners UNAIDS and the Uganda Aids Commission were behind the dissemination of HIV/AIDS messages to young people through football.
This initiative is part of a global campaign that was first launched at the 2010 World Cup in South Africa. The campaign was also a special feature of the just concluded World Cup in Brazil. Organisers say the multitude of youth that will be in Namboole will create an opportunity for them to network from all over the world.
"They will be exposed to the facts about HIV/AIDS, prevention, free condoms and gain access to free HIV testing and counseling," explained the organisers earlier.
HIV test key
Ugandans were urged to grab this opportunity by having a test.
"If you test negative, and the great majority of Ugandans are, you will be given the necessary information, advice and services to enable you to remain negative," read a Uganda Aids Commission release on Friday.
true
If you test positive, Government and partners will put you on anti-retroviral treatment for free. So do come forward and take the test. It is for your good."
The organisers stressed that early discovery that you are HIV positive enables the affected to get the necessary care and treatment to enable them to live a quality life.
For the Cranes, the activities provided a worthy day out. The players were not only be availed with priceless medical attention, but also a timely buildup for a crucial Africa Cup of Nations qualifier against Ghana.
The day also provided the organisers to cash in on the national team players' star status to attract youth. Involvement by the players in the medical programmes boosted the initiatives' appeal amongst the youth given the footballers' status as idols.
The Cranes play Ghana's Black Stars at the same venue on Saturday in a match Uganda must win if it is to bring its qualification chances back on track.
Global figure
Globally, an estimated 5.4 million adolescents and young people are living with HIV and 1.8 million are eligible for HIV treatment.
Millions of young people living with HIV do not know they living with the virus, and every day, approximately 2100 adolescents and young people become newly infected, which accounts for 36% of all new HIV infections globally.
Elsewhere in Africa, UNAIDS and partners, including youth leaders, have disseminated HIV prevention messages on large electronic screens to football fans in stadiums and fan zones during games, including the Orange Africa Cup of Nations, Africa's most prestigious football tournament.
In Asia, UNAIDS, in cooperation with the Asian Football Confederation and the Asian Development Bank, are engaged in a partnership to enhance awareness of HIV, improve access to HIV prevention and treatment, and work to eliminate HIV-related stigma and discrimination in five pilot countries — Myanmar, Cambodia, Philippines, Malaysia, and Thailand.
Museveni calls on Ugandans to test for HIV