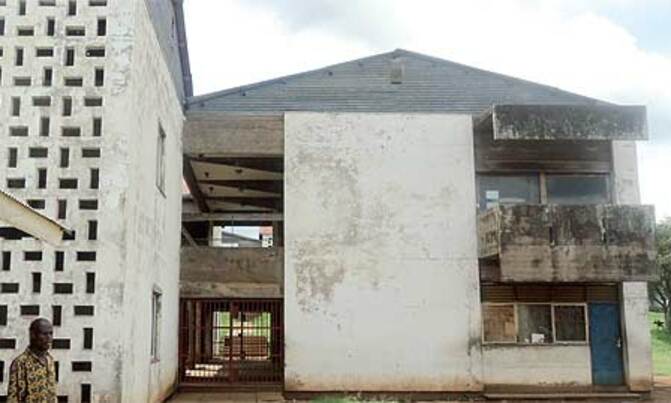 They were dream schools for every candidate worth their name. You did not have to ask anyone to direct you to Nyakasura School, Busoga College Mwiri, Teso College Aloet, Kabalega SS or Nabumali High, among others.
By patrick Ajuna and Carol Natukunda

They were dream schools for every candidate worth their name. You did not have to ask anyone to direct you to Nyakasura School, Busoga College Mwiri, Teso College Aloet, Kabalega SS or Nabumali High, among others.
These schools stood high on the map as academic giants. They also competed favourably with the top schools in the central region such as King's College Budo, St. Mary's Kisubi, Mount St. Mary's Namagunga and Gayaza High School, but the trend has since changed.

In its analysis of the recently-released Uganda Certificate of Education (UCE) examination results, Mwalimu finds out why these schools have almost sunk into oblivion, with private schools dominating the list of the 100 best-performing schools. The ranking was based on each school's performance in Division One, in comparison to the total number of candidates, who sat examinations at the school.

Wakiso, being the home of the best schools, had the highest competitive pass rate, with Kisubi, St. Mary's Kitende and Namugongo registering over 97% of their students in Division One.

In Kampala, London College of St. Lawrence and Gayaza High School topped with 94.1% and 86.6% of their students passing in Division One respectively.

In Jinja district, Kiira College Butiki emerged top with 70.8% in Division One, followed by and St. Joseph Seminary and Jinja College, with 66% and 58.1% respectively. Mwiri came fourth with only 44% students passing in Division One.

In the west, Nyakasura School in Fort Portal had 30%, Kyebambe Girls 22.3%; and St Leo's Kyegobe 20% in grade one.

In Mbale, Nabumali had only 30% of their students in Division One, while in Soroti, Teso College Aloet had about 32%.
true
Fort Jesus at Nabumali High Scool. Dilapidated structures like these are a common sight in traditional government schools
Trend not new

Over the last decade, there has been a decline in the performance of traditional schools.  At Nyakasura School, the Division One pass rate at UCE has stagnated between 13% and 22%. This means almost 80% of the students failed to obtain Division One.

Busoga College Mwiri has been in the spotlight. In 2001, there were allegations that the school had taken a nose dive. Whereas officially, the school's cut-off point was Aggregate 7 for Senior One, some students with lower aggregates were admitted.

Similarly, for Senior Five admissions, the school's cut-off point was Aggregate 17 in the best eight subjects, but students with as low as Aggregate 30 in the eight subject were allegedly admitted. Between 2001 and 2004, the school sent less than 10 students to university on government-sponsorship. The pass rate at O'level declined from 88.7% in 2000 to less than 60%.

At Nabumali, as the academic standards declined, the school population also dwindled from 1,800 to 870, probably because many parents opted for better performing schools.

From 2003 to 2004, the number of students passing in Division One in S.4 fell from 102 to 75 out of 249 students. In 2006, first grades increased to 116 out of 248 due to stability, but the strikes in the successive years – 2006, 2007 and 2008 saw the school go down to 42 first grades out of a total of  249 students on average.

At Teso College, from 1986 to 1997, the school had less than 20 students in Division One in S.4 out of over 200 students. First grades increased to about 50 from 2000 to 2002, but fell to about 40 between 2003 and 2004 out of over 200 students due to the rebel insurgency in the area.

The trend is not just at O'level. The number of students who are joining university on government-sponsorship is appalling.
Between 1989 and 2004, Teso College sent only six students to university on government sponsorship.
In the 2012/2013 admissions to public universities on government sponsorship, Nyakasura School sent only one student out of 84 candidates, Mwiri sent three out of 123 candidates, while Kololo Secondary did not send any.

In 2010/2011, Nyakasura did not send any, Kololo SS sent one and Mwiri, seven. In 2009/2010, Nyakasura sent one, Mwiri 12 and Kololo SS two. Most other traditional schools were not any better.

Low staffing and lack of facilities

Mwalimu has established that, among other factors, many traditional schools do not have sufficient facilities.  From the former president Idi Amin era, when some of these schools were run down due to poor administration and funding, most of the facilities were never renovated todate. Besides, the facilities that were planned to accommodate few students of 1960s have remained the same, with few textbooks, despite the increasing number of students.

The old libraries at Nyakasura, St. Edward's Bukuumi, Mwiri, Kololo, St. Leo's College, and Teso College can hardly accommodate one-eighth of their current students. Besides, most textbooks and other equipment are outdated.

The Teso College headmaster, Sylvester Ocaatum, says 99% of the laboratories do not have equipment, the library does not have enough books and most classrooms have no furniture. Some schools are understaffed.
For instance, Kololo SS, with 2,992 students and eight streams per class in O'level and four streams in A'level, has only 62 full-time teachers. They teach in double shifts as the school is implementing the Universal Secondary Education (USE) programme.

Mwiri, with a student population of 1,000, has 60 full-time teachers out of the required 65, teaching three streams per class.
Nyakasura has 34 full-time teachers out of the required 58, with an enrolment of 970 students. They have three streams per class in O'level. The school hires 16 teachers on a temporally arrangement because of financial constraints, leaving a gap of eight teachers.

Associate Prof. Ali Twaha of Makerere University's College of Agricultural and Environmental Sciences, who is a member of the Board of Governors at St. Leo's College says: "Our schools not only lack enough teachers, but good ones too. It is common to find one teacher teaching a certain subject  alone in both O'and A'level; especially science subjects. This affects the teachers' effectiveness."
Comparatively, the better performing traditional schools like King's College Budo, Gayaza High, Ntare, St. Mary's Kisubi and Namagunga have good libraries and study facilities.

Unstable school administration

Some sources say the administration structures and staff in some schools are unstable, which affects the academic standards. Mwiri has had nine head teachers since 1979 and three in just one year (1998); Nyakasura, eight head teachers as compared to only four for Budo and three for Namagunga in the same period.

Fagil Mande, the Uganda National Examination's Board chairman, believes the ministry is not clear on the criteria used in transferring head teachers. "The ministry needs to look at the school system before effecting transfers. Once the system or culture in the school is not maintained, it loses its standing, hence a decline in performance," he says.

Mwalimu has also established that many schools have endured poor administration characterised by favouratism and factionalism, embezzlement of funds, tribalism and head teachers taking sides with students at the expense of the staff. The result of this has been recurrent strikes in schools like Nyakasura, Ntare, St. Leo's, and St. Edward's Bukuu mi, to mention but a few.

Frank Manyindo, the head teacher of Nyakasura says: "Preferential treatment of some students and teachers as well as poor accountability systems have been the main causes of strikes and decline in performance in a number of schools."

Why some schools stay on top

Some critics say the emergence of private schools, which have more incentives for both students and teachers, makes them excel. "The private schools attract bright students with bursaries and other privileges, which are not found in government schools. They also attract the best teachers with good salaries," says one Maloba, a former teacher of Mwiri.

Francis Agula, the assistant commissioner for secondary education, says some schools are better managed and have richer parents' associations, which fundraise for them. "If you look at their budgetary performance, you will realise schools that are performing well have a big budget due to the will and support from parents."

Mwalimu's investigations have established that Mwiri, which has been charging sh400,000 per term only increased to sh620,000 recently; Nyakasura charges sh450,000; Tororo Girl's sh534,000; Sir  Samuel Baker sh471,000; and most of the traditional schools fall in that range. This amount is nowhere near Namugongo, Kibuli, Gayaza, Kisubi and Ntare; which charge between sh700,000 to sh1.2m per term.

Twaha concurs that funding plays a big role in the academic performance. "Since most public schools are poorly funded, they cannot pay their teachers attractively to raise their morale. As a result, good teachers remain in urban schools."

Bottom-line

Experts, however, say a good school is not just about grades. According to Mandy, many mushrooming private schools only drill children to pass exams. However, traditional schools offer a holistic education, which includes co-curricular activities and equipping the student with life skills and morals.

Agaba also says traditional schools are still doing a commendable job and they still stand tall. "Schools like Nyakasura, Kyebambe, Maryhill, Ntare and Kigezi High are still performing well. We see them as beacons of hope. Most private schools are business-oriented; that's why the owners are called entrepreneurs."

This article was done in collaboration with Makerere University post-graduate programme in investigative journalism.
Death of the giants: Is this the last of the traditional schools?