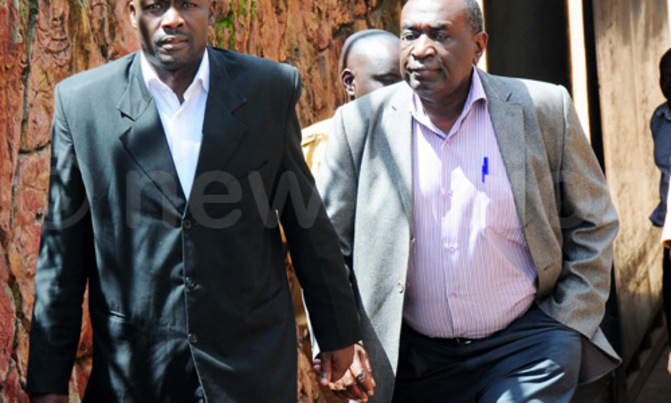 THE former Uganda Broadcasting Corporation operation manager has been convicted and sentence to one year imprisonment
By Edward Anyoli
THE former Uganda Broadcasting Corporation (UBC) operation manager has been convicted and sentence to one year imprisonment.
Godfrey Lugya who collapsed in Court on Monday after he was found guilty by the Anti- Corruption Court Judge Lawrence Gidudu of illegally, authoring the use of UBC transmitter will serve one year in jail for abuse of office.
Justice Gidudu also convicted Harrison Magezi the former manager of Kings Broadcasting Service Radio (KBS) of conspiracy to defraud UBC and appropriation of electric power and sentenced him to two years imprisonment.
"He is the protagonist in this case, he is the cause of this trial and sly. Even when A1 (Lugya) refused, he went back to convince him to allow (KBS) to use the UBC transmitter and earned from the investment,"Gidudu said.
Justice Gidudu said KBS started operating radio services using UBC premises and equipment such the generator, transmitter as well as the mast without tenancy agreement with UBC management.
Gidudu said prosecution had proved beyond reasonable doubt that Lugya abused his office by authorising KBS to illegally use UBC mast without even paying for it which led to loss of revenue.
Principal state attorney Barbara Kawuma from the Directorate of Public Prosecution asked court for a stringent sentence saying the convicts deprived UCB of its revenue that it could have generated.
"The convict  given his experience spanning over 38 years, was aware that his action would lead to loss  of  revenue but went ahead to authorise the illegal use of the transmitter without any formal contract for four years we therefore ask for a punitive sentence that will send a message  to public officials who abuse their offices that they risk being punished," Kawuma said.
John Patrick Baigana who represented the convicts pleaded with court saying they were first offenders who deserved to be treated with clemency.
Baigaina asked court to impose a non-custodial sentence saying Lugya is of advanced age and that he is the breadwinner.
Baigana said the case against Lugya was that of negligence not that he intended to benefit from the mast.  
Outside court Lugya said he is yet to discuss with his clients whether to appeal against the judgment and sentence.
Kabakumba Masiko had been accused of using a transmitter and other broadcasting equipment belonging to Uganda Broadcasting Corporation (UBC), the public broadcaster, without paying for them. This happened while she was still information and national guidance minister.
Police allegedly recovered UBC transmitter from her radio station, Kings Broadcasting Services in Masindi district.However, the Director of Public Prosecution later cleared her of any wrong doing.
Former UBC manager jailed over fraud