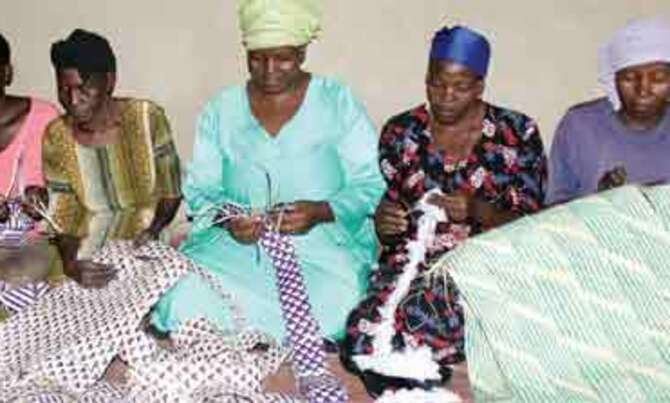 After a 30-minute ride on a bumpy and dusty road, I fi nally reach Ziriyat Naigaga's home in Bulubandi Nandekula village in Nakigo sub-county, 21km from Iganga town.
By Andrew Masinde 

After a 30-minute ride on a bumpy and dusty road, I fi nally reach Ziriyat Naigaga's home in Bulubandi Nandekula village in Nakigo sub-county, 21km from Iganga town. 
Women are crowded in a room at her home, attentively listening to her. She is teaching them about how to behave at home and how to win their men's hearts.

Commonly known as Ssenga Wamaka, Naigaga, 46, has helped stabilise many homes in Iganga. "I was tempted to divorce my husband after he almost beat me to death.

I had asked him for money to buy paraffi n. One of my friends advised me to talk to Ssenga Naigaga about the issue. She counseled my husband and also warned him about the danger that would arise if I divorced him and left him with the children.

My husband now cares for the family. He even started for me a business," Robinah Nakazibwe says.

How Naigaga started helping abused women
In 1997, Naigaga's neighbours in Bulubandi Nandekula village used to fi ght every night. "When I asked the woman why she was always being beaten, she said whenever she asked for anything from her husband, he would take alcohol, then return at night and beat her up," Naigaga narrates.

The woman stayed in the abusive marriage for the sake of her children. This prompted Naigaga to do something about the woman's situation. Naigaga began going to radio stations to counsel men who mistreat their wives and also teach women how to defend themselves.

She presents Entanda Yamaaka and Muwumuza on a local radio station. The programmes deal with matters concerning married couples and those intending to marry.

Naigaga also started moving to different mosques sensitizing Muslims on how to behave, as well as counselling the people who were planning to get married on how they could live harmoniously.

Due to her impact on the residents of Iganga, Naigaga was appointed the chairperson of the board of directors of Masjid Madina Women's Desk Development Organisation in Iganga.

The organisation was located in town, yet it was mostly women in villages, who bore the brunt of domestic violence. Naigaga decided to look for ways of spreading her message to the villages, starting with her own.

"When I talked to the women about setting up a women's group in Bulubandi Nandekula village, many embraced it. I started Galikwoleka Development Group (GDG) in 1997," she narrates.
"I began inviting women to my home. Since I was the chairperson of the women's group in town, I used my infl uence to fi nd women, who knew how to make handicrafts.

I bought the materials. Starting with nine women, the group now has 46 women," Naigaga says. Isha Kamanda says: "Being dependent on one's husband is not good. My husband used to insult me every time I asked him for items to use at home.

I grew up thinking it was a husband's duty to provide everything in a home, so I used to take in every insult lying down.

When I heard Naigaga talk of her group on the radio and how it was transforming women lives, I joined it." Kamanda now makes mats.

She has used the income from the mats to buy fi ve goats. She also buys necessities in the home and holds a saving account in GDG. She saves sh2,000 every three days.

Women are encouraged to rear an animal at their home as security and also to save. "I ensured that all women in my group have animals. We would sell the crafts we made and use the money to buy an animal for each woman," Naigaga says.

The group helps women with different development projects such as poultry, animal rearing, farming and tree planting. Other women grow crops, fruits, vegetables and fl owers.

After seeing that the projects were bearing fruit, Naigaga urged the women to save. However, many women were not interested in saving. Naigaga embarked on teaching the members the importance of savings.

She also involved experts from banks to teach women the importance of saving. Soon, they embraced the savings culture.

Naigaga started Galikwoleka Savings and Cooperative Saving Scheme and bought two metallic boxes, where the women keep their money.

Naigaga also teaches women not to be extravagant, how to properly use the money their husbands give them for home consumption, as well as how to live within their budgets.

On the radio, she teaches both women and men fi nancial matters. This has helped many to be fi nancially responsible.

"I know how to make mats, tablecloths and baskets. I have used proceeds from their sale to set up a stall in the market. Every evening, I pass by Naigaga's place to deposit some savings.

I want my savings to accumulate so that I can open up a big shop," Shifa Namukwaya says.

Constructing a borehole
Naigaga says she grew up seeing people walk long distances in search of clean water, while others would fetch dirty water from the swamps.

"I decided to put up a borehole, but it took two years to complete due to financial constraints. The borehole supplies the village with clean water," Naigaga says.

Ramathan Samya, the LC1 chairman, says: "If there were fi ve Naigagas in this village, it would be the most developed in Iganga.

When she talked of constructing a borehole, I knew the venture would be expensive. But Naigaga, through her little earnings from radio shows and the sale of herbal medicine, has pulled it off."

Girl-child education
Although Naigaga did not go far with education, having been forced into marriage at the age of 16, she advocates girl-child education.

"Many people in Busoga did not value girl-child education, but I advocate it, especially on radio. Many people have heeded to my call," Naigaga says.

Plans
Naigaga plans to set up a model farm in her village, where she can educate the residents on how to use improved agriculture practises.

"I also want to set up craft-making and trading centres, where people will learn, as well as engage in trade in the products," Naigaga explains. She also wants to start a bank in Nakigo sub-county.
Naigaga fixes broken marriages, preaches financial independence