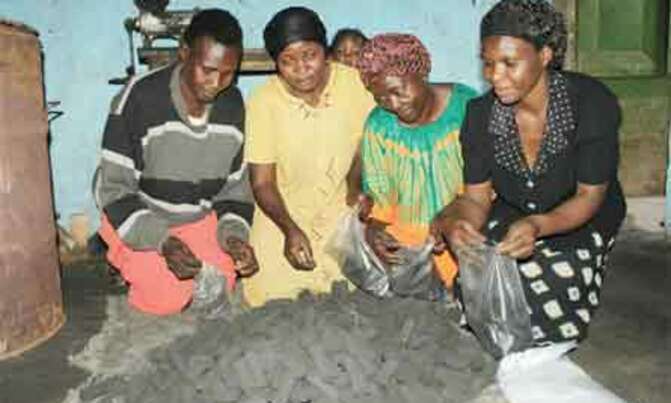 Apolonia Namitala lost her husband many years ago. "My husband only left me a grass-thatched house and a small piece of land.
By Andrew Masinde

Apolonia Namitala lost her husband many years ago. "My husband only left me a grass-thatched house and a small piece of land.

We sold almost all our land to pay his medical bills. If it was not for Nsi Kwekulanya Group, life would not have been easy for me and my four children.

Life had become meaningless until Katasi asked if I wanted to be part of Nsi Kwekulanya, a group she had started. I accepted to join and have no regrets. The group has impacted tremendously on my life," she says.

Today, Namitala owns a tworoomed permanent house, a piggery and a small shop. She also bought one acre of land, where she grows bananas and fruits, thanks to the group that gave her the start-up capital.

The group
Nsi Kwekulanya Group is a registered community-based organisation in Kimanya, a slum in Masaka district. It was founded by Deborah Katasi in 2009.

The group was started with the objective to set women free from poverty and help them save some money to start up small business.

Four years down the road, it has transformed many women lives.

The birth of Nsi Kwekulanya
One evening, when Katasi was going to buy soap from a shop, she saw a woman struggling with her husband over money.

"I wondered why they were fighting, but I later learnt that the woman worked in her husband's shop and he always took the money from the shop to buy alcohol.

The man justified his actions, saying it was his shop and he had the right to do whatever he wanted," Katasi says.

This incident opened Katasi's eyes. She decided to start a group that would empower women and give them an opportunity to share ideas on how to make money.

She hoped that by doing so, the women would not be bullied by their husbands. Katasi immediately started sensitising the women about the advantages of having a job. Many welcomed the idea and started meeting to share ideas.

Initially, seven members registered. She asked each one of them to bring something they could donate to another member during the next meeting.

The women exchanged plates, spoons and other household items. The positive response inspired Katasi to strengthen the women's bond.

"I asked them to bring sh1,000 every time we met so that we could start saving. At first, I was worried about how the women would raise the money, but I was surprised that the first three times we met in the week, they brought their savings.
We kept the savings for one month and chose one member who would take all the money as capital to start a business," Katasi explains.

Testimonies
Lukia Nampijja thought everything was supposed to be provided by her husband. She had never thought of doing anything that could earn her some money until she met Katasi.

"I started asking my husband for money to take to the group, which he gave me. When I got my first capital from the group, I paid him back and bought two pigs from the balance," Nampijja says.

Currently, she has 17 pigs, a poultry farm and operates a small hotel. She also has over sh400,000 in savings. Katasi bought a metallic box where she kept the group's savings.

However, the savings were little. She devised means of increasing them. She suggested they start a charcoal project to bring in money every day.

The charcoal project
"I watched a programme on TV about making charcoal brickets from garbage. I keenly followed the steps so that I would use the same idea to transform my community," Katasi says.

She told the women to collect garbage so they could start making brickets, as it was the easier to do and cheaper.

The women would dry the garbage, burn it and mix it with charcoal dust and cassava flour to make brickets.

"We did not have a machine to make charcoal brickets, so we used our hands. At first, we sold the brickets to a few people, but latter the demand increased and we started producing charcoal in large quantities," says Katasi.

The women used the proceeds from the brickets to buy a machine that makes charcoal brickets. Currently, they make at least two sacks every day and sell a kilogramme at sh1,000.

The group shares the money equally and everyone has to save 30% of their earnings.

The group members speak out
"At first I thought Katasi had become mentally disturbed when she told us to collect garbage. But I have since learnt that it is always good to first try out an idea before concluding that it will not be successful," says Annet Nakayiza, one of the group members.

From the charcoal brickets proceeds, Nakayiza has managed to start a small kiosk and a piggery project. "I want to save my money until it is enough to buy a plot of land and build a house."

Alongside the charcoal project, Katasi coordinates a vegetable project which she set up at her home together with the group members.

They grow different vegetables both for sale and consumption. This has also helped reduce their expenditure on vegetables.

In addition, from the vegetables proceeds, every member has to buy an animal to rear at home. Subsequently, many have bought pigs and chicken.

Nsi Kwekulanya Group now has 28 members who are a testimony to the founder's vision.

Challenges
According to Katasi, the biggest challenge is men who stop their wives from joining the group. However, she is optimistic that the men will change their attitude.

Also, since the group is operating in a slum, getting market for the brickets is difficult, as most people use firewood. This has increased the group's operational costs as they have to sell the brickets in town.

Plans
"I want to set up a big charcoalbrickets making plant that uses garbage as the main raw material. This will also help solve the problem of deforestation," Katasi says. "If we get a vehicle, we shall collect the garbage from people's homes."

She also wants to acquire land so they can set up a permanent working place as her home is too small to accommodate all the members.

The group hopes to start a village bank in Kimanya because many people do not know much about banking. The bank will also help the residents keep some of their savings.
Katasi redeems Kimanya wives with charcoal brickets