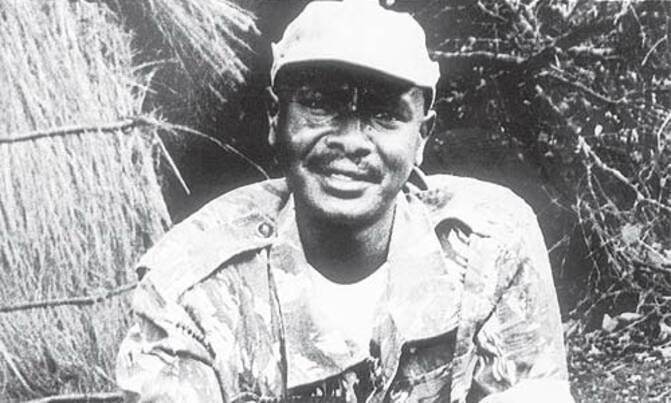 It is very dry here at the moment. The road from Masaka-Nyendo to Ssembabule is so dusty that sometimes, vehicles have to stop to allow it to settle. The normally lush green grass in the low lands of Ssembabule is drying up. People in this area keep a lot of cattle and goats and grow crops too.
By Joshua Kato

It is very dry here at the moment. The road from Masaka-Nyendo to Ssembabule is so dusty that sometimes, vehicles have to stop to allow it to settle. The normally lush green grass in the low lands of Ssembabule is drying up. People in this area keep a lot of cattle and goats and grow crops too.

Almost 27 years ago, a group of 40 men, led by Yoweri Museveni rode through this road in an old truck with one mission - to attack Kabamba Barracks and grab as many guns as possible, so they can start a revolution to overthrow the then President Milton Obote.
 
Today, the road remains almost the same, still murram, though with promises that it will be tarmacked soon. But while the area was sparsely populated at the time, today there are residences on most of the stretches - even around Katigondo Seminary where on that evening of February 5, the secret combatants had their first incident.

"There was no incident on our journey until we had just passed Katigondo, about 12 miles from Masaka," President Museveni writes in his book, Sowing the Mustard Seed.
At Katigondo, one of the vehicles they were using, a pick-up truck got a puncture and unfortunately, they had no spare tyre. Katigondo is today a changed place, with so many shops and more residential houses surrounding the seminary. When I tried to find out if any of the residents remembers seeing the Museveni group that evening, nobody knew of such an incident.

"I only came here 10 years ago," Besweri Mukasa, a resident says. As we talk, taxis zoom by- chasing each other. Mukasa says there are now taxis that ply the route at night. But on that night, Museveni had to walk back to Masaka, a journey of 12 miles to look for help.
Of course Museveni delayed and the mission delayed too. And subsequently, by the time they drove through Ssembabule town, then a two building township, but now thriving with hotels, through Rwemiyaga to reach Kabamba, it was already day time. They attacked Kabamba at around 8:15 am, but they did not get enough weapons as they expected. So, the war started without guns.
No guns but the right ideology

true
NRA fighters in the bush in 1984
A legendary Chinese revolutionary Sun Tzu put it very clearly when he compared a guerrilla army to fish in water. He said that for fish to survive there must be water for it to swim in. Apparently, Museveni got this clearly before he started the war in Kabamba. The 'fish' (the fighters) had to have enough water - the population to survive in. He thus set on an  ideological drive that ensured there was always enough water irrespective of the challenges.

They were only 40, a group that passed for common but organised 'thieves'. However, according to various accounts, with a clear ideology, spread under a system dubbed siasa they had grown into over 200 by June 1981 and to a battalion of over 700 by mid 1982. But even then, according to accounts by both President Yoweri Museveni and a host other fighters, the group did not have the guns to effectively attack the Uganda National Liberation Forces (UNLA) and their Tanzanian backers.

According to different accounts, including that of Museveni, Elly Tumwine and several of the first fighters, the young rebel force went  to the bush expecting to get guns from supporters outside the country. However, as fate would have it and for different reasons, most of this expected help never materialised until much later in the war. They then decided that they would get weapons, through the hard way and that was by attacking government soldiers.
Asked by a foreign journalist what their source of weapons was, Museveni answered, "The UNLA is our quarter master," this was unique for many rebel groups, because most of them are either given weapons by foreign backers, or get money and buy them. The National Resistance Army (NRA) is therefore the only rebel group that successfully fought a war without buying weapons!
Tale of three guns and 30 commandos

In most of the battles, a section of NRA fighters was armed with three or four guns, a platoon was armed with less than 10 guns. Even when personnel reached company levels, the guns that they had could only arm a platoon of 30 soldiers. The rest fought as 'commandos' (fighters without guns). This situation persisted for most of the time between 1981 and 1984.

Getting the guns from the 'quartermaster' was no easy thing. The 'quarter-guard' was always well guarded. You had to kill before taking the guns away. Gradually, this is what the NRA did and one by one, the guns came. When they attacked Kabamba on February 6, they had 27 guns. To these, they added 13 to make 40 guns. This according to the fighters was not so good, but not bad since they did not lose any of their men. On the next day or second day of the war, they attacked Nsunga Police Post and on top of three guns also  captured a Rocket Propelled Grenade (RPG).

The total of guns they had then increased to 43 with an RPG.  Rocket Propelled Grenades are very important weapons for mobile guerrillas because they are the only movable close combat support weapon available. The number of guns increased to 60 on February 8, after they attacked UNLA establishments in Kiboga. This meant that in three days of action, they had harvested 33 guns. The only RPG they had also had only one shell. And when it was used against a Tanzanian convoy on February 17, they did not have any more shells. On March 18, however, they ambushed a military vehicle at Kawanda and collected 10 rifles.

On April 6, they attacked Kakiri Military Barracks. The establishment was located near or exactly where the current 1st Division headquarters are found. At Kakiri, however, they only managed to get 12 guns, including a mortar and a GPMG. By then, they had grown to around 200 fighters, with only 60 guns!
Tales of setbacks and gains

However, a few days later, the group was attacked around Katera on the Busunju-Kiboga road and most of the weapons got from Kakiri, including the GPMG and two mortars were lost. That was a very big loss to the NRA. One of the senior army officers, at the time said he almost abandoned the cause because the guns were not coming. "I almost left the war effort because it seemed to be very frustrating," he says.
Such was the value attached to a single gun that a fighter who lost one had to thoroughly account for the it before his superiors. It was also common for a section of fighters (between 10 and 20) to be sent from one unit to another to deliver a single gun or two guns there!  Gertrude Njuba is one of the fighters who numerously risked her life as they moved two or three guns from one unit to another.
 
In August 1981, the expected foreign help should have arrived. Elements in Libya dropped weapons for rebel groups in Uganda somewhere, however, the Uganda Freedom Movement (UFM) of Dr. Andrew Kayiira reached the location first and took over 600 of the 700 rifles. The NRA got only 96 rifles, five machine guns and 100 anti-vehicle mines. The number of rifles then increased to about 200. However, the number of fighters had grown to around 1,500!

The landmines were, however, very useful. The NRA used them to blow up tens of UNLA trucks and eventually, this helped them cut  off most areas of the war zone. For example, it became difficult for the UNLA to cross from Wobulenzi to Nakaseke through River Lumansi. Similarly, mines helped cut off Luwero- Kiwoko-Ngoma at Kikubanimba bridge. Furthermore, the NRA was able to protect Semuto and Kapeeka after effectively using mines at River Danze near Masulita.

In his book, Museveni's Long Match, the Late Major Odonga Ori Amaza described the effect that the mines had on the UNLA as the 'war of making the enemy dance.' In early 1982, the NRA got over 220 guns, that formerly belonged to the UFM. This was like manna from hell. It is not surprising that the Late Lt. Colonel Ssonko Lutaaya, who defected from the Uganda Freedom Movement (UFM) after their illplanned  attack on Lubiri barracks is a hero among NRA fighters.

According to accounts by Brigadier Pecos Kuteesa, when the UFM were defeated by the UNLA after their attack on the Lubiri, Ssonko, who was then in charge of the truck that carried the weapons refused to allow the weapons to fall into the hands of the UNLA. He instead drove the truck towards areas where he knew NRA camps were and handed them over to them. They were around 220 submachine guns, but this was a very big haul at that time. This brought the number of guns that they had to around 400. However, at the time, the force had grown to around 4,000 men. This meant that the ratio of guns per fighter was 1:10.

Setbacks again

In early 1983 however, some of these guns were lost in various engagements, including one at Bukalabi in which General Salim Saleh was severely injured. The UNLA was also into one of their most deadly offensives. In this offensive, over two divisions of UNLA, who had been fighting against former Amin soldiers in the West-Nile region were deployed. In addition, the UNLA had also acquired new weapons, including BM-21 Multiple Rocket Launching Systems, 155mm artillery and lots of jeeps armed with 105mm guns.

"We could not match them because we did not have enough support weapons," says one of the retired officers. The story is told of how a single NRA 12.5mm General Purpose Machine Gun had managed to prevent the UNLA from breaking through the River Lumansi crossing for days. However, the gun became so hot from endless firing that it malfunctioned. The NRA then withdrew.

Between early 1983 and December, the NRA through attacks on Kiboga, Luwero by among others Stanley Muhangi, Fred Rwigyema, Joram Mugume and Salim Saleh collected at least 200 more rifles. This raised the number of guns they had to around 600. With these guns, they decided to go for the big haul.

They attacked Masindi Barracks in February 1984, harvesting 770 rifles. During this attack only half of NRA's 700 soldiers were armed. This meant  that the attack yielded two guns per person. At this time, the number of rifles rose to around 1,400. When they attacked Kabamba again, on January 1, 1985, over 600 rifles were captured. The number then rose to around 2,000 rifles, against over 8,000 men.

However, according to President Yoweri Museveni, this was a very plausible development because for the first time, the NRA started having fully armed battalions. In August 1985, the NRA finally got a good delivery of around 800 rifles and 800,000 bullets from the Libyan government. With this delivery, there was no more looking back. By the time they captured areas of Mbarara and Masaka en-route to Kampala, they had over 6,000 guns.
However, overall, according to accounts, the NRA managed to collect a total of around 5,000 rifles from their 'quarter master' the UNLA in the entire five years, including weapons got from Masindi and Kabamba, from Kasese and Masaka later in the war.

During the capture of Kampala, they had stocked mainly 14mm guns, 23mm AAs, 37mm AAs, medium and long range mortars. It was a unit composed of these, under the command of now Brigadier Kasirye Gwanga that took on the might of the UNLA artillery units, armed with BM-21 Multiple Rocket Launchers, 155mms and medium artillery that was positioned on Kololo hill in the last days of the war.
The battle for guns in NRA's bush war