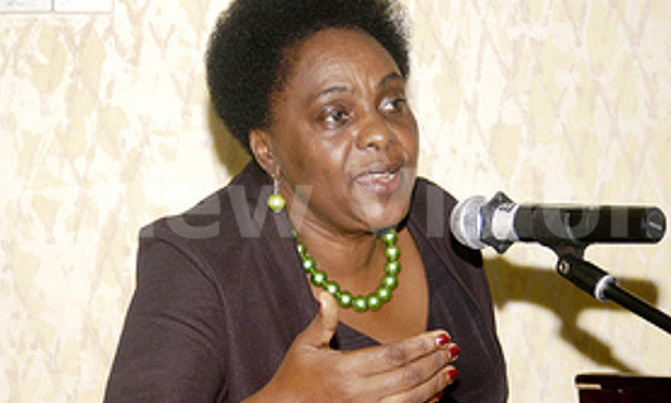 More action is required to see that disadvantaged women especially those in the Albertine Graben get benefits from oil activities as the industry moves from the exploration into the development phase.
By John Odyek
More action is required to see that disadvantaged women especially those in the Albertine Graben get benefits from oil activities as the industry moves from the exploration into the development phase.

Mary Karooro Okurut, minister for gender, labour and social development said there should not be more lamentations about what is known about the plight and suffering of women but solutions to address them are needed.

Okurut made the remarks at the launch of a report entitled: 'Gender issues in Uganda's oil and gas sector.' The report was prepared by International Alert, an NGO that researches on the role gender plays in peace and conflicts and advocates for the integration of gender issues in development, security processes and equal participation of all members of the society.

Lynn Turyatemba, senior programme officer, International Alert said the report shows that women located in the oil areas like those parts of the world are negatively affected by its activities.

Turyatemba said the study found that present laws and policies on petroleum sector are not gender sensitive by the fact they do not go far enough in addressing gender specific manifestations of poverty and do not address specific needs of women.

The study cited the loss of crops from surveying land noting that it had more painful consequences on women because women are the ones who cultivate crops and are responsible for food security in homes.

"Compensation was given for the crops affected by exploration activities rather than for the land surveyed which did not adequately compensate for the long term damage to people's livelihoods,"Turyatemba said.

Respondents to the study in the regions of Bunyoro, Acholi and West Nile identified a connection between the oil industry and increased prostitution, domestic violence, alcoholism, sexual and gender based violence.

Turyatemba said women did not access information related to oil because men who owned radios preferred to listen to 'Lingala' music.

Often information on oil would reach men while chatting in groups in trading centers where women were not present.

She added that for casual labour in the oil sector, men were preferred over women because of their stronger muscles and so women got few jobs if any.

On oil scholarships, the study found that the criteria cut out women.

The report recommended that a national action plan for gender and extractives should be made so that it would guide government in developing policies, programmes and laws that address the unique problems of women.

It recommends that local governments should ensure that oil company consultations include the voices of girls and women and handles their unique interests.

The report asked donors to support women farming groups to facilitate supply chain linkages to the oil sector.
The support should go into legal, medical and counseling for women affected by domestic violence, family abandonment and child trafficking.

Thorbjorn Gaustadsaether, ambassador of Norway to Uganda said as Norwegian he has seen how sound management and strategic investment of oil revenues can have a transformative effect on a country and the lives of its people.

"Hand in hand with the opportunities  in oil comes an array of risks to be acknowledged and addressed," Gaustadsaether said.

He said Norway has helped to highlight and address ongoing concerns related to compensation and resettlement which particularly affect women including the recent eviction of families from the site of a proposed waste treatment plan in Hoima district.

Richard Businge, country manager International Alert said that in 2013 studies showed that if gender relations in the Albertine Graben remained the same, women stood to benefit less than men from the proceeds of oil exploration.

Businge said the key determinant for meeting the rights of women in the sector lies in an oil governance regime that is transparent and accountable to women.

He noted that nationwide 90% of rural women employed work in agriculture compared to only 53% of rural men.
 "The question is whether women are ready to benefit from the opportunities in the oil sector. Women have low skills, have less secure employment and get lower wages," Businge said.
Related Stories
Hoima women confront Gov't officials with jerricans for oil
Oil: Women's rights in oil sector go beyond land rights
Where are the solutions to women issues in the oil and gas sector?
More action needed to address women rights in oil region