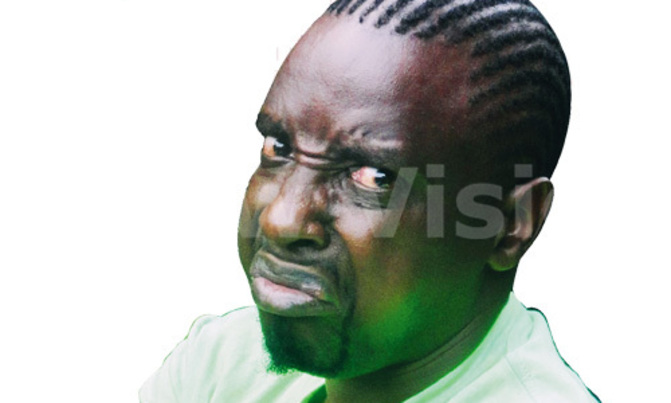 Of course I feel a bit guilty but the most important thing is that I do it secretly, not openly. But I truly love my wife.
Allan Mujuni, better known as Amooti Omubalanguzi is a comedian. Halima Nampiima had a chat with him

ARE YOU MARRIED?
Yes, to my beautiful wife Shamim for about 13 years and we have four children. Two boys and two girls.

HOW HAVE YOU MANAGED TO MAINTAIN YOUR MARRIAGE? You know, it's never easy to find someone who can easily understand you and appreciate you. My wife is very disciplined, religious and well-groomed. Her aunties did a very good job.

trueWHAT HAVE YOU DONE TO TAKE CARE OF HER, CONSIDERING YOUR PROFESSION?
Love cannot be blocked by anything, apart from death. I always give my wife peace because she is peaceful as well. Just know that I don't force life, because I only give her what I can handle.

HOW DO YOU PROTECT YOURSELF FROM WOMEN WHO THROW THEMSELVES AT YOU?
I always try so hard to protect myself. Sometimes I tell them that I am married and if they are still interested, then the fun continues.

ARE YOU SAYING YOU GIVE IN TO TEMPTATION?
Obviously. I am a human being and I don't know how to pretend. That is why I don't blame Adam and Eve for the sin they committed.

HAS YOUR WIFE EVER CAUGHT YOU CHEATING?
No, though one day I caught her checking my phone. We had a serious argument and she never did it again.

DON'T YOU FEEL BAD ABOUT CHEATING ON HER?
Of course I feel a bit guilty but the most important thing is that I do it secretly, not openly. But I truly love my wife.

HAS YOUR WIFE EVER BEEN ASHAMED OF YOU AS A RESULT OF YOUR WORK?
She can't because I am even planning to do worse things. She knows that all the good things I have given her like respect, love and commitment come from the same job, so she has no problem with it at all.

SO WHAT DO YOU LOOK FOR IN A WOMAN?
She must be of medium size, natural without bleaching. You know some women become so white and look like ghosts. She should be social, understanding and with figure eight.

WHAT IS THE BEST AGE TO DATE?
I always begin from 20 years to 40 because young girls disturb a lot, though they are entertaining. That is why I never limit myself.

HAVE YOU EVER BEEN CAUGHT WITH A MARRIED WOMAN?
Yes and so many times. There was a woman who told me that she was single and yet married to a (UPDF) officer. I discovered this when I checked under her bed and saw army uniform and combat shoes, which she had hidden.

HAS ANY WOMAN EVER FOUGHT FOR YOU?
Yes. You can't be a celebrity and think that you're not worth fighting for. One time I made an appointment with a girl and then another girl turned up as well. When I got home with a torn shirt, I was questioned by my wife and I told her that I had been attacked by a gang of thieves.

WHAT IS THE CRAZIEST THING THAT YOU HAVE EVER DONE?
Well, one day at Sheraton (hotel), I realised that they had very nice tequila glasses and I when I looked around and saw that no one was looking at me, I stole seven of them. But I felt so bad that at the check point, I almost handed myself in.

HAVE YOU EVER BEEN EMBARRASSED IN PUBLIC?
It happened when I tried to vibe a woman while whispering in her ear. She screamed out loud that "most of you comedians are sick".

FUTURE PLANS?
Hopefully, we will have more children and take a trip around the world together.

DON'T YOU THINK YOUR WIFE WILL MIND HAVING THIS STORY IN THE PAPERS?
She does not mind at all because it's not the first time.
 
Amooti the confessed cheat!