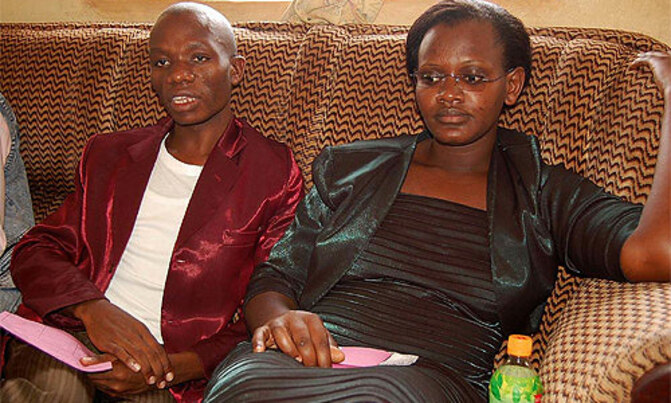 The Police at Old Kampala are holding a born again pastor who eloped with a married woman.
By Eria Luyimbazi
The Police at Old Kampala are holding a born again pastor who eloped with a married woman.
Pastor Amos Betungula of Reconciling Gospel Ministries located on Butikiro Road; Mengo was arrested at his home in Bunnamwaya – Ngobe where he was relaxing with his 'new wife' Peace Kiconco.
Kiconco's husband, Reuben Mwebesa, of Gganda in Wakiso district said they wedded on December 1, 2009 at Najjanankumbi Adventist church and have two children.
He said that Kiconco started going to Betungula's church six months back. He said she grew distant and disrespectful when she started attending night prayers.
"We are wedded in holy matrimony but she started praying with born again Christians and I got wind of news that a pastor there wanted to marry her so I investigated until I got the truth," Mwebesa told Bukedde newspaper.
He said that his wife had informed him that Betungula had secured her a place to stay near the church where he would tutor her to become a pastor before she packed household property and left.
He said he filed a case against the pastor at the Police under file number SD: 29/06/01/2013. During the pastor's arrest, police recovered some household property.
true
Police officers remove Mwebesa's property from the pastor's house
However Betungula insists he is going to marry Kiconco because she assured him she was not married.
Kiconco, on the other hand, astounded police officers when she said she only married Mwebesa to acquire a marriage certificate which she would use to register her project.
She said her love for him ended when she accomplished her mission and revealed that one of the children was not even his of which he was aware.
The Old Kampala police station head of crime desk, Proscovia Namukasa, said they are going to further investigate Mwebesa's marriage certificate. 
Pastor arrested for eloping with married woman