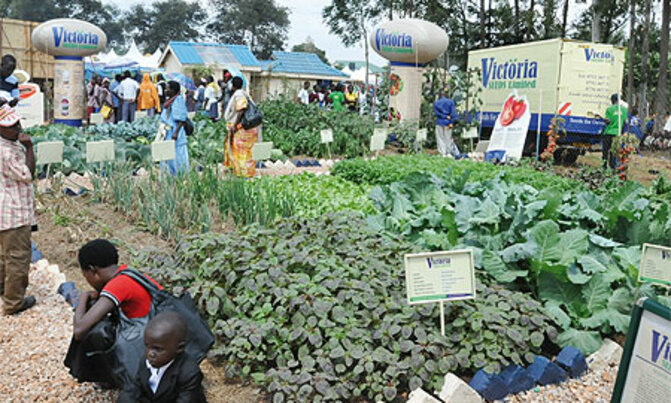 For the first time in many years, the agricultural sector was allocated 6% of the entire national budget in the 2012/2013 financial year.
By Joshua Kato
 
For the first time in many years, the agricultural sector was allocated 6% of the entire national budget in the 2012/2013 financial year.
This did not include allocations to agriculture-enhancing sectors like transport/roads and local governance. Altogether, sh558b was allocated to the agriculture sector, up from sh434b the previous year.
However, the achievement may be negated by the recent decision by some donor countries to cut aid to Uganda.  Despite that setback, the Government plans to increase funding to the agricultural sector to about 8% of the national budget in the 2013/2014 financial year.
This will be used to enhance value addition and mechanisation of the sector, marketing, as well as crop financing.
 
The sector has continued to suffer the same challenges year in, year out. These include pests and diseases, low production, poor post-harvest handling, poor adaption to mechanisation, limited usage of improved farm inputs like fertilisers, low levels of value addition and poor access to better markets.
 
Poultry farmers lament

The poultry industry is one of the largest income earners for small-scale farmers. There were over 33 million chickens in Uganda in 2012. However, throughout the year, the sector was threatened by rising input prices, especially due to a scarcity of maize bran and silver fish (mukene).
 
According to Rogers Kyeyune, a poultry farmer, the Government must stop the exportation of unprocessed maize to curb the shortage of poultry feeds.
 
Kyeyune and other poultry farmers rightly pointed out that when maize is exported raw, the maize bran (maize seed coat), which is a major component of poultry feeds, is exported as well. The bran is then imported back to Uganda at a much higher cost.
This exportation to mainly Kenya and Southern Sudan was the leading cause of scarcity of poultry and animal feeds last year. In contrast, in Tanzania and Kenya, exportation of raw maize is prohibited.
 
Agricultural loans still elusive

For a long time, farmers have been pleading with the Government to enable them access agriculture loans and this was the same story in 2012.
In the 2012/13 budget, the Government allocated money to facilitate the agricultural loans programme. It is now almost halfway the budget year, but farmers are yet to feel the impact of these funds.
Agriculture lending stood at sh353b in 2010, according to that year's agricultural finance year book. It rose slightly to about sh400b in 2011.
 
However, this funding was still low and mainly targeted large-scale rather than small-scale farmers who are the majority in Uganda.
Agricultural loans rose by just 20% compared to 70% for other loans by lending institutions. There is no hope that this scenario will change in 2013. According to farmers, this can best be implemented by setting up an agricultural bank.
 
Increased value addition
 
Value addition has been touted as a sure way to better farm earnings. However, most of this remains mere rhetoric. Farmers say the raw materials to actuate value addition are available, but the resources to implement it are lacking.
 
William Kibodhe, a pineapple farmer in Kayunga, for instance, says although the area has a juice processing plant, it lacks a juice extractor.
 
The 2012/13 budget also set aside funds to help maize farmers across the country to mill their maize into flour rather than sell it unprocessed.
 
"The Government should have subsidised power for maize/cereals processing because the high power charges put off many would-be investors in the sector," says Badru Ssewalu, who grows and processes maize.
 
More tractors needed

Farmers need tractors to increase production. At the moment, farmers have to hire tractors at a high cost.  "To hire a tractor, I need sh120,000 per acre," says Margaret Namusolwe, a farmer in Sironko.
Currently, there are about 1,000 heavy-duty tractors countrywide compared to an estimated 3,000 that are needed to transform the sector.
In the 2012/13 budget, it was announced that the tractor-hire scheme would be implemented. Ideally, every sub-county should have at least three tractors. Five hundred million shillings was set aside  to acquire tractors.
But at an average cost of sh70m for a tractor, it means that those funds could only purchase about 10 tractors.
However, if the Government bought walking tractors, which cost about sh7m each, then they can acquire over 70 of them.
Irrigation must improve
 
"We must move away from depending on rain water for agriculture and start practicing irrigation," says Abbey Kazibwe, a greenhouse farmer in Nansana, a Kampala suburb.
 
Indeed, in the 2012 budget, funds were set aside for enhancing irrigation on farms across the country. This is in addition to the completion of the rehabilitation of various irrigation schemes like Doho.
Forty eight million shillings was set aside for water for production and another sh250m set aside for constructing small farm irrigation schemes. Simple irrigation systems go for between sh300,000 to sh2m.
 
Early in the year, the Harvest Money pullout started a campaign to sensitise farmers on the benefits of greenhouse farming and simple irrigation systems.
As 2012 came to a close, a survey across the country showed that adaptation to simple irrigation systems was increasing across the country, thanks partly to this campaign.
 
Crop insurance to pick up

It is still a new aspect of agriculture although it has been mooted for some time now. With the increased agricultural budgetary allocation of sh585b for the financial year 2012/2013, farmers can think of taking advantage of this.
One way of mitigating the risk of bad weather is by embracing agricultural insurance. This will go a long way in securing the sector and making it more attractive to farmers.
 
Zoning good for sector

As the year ended, there was talk about implementing the much touted zoning system of agriculture.  In fact, it was said most of the implementations of the new agriculture policies will be carried out under a zoning system, in which specific crops will be supported to be grown in specific regions of the country.
The Government will focus on seven selected commodities that include maize, beans, coffee, market fruits, dairy and livestock and fish production.
 
According to the suggested implementation strategy, farmers will not be stopped from producing other crops other than those zoned for their areas.
 
However, support for farmers in these areas will first be given to only those producing the zoned crops. The Government says this will help in enhancing production and creating easy pick up markets for produce.
Overall, in 2013, funding for the agricultural sector will increase to at least 8% of the national budget and strides will be made in agricultural research, value addition and mechanisation
 
More funding, but same old challenges for the agricultural sector