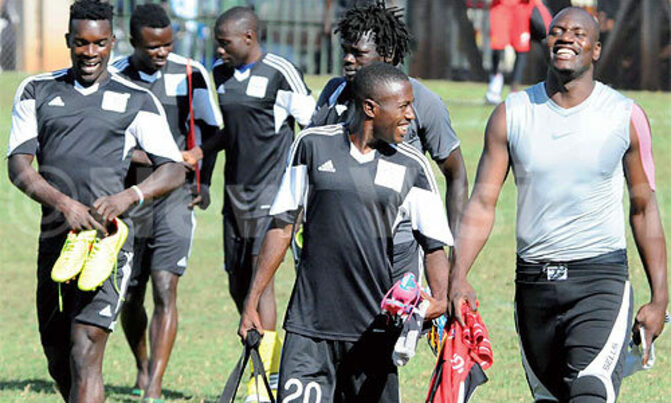 Less than 48 hours before Uganda confronts Togo in Saturday's Nations Cup qualifier, the Cranes find themselves with an embarrassment of riches across the board.
By Fred Kaweesi
Saturday, 4pm, SS9E
Nations Cup qualifi er
Uganda v Togo

Less than 48 hours before Uganda confronts Togo in Saturday's Nations Cup qualifier, the Cranes find themselves with an embarrassment of riches across the board.

The Cranes, who top Group E with four points, do not only boast an abundance of talent but a pool of in-form players —unfortunately some of whom could end up in the terraces.

On the evidence of the first two group matches (the 1-1 against Ghana and 2-0 win over Guinea), there will be a temptation to retain virtually the same eleven that started both fixtures.

But the old adage that you should not change a winning team does not apply in modern football because coaches must study the opposition and pick players who exploit their weaknesses.

In the event that that will be the formula used to select Saturday's side, it will be interesting to see which 18 will be rolled out for the must-win fixture against the Sparrow Hawks.

In goal, Denis Onyango is the obvious candidate. His experience and contributions in the two games justify that.

Robert Odongkara is a proven deputy, which means Ismail Watenga (Cranes' gallant performer in the preliminary first leg against Madagascar) and Benjamin Ochan will occupy seats in the terrace.
In Godfrey Walusimbi and Denis Iguma, the Cranes are fairly blessed with solid fullbacks but there will be debate on which is the ideal central defensive pairing.
Isaac Isinde had gradually stepped in as Andrew Mwesigwa's defensive partner but lost his place to the youthful Savio Kabugo for the two games against Ghana and Guinea.

Isinde has gathered immeasurable experience competing for both club and country but not many are sure his 5ft 8 frame will match 6ft plus tall Togo star striker Emmanuel Adebayor.

Interestingly, the same Isinde proved rock solid against Guinea's two 6ft-plus strikers Ceceiro Semedo and Miche Diorusio two years ago.

Kabugo is tall (about 6ft) and although he successfully dealt with Gyan Asamoah in Kumasi, his choice, ahead of Isinde and Richard Kasagga, continues to be a calculated gamble.

If he does start on Saturday, it will be interesting to see how he fairs against Adebayor.

Uganda Premier League revelations Martin Kizza, Fred Nkata and Murushid Juuko are out of the picture.

The team's midfield is unlikely to change despite the impressive form of Said Kyeyune and Brian Majwega.

Tony Mawejje —Cranes most influential player —has constantly adapted and evolved his game within different tactical systems, without compromising his work rate and scoring instincts.

Khalid Aucho and Geoffrey Kizito's abilities to act as an effective shield for the defence have offered Mawejje further license to venture forward, and considering that the approach has worked, why change?

The interesting puzzle now is whether Cranes will field two strikers (from a pool that includes Emma Okwi, Brian Umony, Karim Ndugwa, Dan Sserunkuma, Geofrey Massa and Yunus Ssentamu) or opt for a lone frontman to accommodate Luwagga Kizito and Moses Oloya.

On a good day, Oloya is the team's most creative asset while Luwagga has been superb of late for both club and country.

"We will have to work as a team. We will need to defend better and create chances. We didn't create chances against Guinea. We must improve in that area because Togo won't be easy at all," Cranes striker Geoffrey Massa stated earlier.
RELATED STORIES:

Ibrahim Sekagya backs Cranes to beat Togo

FUFA blocks Namboole access roads

Diet is very important for Cranes
 
Cranes have an embarrassment of striking riches