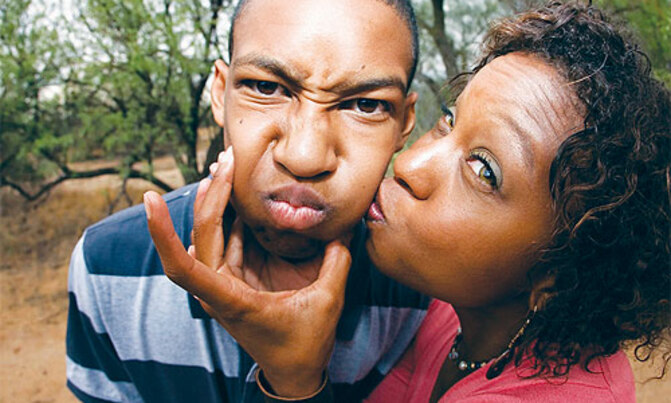 Imagine this. You are a cool budding teenage guy, strolling down the street when a cool ride pulls up ahead. The window is rolled down and someone inside beckons you. The person is an attractive woman offering you a lift
By John Masaba

Imagine this. You are a cool budding teenage guy, strolling down the street when a cool ride pulls up ahead. The window is rolled down and someone inside beckons you.  The person is an attractive woman offering you a lift.

It can't be bad; she is the lady who lives next door to you. A cordial relationship starts but soon, the acts of kindness are more than you expected. She wants to know what gadget you've always longed to own, and she buys it for you.

She is as old as your mother, but she is keen on taking you out to movie nights just for the two of you. Each time she shows up, she is wearing a short or tight dress that leaves nothing to imagination. Before you know it, you are
doing 'adult things' with her.

Gone are the days when only girls were at the risk of being defi led and sexually molested. There have been numerous cases of girls dropping out of school and their lives ruined due to consequences of having sex.

However, the tables have turned, and boys too are falling victim to older women, house maids, relatives and friends. More disturbing is that there are cases of boys being molested by older men, or bigger/stronger peers.

"We have observed that such cases (of boys being defiled) are on the rise, especially at upcountry stations," says Deputy Police spokesperson, Polly Namaye. She said most cases involve women tempting young boys with gifts in return
for sexual favours.

Namaye's revelations come hardly a year after a 30-year-old woman, Sarah Nekesa from Mutungo, a Kampala suburb, was sentenced to seven years in prison over defi lement.

The Entebbe chief magistrate's court found her guilty of sleeping with a 16-year-old boy. Nekesa had initially employed him as a casual worker. She is currently serving her sentence in Luzira Prison.

Namaye says the Police are yet to compile the figures in the country, however she reveals: "We have made some arrests regarding the molestation of boys and perpetrators have been arraigned in court."

What is sexual molestation?

According to the Police, any sexual act involving a minor (anyone below 18) is categorised as sexual molestation. It is sometimes referred to as sexual assault. Sexual molestation is defined  as a sexual act in which a person is threatened
or forced to engage in sex against their will. It also includes touching the sexual organs of a person without their consent.

According to Christine Alaro, the head of the child and family protection unit at Uganda Police, defilement takes the form of a person engaging a child in sexual activities (regardless of whether or not they consent).

However, Alaro says molestation is not only being committed by (older) women; boys are being raped by older men or by their stronger or older peers. "We are getting some of these complaints mostly from boys in boarding schools," she said, adding that there have been cases of male street children being attacked.

Trauma

In addition to being exposed to STDs,  Beatrice Balitenda Kakembo, a counseling psychologist at Inspiration Centre in Ggaba, says sexual abuse can result in long-term psychological trauma.

This is likely to result in the victim hating sex when they grow up. This is because their minds will associate sex to the nasty experiences they suffered while young.

Kakembo says some victims will find it difficult to engage in a meaningful intimate relationship. "Their emotional stability could be severely affected. One could choose to indulge in sex for 'fun' and end up with several with partners and children for whom they will not be willing to support," she says.

"I have counselled a good number of such cases and many will narrate a history that points to having been sexually molested at a younger age."

Statistics

In Uganda, statistics are not easy to find. However, the global prevalence of child sexual abuse is estimated at 19.7% for females and 7.9% for males, according to a 2009 study published in Clinical Psychology Review.

The main perpetrators, the study found out, were people close to children like teachers, step-mothers, uncles, cousins, parent's friends or neighbours.

Kakembo says the abuse on boys has been confined mostly to adolescents. Most were already sexually active and were likely to be swayed easily by their abusers, as they look for material gain.

Disturbingly, Kakembo says, sexual abuse is also happening to little boys as young as four. "In one of my counseling sessions, a mother told me how she discovered that her four-year-old son had been molested by the maid," she says.

The maid was arrested by the Police. Upon interrogation, she said she had done it many times, whenever her boss was at
work. "She (the maid) said she would massage the boy's genitals and then perform oral sex on him," Kakembo says.

Although such incidents are at the extreme, Kakembo confirms that they are happening every day. She blames the rising trend on exposure to inappropriate Western movies and to the fact that fewer parents nowadays have time with their children. Kakembo says parents are leaving the maids and authorities at school to raise their children.

Richard Hamba, the programme director of Teens Uganda, a nongovernmental organisation, says older boys caught in the web of sexual abuse are choosing to keep it under wraps and are suffering in silence.

"We only get to know about the cases when they (adolescents) come to seek medical care for STDs," saysHamba, whose organisation holds a monthly camp for teenagers in Kawaala, a city suburb.

"Most of them don't know how to go about it. We found out that bigger boys are more ashamed to talk about it. I think it is because having sex is a sign of maturity and considered something to be proud of in African society," Hamba says.

James Wankabi, a senior pastor at Reformed Presbyterian Church, Mbale, says boys were willing to 'survive' on those older women, who offer them money and other gifts.

"Many parents think girls should be given fi rst priority. As they try to protect girls from sugar daddies, they forget that boys too face a similar danger, with sugar mummies waiting to pounce."

Wankabi adds: "The increasing danger  to boys is coming as more young women are now choose to remain single yet they have a lot of money."

Victims silent

According to the Penal Code, sexual molestation is a crime. "If a person like a teacher, a Police officer is found to have committed the case against a child under their care; such a person can be charged with aggravated defi lement.  This carries a maximum punishment of death or life imprisonment," Alaro says.

However, she says getting the culprits in cases where the acts are committed against boys is difficult. "Most cases are
not reported. We have found out that while many parents were aware of a crime, they choose to keep quiet. I think it is down to society norms, which tend to protect girls more than boys," says Alaro, explaining that parents are more likely to report a case committed against a girl than against a boy.

She says because of the shame surrounding sodomy, boys and their parents chose to keep quiet. "We are learning about the cases through nongovernmental organisations like Retrak International, and others that work with children," she says.

Yet as the silence lasts, many boys are being exposed to HIV and sexually transmitted diseases. A source at Central
Police Station in Kampala says they are investigating a matter where a male student at one of the top boarding schools
in town reported being abused by older boys.

"We tested the boy. Luckily he was HIV negative. We are still  investigating the matter," the source says, adding that he was unable to disclose more details.

Such cases paint a picture of a greater danger of children believing they cannot contract HIV from peers of the same sex.
 
Threat is real: boys are being abused sexually