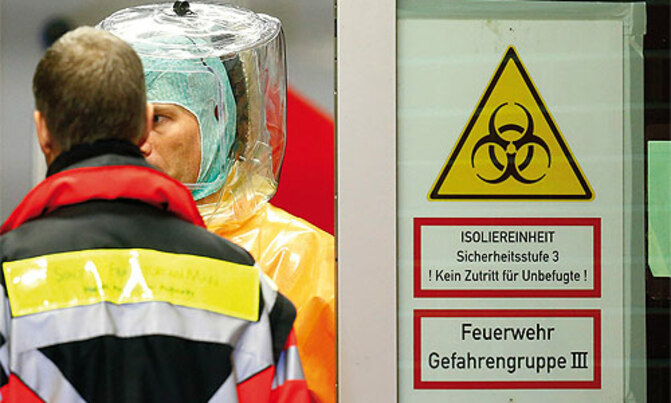 The Ugandan doctor who contracted Ebola while working in Sierra Leone has been named as Dr. Michael Mawanda, a paediatrician with an Italian NGO
By Raymond Baguma

The Ugandan doctor who contracted Ebola while working in Sierra Leone has been named as Dr. Michael Mawanda, a
paediatrician with an Italian NGO.

According to the Sierra Leone telegraph, as soon as Mawanda became ill, he was flown in a chartered plane from
Lungi Airport in Sierra Leone to Germany for specialised treatment.

Because of the previous deaths of medical workers handling the epidemic, German doctors have offered to fly out any medical worker who contracts the disease.

Agencies added that Mawanda is the second medical worker with Ebola to be treated in Germany after another health worker was flown to Hamburg in August, where he was treated and recovered.

In August, the health ministry dispatched a team of 20 health workers to Liberia and Sierra Leone to join the emergency response to the Ebola outbreak in West Africa.

The health workers were contracted by the World Health Organisation (WHO) to provide technical expertise and support the Ebola outbreak response.

Rukia Nakamatte, the health ministry spokesperson, said Mawanda is not among the Ugandan medical professionals sent by
the Government and contracted by the world health body.

"He is not among our doctors in West Africa. Although we got information that he is Ugandan, we have not been in touch with him," Nakamatte said. By press time, Mawanda's Ugandan family members had not been established to find out
if they were in touch with him, but sources say he has a young family.


According to information availed to Sunday Vision, Mawanda works for the Italian NGO, Emergency, and was treating patients at Lakaa Hospital in Sierra Leone when he contracted the virus. He graduated from Makerere Medical
School in 2003, a former classmate told Sunday Vision.

The hospital where Mawanda is admitted has 1,500 beds and a special unit that can accommodate up to six Ebola patients.
According to Reuters, treating an Ebola patient can cost up to $315,000 (sh820m).

A health insurer is paying for Mawanda's treatment. "The patient is in very serious condition, but stable," said Timo Wolf, the physician entrusted with Mawanda's treatment.

The special hospital building in which Mawanda is being treated has its own air supply. All doctors and nurses wear waterproof overalls, which are inflated so the extra air pressure acts as a barrier against the virus. He is being taken care of by eight doctors and 16 nurses.

Treatment mainly consists of making sure a patient has enough fluid, gets antibiotics against secondary infections and does not suffer extreme pain, Wolf said. Uganda has in the past experienced Ebola outbreaks in Gulu, Mbarara, Bundibugyo and Kibaale districts.

Health authorities have intensified surveillance in the country following outbreaks in West Africa. The disease has spread to Sierra Leone and Liberia, and there have been reported cases in Nigeria and Senegal.

WHO has since declared Nigeria and Senegal Ebola-free. However, this week, a case was found in the US. Ebola has so far killed 3,338 people out of 7,178 infected, most of them in Liberia, Sierra Leone and Guinea, according to the latest
figures from WHO.

Ebola is a highly contagious virus with a high fatality rate. It can be spread through direct physical contact with body fluids such as saliva, blood, stool, vomit, urine and sweat from an infected person. It can also be spread through
using skin piercing instruments that have been used by an infected person.

A person can also contract the disease by handling a dead body of a person who has died of the disease.
Signs and symptoms include fever, general body weakness, muscle pain, headache, abdominal pain, sore throat, vomiting,
diarrhoea, rash and bleeding through body openings. It also causes an onset of kidney and liver failure. There is no known cure for Ebola.

 
Ugandan doctor with Ebola named