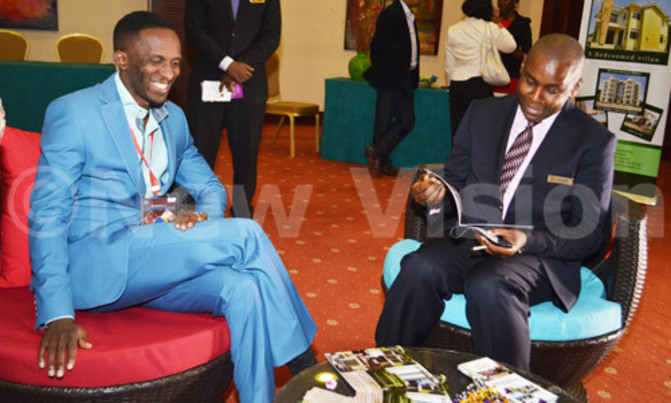 You are definitely wondering what a lifestyle week would entail. Well, like its name suggests, it takes after our lifestyles.
By Nigel M. Nassar

You are definitely wondering what a lifestyle week would entail. Well, like its name suggests, it takes after our lifestyles.


And the Kampala Lifestyle Week, which decked the Kampala Serena's Katonga Hall on Friday September 26th and September 27th, was basically a showcase of amenities on which our lifestyles revolve.


Not the run-of-the-mill lifestyles though. The lifestyle this showcase targeted, and will target in the subsequent annual lifestyle weeks, is that of the aspiring individual looking to stay up to speed with what's trending, or what can give them quality and exciting enhanced lives.
 
trueSome of the guests at the annual Kampala Lifestyle Week at Kampala Serena's Katonga Hall. PHOTO/Denis Dibele

And so, all of such individuals on Friday through Saturday pitched in their presence at the Serena to check out a host of showcased amenities guaranteed to enhance their lifestyles.
 
We are talking one roof hosting brands to do with finance, motoring, concierge, health and beauty, aviation, property, travel, events, jewelry and watches, electronics, fashion, personal care/grooming, foods and winery, entertainment, holidaying, communication, name it.
 
Basically, it was a varied assortment of stuff the aspiring achiever aligns themselves with. And with that assortment came free advice and consultancy from the service providers of the amenities – advice about affordable and friendly means of acquisition on offer, where to access them, other options available, after-sale services, and the like.
 
One of the marvels that caught everyone's eye was the latest car from KIA – The Sorento, and all its smart abilities.
 
true
Then we had some of the latest outfits on the market, discounted travel offers on different airlines, cool furnishing and property deals, among others.
 
This, according to the event organizer, former Urban TV presenter, Edwin Musiime, will not stop at the annual lifestyle week. Rather, it continues to their website, which is East Africa's only and largest lifestyle mall – an online mall.
 
In this mall, the said exciting and enhanced lifestyle will be accessed with just a click so that individuals can either order online and get stuff delivered, or be informed of what's on offer and where before they set out to get it.
 
true
The whole spectacle will also be supplemented by a lifestyle magazine called Mars, which Musiime launched at the lifestyle week's opening, as a replacement of his former magazine, The Rock.
 
According to Musiime, also CEO of Mars, the annual Lifestyle Week and all its other twigs, away from inspiring a better quality of life for individuals who are in for exciting enhanced lives, is a huge networking opportunity, as consumers and sellers of the best brands on the market come together.
 
true
"It is a synergy that enables our visitors to gain unparalleled access to services and brands that redefine the way they live – whether they visit us at the annual lifestyle weeks, or via the online mall.
 
This is life redefined in an exciting new way Ugandans need to embrace," says Musiime.
 
 Photos by PHOTO/Denis Dibele
A showcase of the trending at Kampala Lifestyle Week