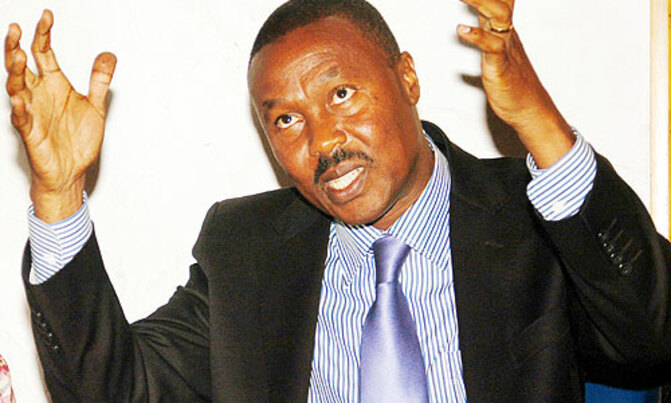 AGGRIEVED former FDC party presidential candidate Nandala Mafabi''s campaign team has called for a truth and reconciliation committee.
By Jeff Lule

AGGRIEVED former Forum for Democratic Change (FDC) party presidential candidate Nandala Mafabi's campaign team and supporters, have called for truthful and reconciliation committee to handle their grievances expeditiously arising from the party's presidential election.

In their eight page petition they handed over to the party national chairman, Sam Njuba, Thursday, they stressed that matters must be heard by a select truthful committee for a transparency.

Mafabi lost to Muntu in the party presidential elections last month, which Mafabi's camp rejected, saying the exercise was rigged.

They said that the results of the hearing will determine the future of action.

"Some of our members feel we should not be on that committee. The party should put that into consideration to save the future of our party. Members just want their matters addressed and action taken on the culprits. People still love their party but want justice," Sarah Eperu, former spokesperson of Mafabi's camp noted.

They demand that the party Secretary General, Alice Alaso and Electoral Commission (EC) boss, Dan Mugarura step aside from their offices, pending the outcomes of the hearing investigations until they are exonerated.

Members argue that Alaso took sides in the campaign, stressing that by her position she had the duty to oversee the exercise and needed to act neutral.

"When it came to other officials working at FDC offices to take part in the campaign, Alaso compelled them to step aside but she continued being in office at the same time campaigning for her candidate Gen. Mugisha Muntu," the petition read.

They alleged that Alaso also used her own personal printer to print accreditation tags for all her agents, observers and invited guests. They claim that the people given tags were not the ones approved the National Executive Council (NEC), stressing that only three of their agents were issued with tags, from the list of 20 polling agents and observers they submitted.

They allege that EC boss, Mugarura also abdicated his duty and fused his office with that of the secretary general rendering the process unfair, non-transparent and flawed.

The members also want Muntu to unconditionally and publically apologize to Mafabi for allegedly calling him a scam and hypocrite, as it appeared in the media reports on October 17, 2012.

"No body refuted this. We would like to know what Muntu meant by "scam and hypocrite" in reference to Nandala. This was definitely abusive and showing total disrespect to his opponents," the petition reads.

Members also note in his written campaign speech at Namboole, Muntu referred to Nandala as a platoon commander who can best be promoted to a company commander.

They also want Anital Among to face disciplinary committee to answer charges related to alleged sending of false and offensive sms messages to opponents, loss of sh10m for the youth conference in Kawempe and the alleged funds she received from city tycoon, Hassan Basajjabalaba.

The group also boycotted a get together party held at Njuba's home in Kasangati yesterday, saying it was too early for them since their matters were not addressed yet.

Eperu said members can only engage in serious talks when their demands are addressed.


Mafabi camp sets tough conditions for Muntu