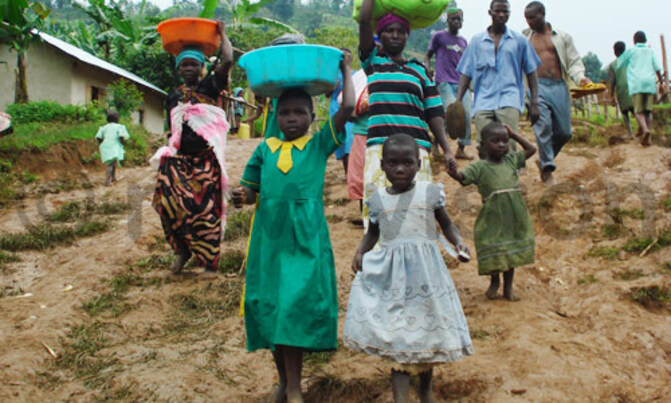 GOVERNMENT will this week start resettling 1150 families in areas at high risk of landslides and floods from the Mount Elgon region as part of its efforts to find a permanent solution
By Moses Walubiri
GOVERNMENT will this week start resettling 1150 families in areas at high risk of landslides and floods from the Mount Elgon region as part of its efforts to find a permanent solution to a spate of disastrous landslides in the area.
In total, according to acting commissioner for disaster preparedness in the Office of the Prime Minister (OPM), Rose Nakabugo, government plans to resettle 5000 families in the safe, lower lying areas within Bugisu.
The department of disaster preparedness is the lead agency responsible for disaster preparedness and management in Uganda. It coordinates risk reduction, prevention, preparedness, mitigation and response actions on a national scale in consultation with other line ministries and humanitarian organizations.
"The resettlement is starting next week. That is our tentative program," Nakabugo told New Vision on Friday.
Despite government securing 2,828 acres of land for the resettlement late last month, Nakabugo said the process couldn't kickoff immediately because OPM needed to bring all stakeholders in the affected areas on board.
Government purchased land for resettlement in Bunambutye sub-county, lower Bulambuli District at sh8b.
"It has been a long process involving discussions with district leaders and affected families," Nakabugo said.
Although she was reticent about how much the operation will cost, Nakubugo revealed that a significant chunk of the bill will be picked by development partners and that the resettlement will be complete within three months.
"This is a complicated process that requires erection of a reception center, temporary shelter, emergency education facilities and demarcation of plots. We need to have all the basics for people to survive," Nakabugo said.
The Elgon region has suffered a spate of deadly landslides which have claimed lives of hundreds of people. In March 2010, for instance, landslides killed about 150 people and displaced over 10,000, in Nametsi sub-county, Bududa District.
In 2011, 30 people in Ssisiyi, Sironko District were killed while another eight were entombed by a landslide in 2012 in Bumwalukani, Bududa District.
With increased population pressure on the Mount Elgon slopes that has resulted into denudation of forest cover, every rain season raises the specter of yet another deadly landslide in the region.
In 2012, government constituted a cabinet Sub-Committee headed by second Deputy Prime Minister, Gen. Moses Ali, to generate proposals about securing people in landslide prone areas in Mount Elgon region.
The sub-committee recommended that government buys land for resettling people at high risk of landslides and floods.
Already government has resettled 3000 victims of the 2011 Bududa landslide in Kiryandongo. Each family to be resettled in lower Bulambuli, According to Minister for Relief, Disaster Preparedness and Refugees, Hillary Onek, will be allotted 2.5 acres.
What is a landslide?
A landslide, also known as a landslip, is a geological phenomenon that includes a wide range of ground movements, such as rock falls, deep failure of slopes and shallow debris flows. Landslides can occur in offshore, coastal and onshore environments.
Related stories
Govt to relocate Bududa people
Kabwegyere quizzed over sh8bn Bududa funds
We knew mudslides would happen in Bududa, why didn't we prepare?
Resettling of Bududa families starts