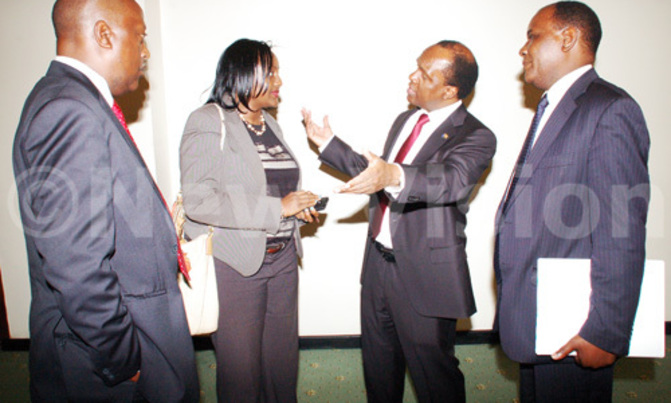 Chief executives of leading industries have called for a structured engagement with government especially parliament to ensure the legislature focuses on the country's economic needs.
By David Mugabe
Chief executives of leading industries have called for a structured engagement with government especially parliament to ensure the legislature focuses on the country's economic needs.

In an animated debate themed around the "Role of energy in championing social and economic transformation," the CEOs who represent some of the most capitalized institutions in the country like Tullow, Total and several top banks were tasked by the moderator, Dr Sam Sejjaka why they are quiet on the state of affairs in the economy and country.

"You the captains of industry are not asking enough questions on how your resources are being used," asked Sejjaka to a fully packed 5th annual CEO Summit at the Kampala Serena on Wednesday.

Then Dr William Kalema, private consultant and member of several public and private boards picked up from here with a straight barb at parliament noting that if the legislature is not engaged with information, the country faces doom if the fundamentals are not right.

"We are dealing with people who don't understand where we came from, in some cases they are motivated by greed, we have to engage this people, we have to tell them no one is going to give them a bribe," observed Kalema.

He pointed out that there is too much focus on Umeme and politicking yet the country is grappling with several challenges and a tough business environment.

But Jimmy Mugerwa, Tullow Oil chief executive differed a little saying despite the engagement with the policy makers, captains of industry have their role to play.

"The left hand does not know what the right is doing, as captains of industry, we need to do our bit, we have not shared what is in our industry," noted Mugerwa recalling how Tullow oil identified 25 industries where Ugandans can benefit but very few people have come to find out about these opportunities available in their space.

On the question of energy, Mugerwa observed that for Ugandans to move up the poverty ladder, they first need to move up the energy levels.

Sejjaka then agreed with Mugerwa asking CEOs to throw away the red tape and closed door policy where their offices are not accessible to the public.

"You have opened to business, why ask people to fill forms to see you," asked Sejjaka. He acknowledged that in most circumstances, the policy environment is always going to be a step behind.

"Let us create the business they will follow up," noted Sejjaka. There were also calls for a total revamp of the flawed procurement processes which is both expensive and time wasting, costing the country the opportunity to revamp run down infrastructure like roads and rail.

The latest is the Katosi road scam which was envisioned to connect several fish landing sites to the commercial areas around Mukono.

"Procurement in Uganda is a nightmare, the business of getting business done is just too difficult," noted Sejjaka.

Private Sector Foundation chairman, Patrick Bitature sought to calm the chief executives saying they should unite and exploit fora like PSFU to engage the president and avoid so many different avenues of trying to solve similar problems.

"We cannot change this overnight but we must change the trajectory, work together as the private sector and have a strong voice," noted Bitature also Umeme board chairman.

But on taking the country forward, Bitature noted that Uganda will only move forward with discipline.

"We need to inculcate it our families, companies and society," Bitature asked the private sector to push their enterprises a notch higher to fully take advantage of the about 800MW of energy that is coming on the national grid in about five years after the switching on of Karuma, Isimba and other smaller power dams.

Other executives expressed fear over the over liberalized economy saying it needs to benefit Ugandans more through lesser profit repatriation and through improved regulation.

Earlier Charles Chapman, Umeme chief executive asked government to come together to exploit the vast hydro potential of the River Nile.

"The most fantastic thing about Uganda is the River Nile, it is a no brainer and it is fully sustainable," noted Chapman.
Related Stories
Ugandans are poor public speakers – Bitature

Corporate League caters for CEOs

CEOs to parliament: Stop politicking and address country's economic concerns