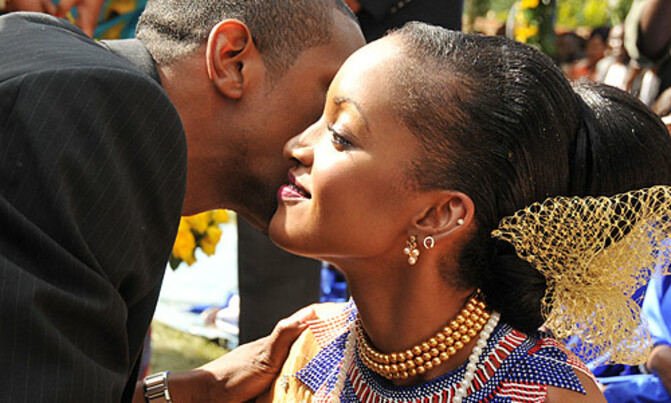 Today at St. John's Cathedral, Toro's King Oyo will walk his sister down the aisle and hand her to his in-law.
By Rogers Sunday and Raymond Baguma

The last time a ceremony of such magnitude took place in the Toro kingdom was when its King, Oyo Nyimba Kabamba Iguru was handed the instruments of power in April 2010 at the age of eighteen.

Today at St. John's Cathedral, Harukoto, King Oyo will walk his sister, Ruth Komuntale, down the aisle and hand her to his in-law, Christopher Thomas to take their vows in what is expected to be a grand wedding ceremony.

As you read this, the serene town of Fort Portal in western Uganda is a bee hive of activity. Tonight a kasiki is scheduled to take place and the town will truly be making merry as Oyo's subjects prepare to see off their beautiful princess.

An estimated 5,000 rooms in lodges and hotels in Fort Portal are fully booked out, according to our reporters on ground.

The Karuziika, King Oyo's palace, will host the venue for Komuntale's reception.  This year, the Karuziika marks a centenary of existence, having been built by his great grandfather Kyebambe in 1912.

Later, through post-independence years of turbulence and abolition of cultural institutions, the Karuziika lay derelict, but was later refurbished by the deposed Libyan leader, Muammar Gaddafi in 2002.

The palace has hosted all cultural celebrations which the king's subjects are duty-bound to attend, without invitation cards.

In that respect, hundreds of subjects are expected to assemble at the Karuziika (palace), which stands atop the hill, overlooking Fort Portal town.

Preparations for the wedding climax this Friday night with a mega bashat the King's palace.

The history of Toro Kingdom is close to 180 years old and this wedding holds significance because Komuntale, 23, is the elder sister of King Oyo who is three years shy of her.

Komuntale's wedding ceremonies have been intricate, combining ancient cultural as well as modern Christian rituals.

The wedding will be presided over by the outgoing Archbishop Henry Luke Orombi. He will share the pulpit with the Rwenzori Diocese Bishop, Reuben Kisembo, who is also a subject of King Oyo.

The wedding was preceded by a traditional introduction ceremony that took place at the home of Komuntale's paternal uncle, Charles Kamurasi who holds the title of Omusuga, or head of the royal clan.

Even as Princess Komuntale speaks Rutooro during her introduction, her peers know that she has had a privileged life that comes with being a royal.

Komuntale received an education at Aga Khan Primary School in Kampala, attended the International School in Tripoli, Libya before joining the American University in Washington.

For the women awaiting marriage in Toro kingdom, Princess Komuntale has inspired a number of them.

Irene Kanyunyuzi, a university student says, "It is a must for me to witness the royal wedding because it gives me morale to wait for my opportunity to come."

Kanyunyuzi also hopes the highly billed wedding will attract Americans to come to Toro and invest, which will create employment for the youth. She hopes to be witness to the ceremonies in order to observe the difference between royal weddings as well as weddings by ordinary people.

Eunice Bimbo, who Komuntale's age mate says: "She is lucky to have been loved by an American man. Personally if I got chance I would get married to an American too.  Their marriage will only be a blessing for Toro kingdom if she does not drop her culture. Although she married to an American, she remains a Mutooro."

Toro Kingdom lies on the windward side of the Rwenzori mountain ranges. With the ongoing rains, the subjects of this mountainous kingdom will look up to the traditional rainmakers whose incantations could prevent the rains from marring the celebratory mood.
Royal bells echo in Toro: All is set