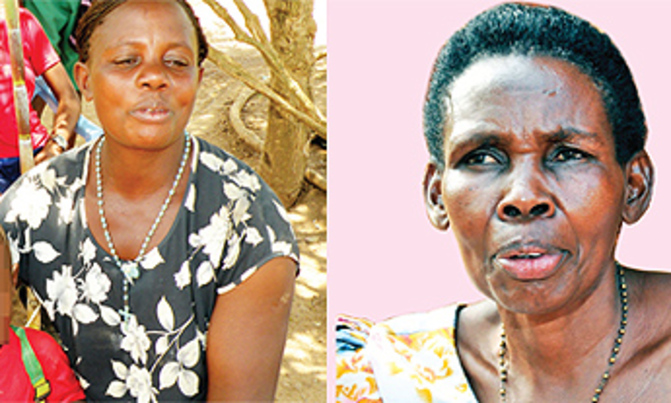 THE window to her soul was wide open. So when I peeped through, I saw all that was inside. She may have been given away by the little sleepy tweak in her hazy brown eyes. It may have been the thick brownish mist that hang over her tired gaze
Until World Aids Day on December 1, New Vision will publish daily HIV-related stories. Today, Stephen Ssenkaaba brings you the story of two women, who have borne the brunt of this epidemic for the past decade amid biting poverty

THE window to her soul was wide open. So when I peeped through, I saw all that was inside. She may have been given away by the little sleepy tweak in her hazy brown eyes. It may have been the thick brownish mist that hang over her tired gaze.
Her voice sounded distant, as if it was being pulled from the deepest corner of her throat.  Betty Nalubega looked much older than her 56 years. Who would blame her? She has been through a lot, thanks to HIV. 
Nalubega lost her husband 14 years ago. "He had HIV. Before he died, she tested and was found to be HIV-positive."
She blames her husband for infecting her. "He had a string of women."

After the death of Nalubega's husband, her eldest child was also diagnosed with HIV. He died in 1998. "He led a reckless lifestyle."

One of Nalubega's daughters lost her husband to HIV. She has since come back to live with her in Kabulengwa, Wakiso district. "I fear that she may also have HIV," she says.

Even though all her eight children are grown up, two of them still live with her at home and depend on her. Nalubega also takes care of six grandchildren. Unfortunately she does not have a stable income to sustain this big family.

"I used to sell groceries in the market, but when my husband became seriously ill, all my savings went to clearing his medical bills," Nalubega says.

Whatever was left after his death she says was spent on treating her eldest son. "I am left with nothing now to look after these grandchildren," she says.

With an average age of 10, all these children should be going to school, but Nalubega is too poor to even afford the basic scholastic requirements needed in schools on the free Universal Primary Education programme.

Poverty is written all over Nalubega's home. Her brick house is crumbling under the weight of neglect. Cracking walls and potholes on the cement floor of the living room are all that you see. There are only three rooms in the house, shared among all nine people.

Her other daughter who lost a husband to HIV lives in a tiny room adjacent to the main house. It is bordered by two other rooms where Nalubega rears poultry. "From these, I can get some money to feed my family."

Out of the 150 birds she rears, Nalubega only gets a pittance from selling eggs. A few metres away from her house lies a small family garden where she grows vegetables and cassava to feed the family. "But it is not enough for a family of 10."

There is such a shortage of food in this home that the family survives on one meal a day. Yet the doctors advised her to eat well. "They have advised me to eat fruits, vegetables and a balanced diet, but I cannot afford it," she says.

For a woman on ARVs, lack of enough food has only worsened Nalubega's condition. "The drugs are too strong for me. They cause me heart palpitations and a burning sensation; they also weaken me a lot."

A distance from Nalubega's home, Nalongo Nakitende rakes away at the murk inside a pigsty at her home in Kyebando in Wakiso district. She is one of three wives of Henry Nsubuga, an HIV-positive father of 13 children. One of Nakitende's co-wives died of HIV, while the other left the home. She also had the virus. 

Since discovering her HIV status, Nakitende's life has been quite murky. "I tested in 2003 after becoming suspicious that one of my co-wives was sick," she said.

When her co-wife died, she left behind four children. She now takes care of them in addition to four of her own and a few other young relatives. She now caters for 11 children in all; two of these are HIV-positive. They share a two-room shack.

Nakitende is a peasant farmer, who lives off selling sugarcane and passion fruits from her garden. Her husband does not live with her and only provides minimal support.

"We cannot raise enough money to take care of all these children," she says.
As a result of this, some children have dropped out of school, while others have found odd jobs to supplement the family income. It is even harder looking after HIV-positive children. "They often get discriminated against in school, regularly fall sick and need good feeding, which due to our meagre income we can hardly afford," says Nakitende.

Poverty and HIV
Nalubega and Nakitende's stories are a typical case of HIV in a poverty-stricken environment. A study on poverty and HIV by the International Institute of Capacity Building in Africa observes that the poor account for most of those infected in Africa. This, according to this study, is because of their limited means.

According to the study, "the poorest are least able to cope with the effects of HIV/AIDS." 
The International Fund for Agricultural Development observed that as breadwinners in many low-income families, women are at a particular disadvantage.

They work far longer hours than men, have limited access to resources and control over what they produce, and, among their many other tasks, they bear the double burden of ensuring their households are fed adequately and caring for the sick and elderly and for orphaned children.

These cases indicate that HIV cannot be looked at in isolation. It is an indicator that along with the fight against HIV, efforts have to be made to stump out enabling factors like poverty.
HIV amid biting poverty; a tale of two mothers