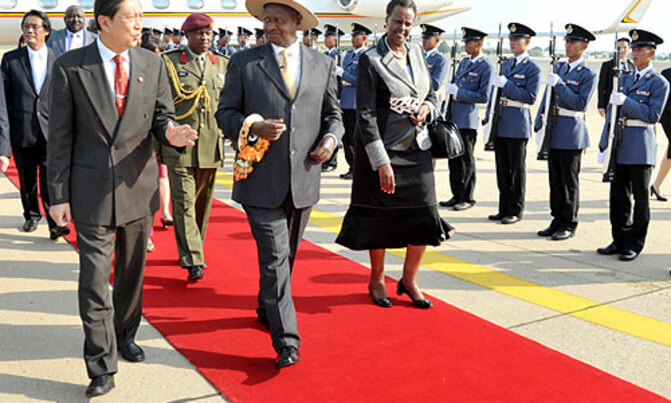 President Yoweri Museveni is in Thailand for a 3-day state visit
Vision reporter

President Yoweri Museveni is in Thailand for a 3-day state visit. The President, accompanied by the First Lady who is also Minister for Karamoja Affairs, Janet Museveni was received at Bangkok's Don Mueang Airport by a high powered Thai delegation led by Prime Minister, Mr. Plodplasop Suraswadi.

The Ugandan entourage includes State Minister for International Affairs, Okello  Oryem, the Thai Consul in Uganda, James Mulwana, Uganda's Ambassador in India, Nimisha Madhvani and the Defence Attaché at the Ugandan mission in New Delhi, Brigadier Etyang.   

Immediately after arrival in Thailand, the President addressed the Uganda - Thai Business Forum at Plaza Athenee Hotel in Bangkok and later met and held meetings with prospective investors mainly from Asian countries in the lines of infrastructure, agro-processing, service delivery, pharmaceuticals, construction and industrial design as well as Information Communication Technology (ICT).

A welcoming ceremony is set for today (Friday) at Government House, where Museveni is scheduled to meet with Thai Prime Minister Yingluck Shinawatra for bilateral talks.

According to Thai press, the visit aims at enhancing the cordial relations already existing between the two nations.Topics of discussion will include varied mutual and regional issues, especially trade, investment and technical cooperation.

Apart from meeting potential investors, the Ugandan delegation will visit major Thai industry facilities to explore mutual trade and investment opportunities.

Museveni was in Thailand in 2003 for a private visit and in 2004 to attend the 15th World AIDS Conference.

This is the first official visit of a head of state and head of the Government of Uganda since Thailand and Uganda established diplomatic relations in 1985.

It provides an excellent opportunity for Thailand and Uganda to expand cooperation in various areas, both at bilateral and multilateral levels, as well as to promote better understanding at the people-to-people level for the mutual benefit of the two countries.

 
Museveni Uganda in Thailand