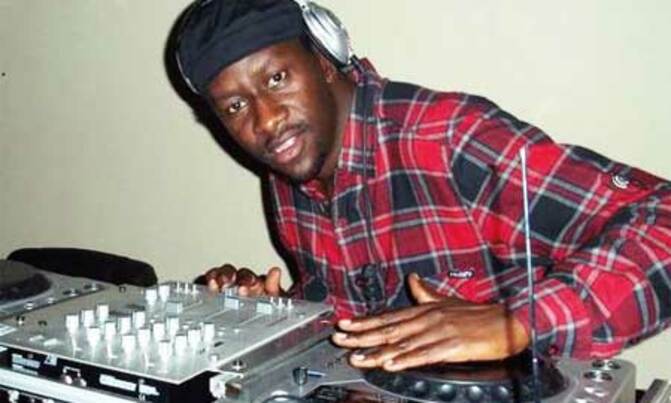 Michael Owori aka Bush Baby aka the baby from the bush had always dreamt of becoming a musician.
By Angela Ndagano

Sometimes life kicks us in the nuts just to point us to the right direction. But, you see we never know that until we have finally found our path.
Michael Owori aka Bush Baby aka the baby from the bush had always dreamt of becoming a musician.

We are yet to discover which bush the baby emerged from to take Uganda by storm. We suspect that the bush that offered him to us was full of singing birds. How else would we explain his inspiration to be a musician?

Yes, XFM's seasoned, sizzling and shy deejay tried to sing a long, long time ago. If you think we are bluffing, ask Big Ben of Sanyu FM or his buddies in Tanzania. He was so serious about his music.

In senior three, the mid nineties, he knocked on the doors of Sanyu FM, the country's maiden FM radio station. Big Ben opened and hosted him on the Afternoon Drive show where he shared his dreams of becoming Uganda's Michael Jackson.

After some of his hits were sampled, the young star had been anointed. Owori was ready to fly. Years later, the flying Owori perched at Capital FM in search for more inspiration from the biggest, but meanest radio presenter, Alex Ndawula. He gave
Ndawula a sample of his music. The presenter trashed it.

Close friends to Owori say it was at this point that he decided to rethink his career path. "I am studying journalism and communication; I can become a deejay and play my own music,"Owori told friends.

He cut a wire. You know those things of John Rambo getting pissed; paints his face with a black marker, ties a red ribbon on his head and walks through fire. Do you copy that?

Luck shone on him when he was doing a jingle at Radio Uganda now UBC radio. The boss was impressed by his voice and presentation. He decided to retain him. His radio career was born. While at Radio Uganda, he was contacted by a tycoon who was in the process of setting up a radio station in Tanzania – Kiss FM.

The market was green, but his talent was undeniable. He experienced a meteoric rise through the Kiss FM ranks. Soon, East Africa Radio, the only regional station came calling.

The offer was frightening, but it was exactly what he had hoped for when he had been turned down by Ndawula. He became the first Ugandan on the regional station.
He was a charm and darling of Ugandan musicians as well as East African radio listeners.

He was the pride of Uganda, ensuring Ugandan music is played by the station. Tanzanians say, his popularity spiraled and eclipsed that of the Ugandan ambassador to Tanzania.
On a daily basis, he attended to the financial needs of stranded Ugandans, some of whom were upcoming artistes.

Owori became the proverbial spin master of the famed Friday Night Live on East Africa radio where East Africa TV and the radio merged to create one of the coolest entertainment programming in the region. Hostels and House parties across  East Africa tuned in to listen to the music.

In 2010, he returned to Uganda to look for fresh challenges but also to bring back what he had learnt. He currently owns his own production house from where he has conjured up gripping entertainment programmes like Jump Off (on Urban TV) among others.
He is also one of the smooth talkers on the Morning Show of the leading Radio station in Uganda today (at least to us who know where the term swag hails) XFM.
Down memory lane with...DJ. Bush Baby