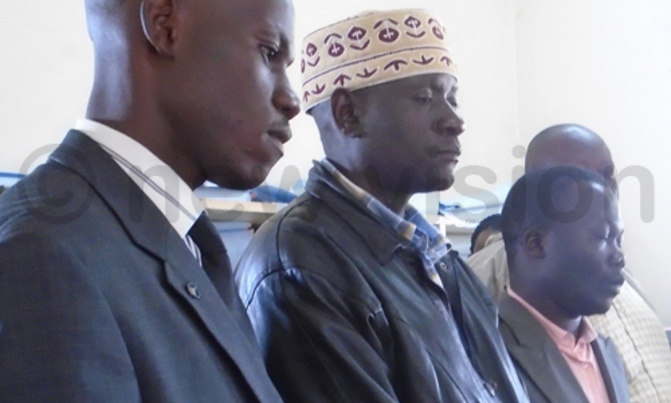 FIVE people charged with attempted murder of Kiira Town Council Mayor Mamerito Mugerwa in Wakiso district have asked court to dismiss the case
By Michael Odeng and Betty Amamukirori
FIVE people charged with attempted murder of Kiira Town Council Mayor Mamerito Mugerwa in Wakiso district have asked court to dismiss the case.
The five who include a councillor in Kireka zone 'c' DavidMuya Ssekiziyivu and an LC 1 chairman of Kasokoso in Kiira, David Mugalya are charged with attempting to murder Mamerito on November 5, 2013.
This was during a fracas that ensued when residents of Kasokoso village were being evicted because government wanted to set up a satellite city in the land that they had occupied. 
Others charged are Haji Musa Sewagudde, Jude Kaboggoza and Local Council secretary for mobilization in Kasokoso land Umar Muyanja. They a currently out on bail. They paid sh500, 000 cash bail and their sureties were bonded at sh5m not cash on May 20, 2014. 
On Wdnesday, the leaders through their lawyer Asuman Basalirwa told court presided over by Nakawa Court chief magistrate Flavia Nassuna that they were being denied justice by prolonging their trial.  
"Justice delayed is justice denied. Every time we come to court, they either tell us the matter is still under investigation or witnesses do not turn up," Basalirwa said.
This came after the trial magistrate adjourned the case following the absence of the State Prosecutor Doreen Elima, who was said to be handling another case at Nakawa High Court.  
Meanwhile, the court had last month promised to dismiss the case if prosecution fails to bring witnesses to testify in court.
"We are ready to forgive Mayor Mamerito if he approaches them in good faith,"Mugalya said.
Prosecution alleges that the suspects and others still at large on November 5, 2014 at Kasokoso village Kireka parish Kiira town Council, Wakiso district unlawfully attempted to cause the death of Mamerito.
Since late last year, the Kasokoso residents have been in wrangle with the National Housing and Construction Corporation (MH&CC), which claims ownership of the vast chunk of land.
However, it is alleged, when Mamerito visited Kasokoso in a bid to talk to them over the issue, they suspected him to have been on a mission to evict them from the land. It was further alleged that a huge crowd of residents pounced on him, beat him up and burnt his car. He was rescued by the security personnel.  
The trial magistrate adjourned the case to October, 6 for hearing.
Related stories
NHCC to compensate Kasokoso residents
Kasokoso land saga: officials grilled over sh13b
Dev't won't affect Kasokoso residents - minister
Kasokoso leaders protest delayed trial