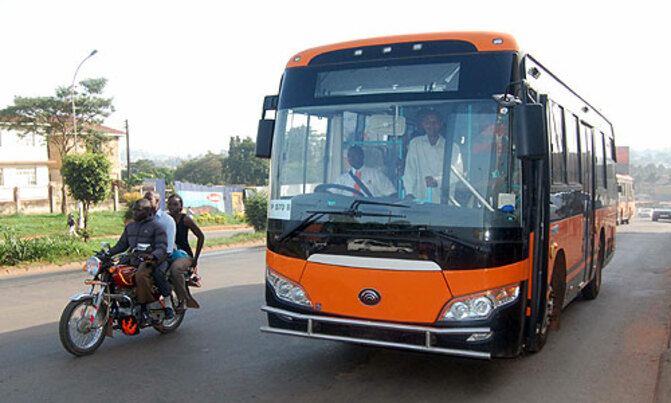 Pioneer Easy Bus Company has suspended its operations along the Kampala-Luzira route.
By Taddeo Bwambale

Pioneer Easy Bus Company has suspended its operations along the Kampala-Luzira route, a move the operator says is intended to streamline its transport system.

"We are halting our operations along that route for now because we want to introduce an automated system where passengers will pay their fares using cards," the company's spokesperson, Connie Nankya told journalists on Wednesday.

She also revealed that the bus company would phase out some of the routes.

The bus company has been charging passengers sh800 to Luzira, which is much lower than the sh1,500 charged by taxis during peak hours.

Pioneer Bus drivers on Wednesday went on strike over delayed salaries which left several passengers in the city stranded.
The strike, however, was called off in the afternoon and operations had resumed by press time.

A group of over 800 bus drivers, stewards and inspectors working for the bus company refused to go to work until their money was paid.

The workers protested a delay to pay their salaries and weekly allowances for month of September.

"I get only sh200,000 as salary and a daily allowance of sh13,000. But this money does not come on time yet I have responsibilities as head of my family," a driver who declined to be named lamented.

"I earn a sh120,000 salary as a steward an allowance of 70,000 weekly. It is from this money that I get my transport and meals. I am really stuck," another worker said.

The workers camped outside the Mandela National Stadium as they waited to receive their money.  A fleet of about 40 buses plying the Kampala-Bweyogerere route along Jinja road was parked at stadium's parking area.

By 11:00am, most of the buses had not yet resumed operations, a move that paralysed transport along city routes.

"It was not a strike. The drivers normally park the buses on Sundays when we process their payments. We were meant to pay them on Sunday but there was a hitch and we decided to do it today," Nankya stated.

Each of the bus drivers gets a monthly salary ranging between sh500,000 and sh600,000, depending on one's experience. Half of the money is paid to them daily or weekly, Nankya explained.

Some of the drivers also claimed that the company was not remitting their contributions to the National Social Security Fund (NSSF), an allegation Nankya dismissed.

"It is not true because contributions for all of us are remitted accordingly. The records are there for anyone to cross-check," she said.

The workers, who had camped outside the stadium were later allowed entry to the bus company' offices in groups where they received their pay.

Pioneer easy buses started operations on March 12, shortly after taxi operators went on strike over the sh120, 000 monthly dues charged by Kampala Capital City Authority (KCCA).

The bus fares are relatively lower than those of taxis, which dominate the city's public transport.

 
Pioneer Bus to phase out some routes