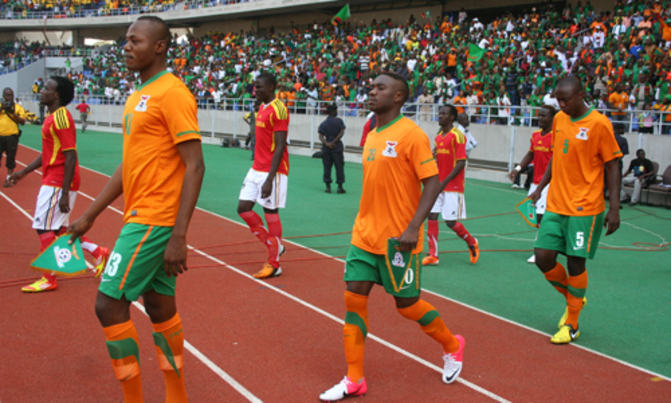 All tickets for the Uganda Cranes Africa Nations Cup qualifier home match against Zambia will go on sale on October 8.
By Swalley Kenyi & James Bakama

Nations Cup qualifier (Oct 13)
Uganda   v   Zambia

Ticket charges
Ordinary   sh40,000
VIP            sh75,000
Gold          sh120,000

All tickets for the Uganda Cranes Africa Nations Cup qualifier match against Zambia will go on sale on October 8.

FUFA Marketing committee boss Rogers Byamukama had said that the federation would sell the tickets on different days starting with the gold tickets that cost sh120,000 on earlier.

But a member of his committee, Sam Mpiima announced the change on Sunday saying that it was due to concealed reasons.

"After a thought we have decided to change and sell all the tickets at the same time for unavoidable circumstances. It will enhance their security," Mpiima said.

The tickets are reportedly printed from outside the country.

FUFA has made an order for ordinary tickets that will sell at sh40,000, a VIP category for sh75,000 and sh120,000 for those who will need preferential treatment.

When the tickets finally arrive, they will be sold at Kobil, Total, Gapco, Buikwe, City Oil refueling stations in and around Kampala, Hardware World Ntinda, City Shoppers Supermarket Mukono and Kobil Jinja.

Meanwhile FUFA has advised Zambian fans to buy the gold tickets to allow easy management of their security among Cranes fans during the match.

The Zambians have written to FUFA requesting for the federation to reserve for them 250 tickets for the match.

250 Chipolopolo fans

The New Vision's James Bakama says over 250 Zambia soccer fans will travel to Kampala for their away clash with the Cranes.

The Chipolopolo's trip to Kampala will besides being preceded by a special camp in South Africa, also have the backing of at least 250 fans.

FAZ spokesman Erick Mwanza said they have been in touch with Uganda's soccer governing body FUFA to reserve 250 tickets and seats for the Zambian fans.

The Zambian contingent is much bigger than the less than 100 Ugandan fans who travelled to Ndola for the first leg that the Cranes lost 1-0.

Zambia is also doing everything within its means to ensure its national side is at its best by the return leg.

Besides camping in South Africa, arrangements are on for a smooth trip.

According to the Zambian Times, FAZ is in talks with the central African state sports ministry and Konkola Copper Mines (KCM) to charter a plane.

Mwanza explained at a media briefing in Lusaka on Friday that the association doesn't want a repeat of travel complications they faced before their World Cup qualifier against Sudan.

Coach Here Renard is one of those pushing for a special flight.

The tentative plan is to pick up the team from Johannesburg in South Africa where it will set up camp on October 6, before connecting to Kampala.

Mwanza said that would save the team on losing out precious training time if they were to use a commercial flight.

"This will also help us not lose out training time especially that travelling to East Africa on a commercial flight is complicated," he said.
Tickets go on sale October 8 as 250 Zambia fans expected