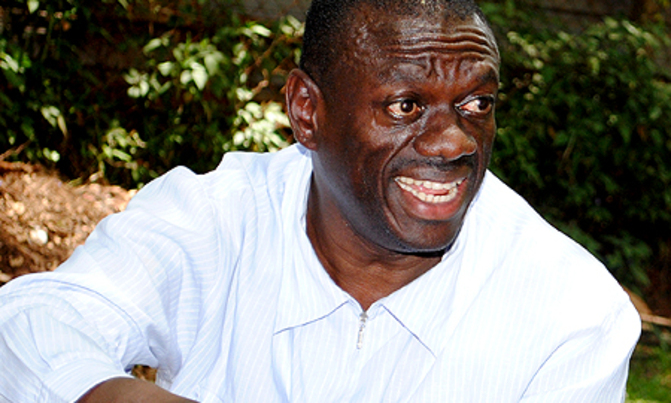 Forum for Democratic Change (FDC) president Dr. Kizza Besigye has ''escaped'' from his Kasangati home to an unidentified location following deployment of police at his home Monday morning.
By Vision Reporter

Forum for Democratic Change (FDC) president Dr. Kizza Besigye has 'escaped' from his Kasangati home to an unidentified location following deployment of police at his home Monday morning.
What is known is that the opposition leader was planning to hold a rally at Constitutional Square on Monday, which Police insist is illegal.

Still,  New Vision cannot independently verify the intentions of the FDC leader.

Police have also sealed off the roads leading to the Square and have deployed heavily there to block the planned rally.  

Besigye is among the key opposition figures expected to address the rally in Kampala.

Police over the weekend advised politicians to desist from holding rallies, processions and demonstrations until after the country's Golden Jubilee celebrations are over.
They say such activities at the moment runs counter to national security interests.
In a strongly worded statement, the Inspector General of Police reiterated the police force's resolve to execute its constitutional obligation of regulating the conduct of public meetings and processions.
Lt. Gen. Kale Kayihura urged the public to ignore what he called "misleading statements, leaflets, and other negative information" meant to dissuade them from marking a major milestone in the country's history.

"As you are aware, the country is busy preparing for the Golden Independence jubilee, and as earlier advised, it is of paramount importance to scale down on such activities and gatherings in order to afford opportunity to concentrate on preparation for the national event without interference," Kayihura noted.  

The development comes in the wake of a letter on Saturday by Kampala Lord Mayor, Erias Lukwako, informing the police of his intention to tour  places where traders recently evicted from the New Taxi Park where relocated.
Lukwago intended to address a gathering at the Constitutional Square on Monday after there.
'Not in good faith'

Kayihura contends that Lukwako's planned activities are not in good faith since he had earlier attended a press conference during which, 4GC, a pressure group that government deems unlawful unveiled its plans to resume its activities today.

"It's therefore not a coincidence that the program of the Lord Mayor is at the same time with the beginning of For God and My Country (4GC) program," Kayihura said.
He advised Lukwago to not only reschedule his program to another day after independence, but also to make it transparent and in collaboration with the police.

Kayihura said 4GC intends to use this ruse as a cover to "cause widespread and sustained violence and destruction" meant to mar preparations for independence celebrations.

However, 4GC had told journalists on Saturday that its planned activities ahead of the Golden jubilee celebrations are against unemployment, corruption, land grabbing and human rights abuses.

The pressure group was formed in May following the declaration of another pressure group, Activists for Change (A4C), "an unlawful society."

The group has also portioned the Constitutional Court to pronounce itself on the A4C ban although the case is yet to be heard due to lack of quorum.

The group had prior its banning organized demonstrations (walk-to-work) against what it said was high cost of living.

However, these demonstrations had a knack for turning violent thus paralyzing businesses and life in Kampala and its suburbs.
Police besiege Besigye''s home