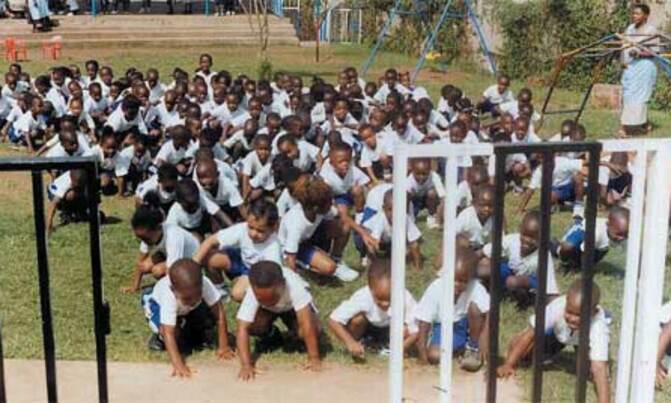 Little Sunshine met her death on her first day at school. If her parents had known that there were safety lapses at the school, maybe they wouldn't have enrolled her in that school.

By Richard Kiyimba

A few weeks a go, the country was gripped by shock when a three–year–old child drowned in a swimming pool at school.
Little Sunshine met her death on her first day at school. If her parents had known that there were safety lapses at the school, maybe they wouldn't have enrolled her in that school.

It is sad it had to take the loss of a young life for stakeholders to acknowledge the safety lapses that exist in our schools The incident brought into the limelight the risks children face in the quest to attain a meaningful education.

There are lessons to learn from the incident to ensure that schools do not expose children to such dangers. However, swimming pools are not the only risk issue in schools.
There are many more other potential death traps that children are exposed to at school daily such as fires.

This, therefore, calls for schools to work with safety and risk experts to evaluate and identify potential risks that could claim the lives of innocent children or staff members.

The important thing is to identify and arrest the risk before it happens. I have been to some schools and discovered that some of them have pit latrines with holes that are so big that, should a child miscalculate the hole's width, they would most likely fall into it.

This happens in both primary and secondary schools. I have also seen school pit latrines with wide cracks and wondered how the children use them.
Schools and churches also have loose live electrical wires hanging dangerously, which pose huge risks to school children and communities.

The children I have interacted with have told me that some schools force pupils with water phobia, for example, to swim "because it is compulsory".

A few schools conduct swimming classes, but in many schools, swimming tutors just push the children into the swimming pool, arguing that is how they will 'learn'.

This is wrong; swimming should not be compulsory. Some children are compelled to swim when they are sick. Reason? "It is swimming time and the teacher has said so!"

Recently, I saw school children undress on a chilly morning for physical education at a school on Entebbe Road.
I wondered: "Can't these teachers see that this is not the right time for children to do this?" I have also seen another disturbing scenario, where a school's main water reservoir is not guarded.
In case someone puts poison theres, how many children would be hurt or at worst, killed?

Remember, the emphasis in risk management is to catch it before it happens. Unfortunately, we always act like the fire brigade; rushing to take measures after nasty experience that would have otherwise been avoidable.

A few months back, lightning struck different schools, leaving scores of children dead or maimed.

However, little effort has been placed on a mandatory installation of lightning conductors on school buildings. It all ends up on press statements and at report level.
Maybe the authorities are waiting for lightning to strike many pupils dead (God forbid) so as to enforce the minimum safety guidelines for school buildings.

When dealing with risk management one has to put their feet down and implement laws without fear or favour. For instance, few school dormitories in Uganda have fire extinguishers, but having a fire extinguisher and a heap of sand should be a must–have at these facilities.

School inspectors and the Police should always make periodic checks and apprehend those contravening safety laws.
This should be made one of their top priorities. After all, a lot of damage has been done already and we don't want the situation to worsen. What is more important and cost effective?

What is the role of the Police in the community? Identifying potential hazards and alerting school leaders is one of its key functions.

However, conducting risk assessment is the best safety measure. Hereunder are some of the key areas schools can check out at to ensure safety in case of any outbreak:

* Is the swimming pool safe, and monitored and gazetted? Do you have a full–time employee at the pool even if there are no activities on it?

* How well have the staircases and barriers of storeyed buildings done?

* How wide are the toilet holes? Is there a guide to teach the underage toilet etiquette?

* What is the state of the latrine as regards cracks or how safe the pit latrine boundaries are? Does the latrine show any signs of caving in? How regularly is the toilet repaired and inspected?

* What is the state of the building walls, are they cracked?

* Do you have any pits in the compound or trenches that are not covered?

* Do you have lightning conductors? Are there any hanging or loose electrical connections?

* Is the water reservoir guarded or secured and not easily accessible by unauthorised persons?

* Are the dormitory doors too hard  that they cannot be broken in case of an emergency?

* Do you have fi re-fi ghting aids like extinguishers and sand near the school buildings?

* Do you have fi rst aid kits in classes and do teachers know how to administer fi rst aid?

* Do you have a feedback/suggestion box and a safety management team that brainstorms about different problems and  prepares beforehand?

* Are all lab chemicals marked and gazetted?

* Are the compound dogs vaccinated?

* Is the kitchen staff observing hygiene and undergo regular medical check-ups for contagious diseases like TB?
 
* Are your school pick-anddrop vans in good condition with sober drivers?

The list is endless, but the bottom line is that you must have some safety and risk management measures to minimise casualties.
The writer is a risk and safety management trainee


How safe is your child at school?