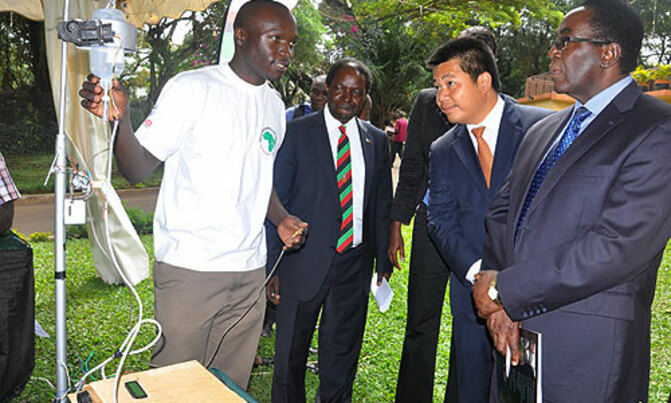 Makerere University stakes about sh1.3bn for innovations geared towards combatting adverse effects of climate change.
By Francis Emorut                                                 

KAMPALA - Makerere University through Resilient Africa Network (RAN) has staked $510, 000 (about sh1.3b) for innovations geared towards combatting adverse effects of climate change.

The grant is funded by United States Agency for International Development (USAID).

Announcing the grant, RAN's director of innovations, Dr. Wanjiku Nganga, appealed to potential researchers to submit their applications with taking into account areas the technologies are supposed to address.

These include developing low-cost environmentally friendly approaches and technologies to increase agricultural yield per acreage, technologies for post- harvest handling of produce, new models to promote produce-bulking, standardization, branding and packaging aimed at increased farmer leverage in the market.

Other fields of innovation are developing technologies that oscillate adaptively between dry and rainy seasons to sustain rural household incomes and develop new models to increase household savings.

The chancellor of the decades-old university, Prof. Mondo Kagonyera, implored researchers to take advantage of the grant and come up with innovations that offer solutions to challenges affecting communities.

"Let us not wait for other people or bodies to develop solutions to our challenges," he told government officials, researchers, students and policy makers.

"We know and live with these challenges and so [we] are the best developers for solutions to address the same."
 
true
Students demonstrating an irrigation system during the launch. PHOTO/Francis Emorut
 
true
Denis Bomugisha, a Makerere University student, explains to guests how online laboratory works. PHOTO/Francis Emorut
 
true
LEFT TO RIGHT: Director of Economic Growth team of USAID Jo Lesser Oltheten, MUK Chancellor Prof. Mondo Kagonyera, Division chief Higher Education solution network of USAID Ticora Jones, MUK vice chancellor Prof. Ddumba Ssentamu  and the Dean of College of Health Sciences Dr. William Bazeyo cutting a ribbon during the launch of Resilience Africa Network and opening of its offices in Kololo, Kampala. PHOTO/Francis Emorut

The professor said the new technologies to be developed should strengthen resilience to shocks and stresses that arise from climate variability and climate change.

He was speaking during the launch of innovation grants call and official opening of the RAN innovation Laboratory in Kampala.

The network brings together 20 universities in 16 countries and is being led by Makerere University in Kampala.

The objectives of the network is to design and operationalize a scientific, data-driven and evidence-based resilience for sub-Sahara Africa, to strengthen resilience at the individual, household and community levels through innovations and to enhance resilience-related knowledge generation and sharing.

The division chief, Higher Education Solution Network for USAID, Dr. Ticora Jones, told scientists to aim at ending extreme poverty.

Jones emphasized the need for scientists to take into account four critical elements in their research, namely; community, customer care, cost and communication.

Makerere University's Vice Chancellor Prof. Ddumba Ssentamu said the launching of the network will provide an opportunity to researchers to come up with innovations that will solve problems of society.

The principal of the College of Health Sciences, Prof. Nelson Sewakambo, called on fellow scientists to work together to develop solutions through innovations.

At the launch Makerere University students demonstrated their own innovations of irrigation system, automated infused electrical set and online laboratory before guests.
Makerere earmarks sh1.3bn for climate change innovations