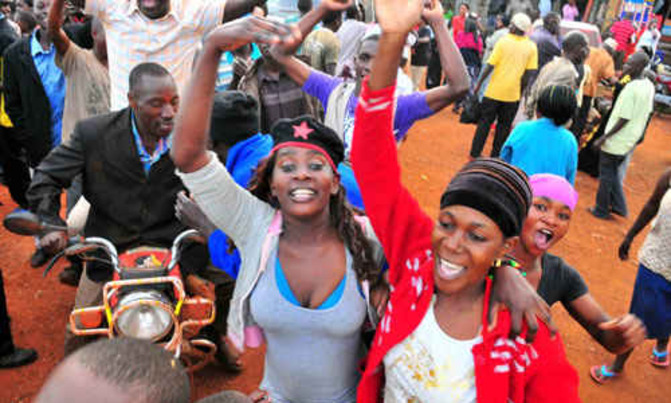 Democratic Party's Muwanga Kivumbi has been announced the new Butambala county MP in a stiffly contested by-election.
By Henry Mukasa

Democratic Party's Muwanga Kivumbi has been elected as Butambala county MP after being announced winner in a stiffly contested Wednesday by-election.

The Electoral Commission (EC) declared Kivumbi winner, beating his closest rival, NRM's Faisal Kikulukunyu and three others.

Kivumbi's 14, 764 votes saw him beat a fierce competition from Kikulukunyu who polled 12,792 votes.

The other three candidates managed very low votes compared to the two stronger contenders. Ibrahim Batemyetto had 150 votes, Sentongo Shariff polled 124 votes and Farouk Walungama got 60 votes.true

The district's returning officer, Mark Muganzi announced the final result of the day-long process shortly before midnight at the district headquarters.

After the announcement of the final result, DP and FDC supporters remained at the headquarters to celebrate their victory over the ruling NRM party.

Kivumbi becomes the first parliamentary representative from the opposition side for Butambala county since NRM took over power 26 years ago.

The parliamentary seat had fallen vacant when court nullified the election of Kikulukunyu after a petition by Kivumbi accusing the former of voter bribery.

Voting started early in the 86 polling stations in the new district of Butambala.

Election material was delivered to the polling stations using Electoral Commission double cabin pick-up trucks in the early hours of the voting day.

Despite a slight delay, all election material had reached the various polling points by 7.00am, the district's returning officer, Mark Muganzi had confirmed.

He had predicted that the voting process would go on smoothly.

Relative calm

Earlier, Police chief Maj Gen Kale Kayihura had said he was happy with the relative peace during the Wednesday by-election.

"I have come here to see that there is no violence, vote rigging and campaigns at polling stations," he had told residents of Kibibi upon his arrival in Butambala.

He had told them to be "peaceful and observe electoral laws".

Peppered incidents

As had happened in the previous by-elections, many people had feared that violence-related incidents would mar the voting process.
Even with the heavy deployment of secutiy forces, there occured a few moments that almost overshadowed the relatively peaceful by-election.

The most notable incident being an attack on Bukoto East MP Florence Namayanja by a mob in Kibugga Parish in Budde sub-county.

Her attackers had accused her of photographing what they had called suspicious NRM people at polling stations.

A source at the scene had said the female legislator was saved from the agitated mob by Police.

Another incident in Ngando had seen MP Ssewungu and NRM activist Bbuulumulaalo clash over the voting process.

The two had accused each other of bribing voters.

Incidentally, Democratic Party (DP) officials had a one-off with security officials. Police had tried to block the party supporters at Kabasanda from taking Matia Nsubuga's driver who is said to have sustained head injuries.

He was then rushed to Gombe hospital for medical treatment.
 
DP's Kivumbi wins Butambala by-election