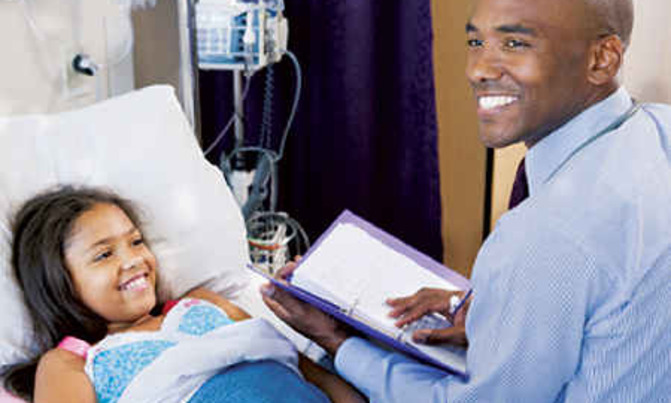 Often, parents take lightly a school medical report. Most will call up a doctor friend and ask them to fill the forms without examining the child. This can lead to serious health complications especially for a child with a chronic health condition. Note that most school sick-bays are not well equip
Often, parents take lightly a school medical report. Most will call up a doctor friend and ask them to fill the forms without examining the child. This can lead to serious health complications especially for a child with a chronic health condition. Note that most school sick-bays are not well equipped to handle serious illnesses, writes Stella Naigino
Wilson is a secondary school student. One day, very ill, he was taken to the school sick-bay to get treatment. Naturally, the school nurse diagnosed his illness and proceeded to give him treatment. He asked if the drug with which he was going to be injected contained sulphur but his questions fell on deaf ears.
 Wilson recalls the nurse's words: "You students want to make a fuss over something small. I know what I am doing so don't give me orders."
Before he knew it, his body began to swell and then there was pain all over. He had suffered a drug reaction. The nurse, concerned, informed the school administration. Wilson's parents were called as his case had gone beyond what the school could handle.
Upon arrival, Wilson's parents were not happy. They accused the nurse of administering a drug that she should not have in the first place. The school apologised for their mistake and Wilson was rushed to hospital, but not before ensuring equal responsibility.
In their defence, they were never informed that one of their students, Wilson, was allergic to drugs that contain sulphur. Though he had tried telling the nurse, he had no medical report form to support his claims despite the fact that medical forms are given to students every term to be filled by a qualified doctor, clearly stating such information.
 Wilson's case is not new. Most parents pay little attention to taking their children for medical check-ups. This puts their lives at risk, notes Dr. Stephen Mukasa of St Vincent hospital, Kampala. 
Mukasa says a medical check-up is the process by which a doctor investigates the body of a patient for signs of disease. One's medical history is taken into account as experienced by the patient. 
Together with the medical history, physical examination aids in determining diagnosis and devising the treatment plan. This data then becomes part of the medical record and is presented as a medical report in schools or for adults, at a workplace.
He also says some parents only take their children to see a doctor when they fall sick which is a very bad practice, adding that prevention is better than cure.
"Medical check-ups are vital because it's how you evaluate your child's growth and development, including height, weight and body mass index. So many diseases occur at any time, depending on the environment your child is in. So a medical check-up helps you discover what's taking place in your child's life," notes Mukasa.
He says some children do not want to eat the food prepared by the school, so they starve and ulcers can start developing.
"Illnesses like asthma, food allergy are just some of the chronic ailments that affect children. A medical check-up will help a parent know when to set up an emergency plan with the child's school on how to help with treatment and handling emergency cases.
It also helps you ask about any health problems or injuries that your child has had since the last visit," Mukasa explains. 
According to Dr. Sabrina Kitaka a senior paediatrician at Mulago Hospital, everybody is entitled to have medical check-ups regularly to be able to tell how their bodies are progressing.
"All kids need regular physicals to monitor any changes and screen for common problems. If your child doesn't get a check-up before school starts, be sure to make an appointment for another time, but ensure that they are checked," Kitaka advises.
If your child suffers from a serious medical condition, your school will probably want  instructions in writing from your child's doctor. You may also need to sign a release form to give the school permission to contact the doctor. And the doctor will need your written permission to discuss your child's condition with school staff. 
Fred Wilobo, a parent, agrees with schools that ensure that each student comes back with a medical report. He says is a sign that a school is responsible and really cares for its students.
Wilobo notes that many times, cases of illness and even deaths are blamed on schools, yet parents sometimes are even more to blame.
"Know about your child's sickness, let your child know what to do in case of an emergency and inform the school administration through a medical report, which is given after a checkup,"Wilobo states. He adds that it is the reason most parents flood hospitals during holidays and at the beginning of the school terms.
However Brenda Alupo a student of Naalya SS reveals that some students have taken advantage of these check-ups and forged sicknesses just to dodge working while at school.
She says they use them as excuses not to do housework and other activities at school.
From the head teachers
"It is sad that parents at times ignore taking their children for medical check-ups, but it puts their children's lives at risk," says Victor Okello, headteacher of Bishop Cypriano SS.
He explains that a medical report about each student's life is given after a check-up, which helps the school's administration budget well for its students.
"There are children who need special health care. Submitting a detailed medical report will keep a parent at rest, knowing that the school will give special care or will call immediately there is a problem — where the disease needs treatment that the school cannot offer," Okello says
He emphasises that the responsibility of a child's health should not be left to the school only. Parents should primarily be involved.
"Meet the school nurse and discuss the services your child may need, along with any precautions that need to be taken. You will want to provide information about your child's medical history, medicine or procedures required during the school days, any diet restrictions or even the contacts of your child's doctor," Okello notes.
Dennis Ojepa, headteacher of    Irukor Girls' Secondary School in Kumi, assures parents that schools take medical forms very seriously to avoid medical emergencies.
"Ensure that the check-up is done by a doctor, not a nurse. And don't just let a doctor fill the forms without actually examining the child. That is why some schools re-check students' health just to be sure. It is a serious issue," he urges.
Counsellor's opinion
Steven Langa of Family Life Network says during these check-ups, your child's blood pressure is checked coupled with testing for hearing or vision problems. Behavioural or emotional issues such as depression are also looked checked. 
"As children grow, there are so many changes in their body, visiting a doctor for a checkup enables a parent to discuss concerns related to your child's age, such as changes of puberty or the dangers of drugs, "Langa notes.
He tresses that some children due to group influence engage in bad acts like taking drugs at school and sometimes the school administrators take long to discover.
"With this checkup, a doctor can tell whether your child is a drug addict which helps you get informed on preventive care, which might include guidance; if a child is overweight or sexually active," Langa adds. 
Some children have learning disabilities but parents are at times not aware, notes Langa adding that with that medical checkup, a doctor can help answer these questions.
That school medical form could save your child's life