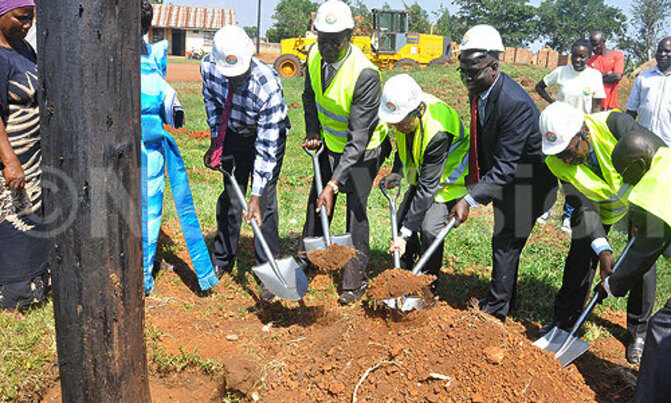 A project to supply stable electricity to rural communities in eastern region has been launched in Namayingo district.
By Francis Emorut                                  

A project to supply stable electricity to rural communities in eastern region has been launched in Namayingo district.

Five districts including Iganga, Bugiri, Namayingo, Mayuge and Busia are the beneficiaries of the project dubbed "Rural Electrification Phase III" that will be implemented by Japan International Cooperation Agency (JICA).

Up to 38, 000 rural residents will benefit from the project funded by the Japenese government to a tune of $12m (about sh31.2b).

The East Asian nation's ambassador to Uganda, Junzo Fujita, said the importance of access to electricity cannot be overemphasized.

"Light gives hope to people," he told residents of Namayingo, district leaders and energy officials.

"Electricity enables children to study during night. Electricity enables doctors to use essential medical machinery to save patients' lives and it enables factories to increase their production and improve quality of their products."

The envoy was speaking at the official launch of the rural power project at Namayingo district headquarters on Tuesday.

The project is intended to contribute to improving the quality of life of Ugandans and enhancing the economic development of the country at large.

Ambassador Fujita said his country's assistance to Uganda is not only limited to the energy sector but also extended to other areas like transport infrastructure, agricultural development, rural water supply and better health services as well as recovery and reconstruction of northern Uganda.
Japan's efforts of cooperation with Uganda, he said, are in line with Uganda's Vision 2040 and the National Development Plan.
true
Ambassador Junzo Fujita (left) being welcomed by the executive director of Rural Electrification Godfrey Turyahikayo at the launch. PHOTO/Francis Emorut
The executive director of Rural Electrification Agency (REA), Godfrey Turyahikayo, welcomed the initiative, saying it was a major milestone in the process of supplying electricity to rural areas of the five target districts.

"It [launch] is a major significance in Uganda's rural electrification programme," he told guests.

He informed the district officials, the ambassador, state minister of energy Simon U'jang and MPs that the procurement of consultancy and construction services was handled in the most efficient manner at each stage.

The construction will be executed by Yachiyo Engineering Company Limited.

It is understood the contractor is already on the site and has delivered all materials which include poles, transformers, conductors and overhead line accessories.

The project is expected to be completed by July 2015.
38,000 rural residents to get electricity