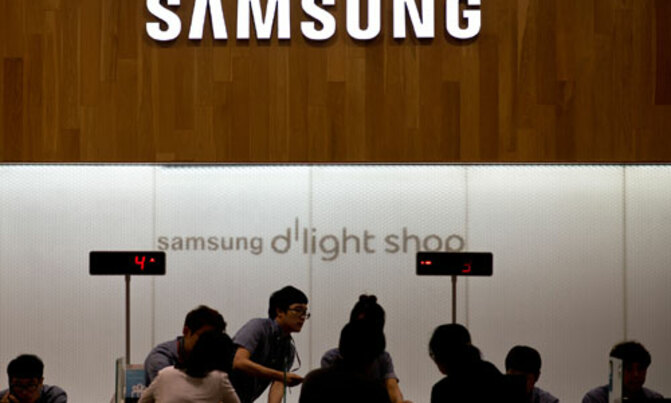 Samsung Electronics reports a near 20 percent decline in second quarter net profit, blaming increased competition from cheap Chinese devices in the key smartphone sector.
SEOUL - Samsung Electronics on Thursday reported a near 20 percent decline in second quarter net profit, blaming increased competition from cheap Chinese devices in the key smartphone sector and a surging Korean won.

The South Korean electronics giant said net profit came in at 6.25 trillion won ($6.1 billion) -- its lowest figure for two years and down 19.6 percent from the same quarter last year.

Operating profit stood at 7.19 trillion won, down 24.6 percent from a year ago, while sales tumbled 8.9 percent to 52.35 trillion won.

"The second quarter was affected by several factors including the slow global sales of smartphones and tablets and escalating marketing expenditure to reduce inventory," the company said in its earnings report.

"The appreciation of the Korean currency also chipped away at this quarter's operating profits, which amounted to about 500 billion won in missed revenues prompted by the foreign exchange market," it said. The firm added that the second half of 2014 would "remain a challenge".

The won is currently running at six-year highs against the dollar, impacting South Korea's export-driven economy.

Thursday's figures were in line with earnings estimates released earlier this month, when Samsung also issued an explanatory note attributing the profit decline to increased competition from cheap Chinese devices.
true
(AFP/Getty Images)
Samsung had expressed cautious optimism about a more positive third quarter with the release of its new smartphone lineup, and a much lower marketing spend compared with the second quarter.

But while the company is expected to roll out a new version of its popular oversized Galaxy Note smartphone, the next quarter will also see the expected launch of the iPhone 6 by chief high-end rival Apple.
Fears over reliance on smartphones

Alarm bells have been sounding for a while over Samsung's reliance on smartphone sales in mature markets such as Europe and the United States, and emerging markets like China.

The world's largest smartphone maker has a diverse product line ranging from memory chips to home appliances, but more than half of its profits are generated by mobile devices.

Second quarter sales of its mobile unit fell 20 percent on-year to 28.45 trillion won, while operating profit slid nearly 30 percent to 4.42 trillion won.

The consumer electronics unit -- selling products from TVs to refrigerators -- saw operating profit surge 80 percent on-year to 770 billion won, but not enough to offset the decline in the mobile business.

April saw the global roll-out of the latest version of Samsung's flagship Galaxy series smartphone, the Galaxy S5, which came with a free premium software bundle valued at more than $500 as the firm sought to pull in buyers tempted by cheaper models from Chinese rivals like Lenovo and Huawei.
Initial sales of the S5 were positive, although critics said it offered little in the way of real innovation to set it apart from the iPhone and the Chinese handsets.

There is a general consensus that smartphone evolution has hit a barrier that will only allow incremental improvements on existing design and technology, rather than market-changing reinvention.

According to International Data Corp., a record-high 295.3 million smartphones were shipped worldwide in the second quarter.

Huawei nearly doubled its shipments from the same quarter a year ago, while Lenovo also weighed in with strong performance, IDC figures indicated.

Samsung remained the world's top vendor with 74 million handsets shipped, but saw its overall market share slip seven percent.
AFP
Samsung posts near 20% fall in net profit