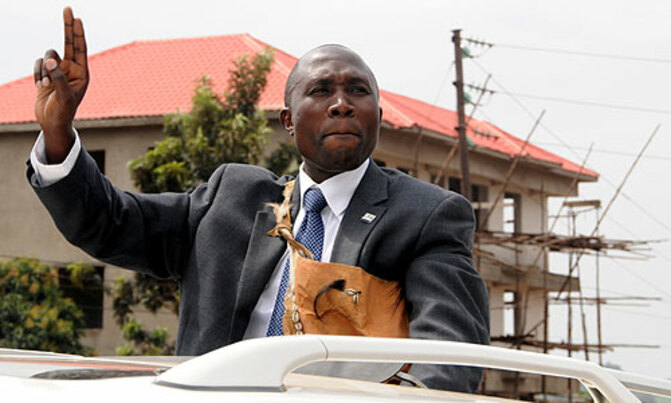 FDC two main contenders for the presidency, Nandala Mafabi and Maj. Gen. Mugisha Muntu formally launch their campaigns this week.
By Joyce Namutebi   

THE two main contenders for the Forum for Democratic Change (FDC) presidency, Nandala Mafabi and Major General Mugisha Muntu formally launch their campaigns this week.

Nandala, the Leader of Opposition in Parliament is launching his bid today (Thursday) at 10am, at Kasangati, which his supporters have described as "Benghazi". Benghazi city is where the Libyan rebels who ousted Col. Muammar Gaddafi launched their rebellion. 

Besigye who has been party president since 2005 is quitting leadership. But Besigye has not ruled out seeking to become the party's flag bearer in the 2016 presidential election. This will be his fourth time for vie for the presidency. 

According to sources close to Nandala, he decided to launch his bid in Kasangati because it is home to the party's two top leaders - Col. Kizza Besigye, the president and Sam Njuba, the chairperson.

The New Vision also learnt that Maj. General Mugisha Muntu is launching his bid this Friday in Iganga, the stronghold of one of his backers, Bugweri MP Abdu Katuntu.

It wasn't established where and when the third contender, MP Geoffrey Ekanya, will launch his campaigns.

Both Mafabi and Muntu camps were locked up in meetings Wednesday. When contacted about the head of his campaign team Mafabi said he has a major general, but did not name him. However, sources said Nandala's team is headed by Maj. Rubaramira Ruranga while MP Francis Epatit (Ngora) is reportedly heading Muntu's campaign team.

Ekanya said at Parliament Building Wednesday that he had forwarded his campaign programme and was waiting for clearance from the party's electoral commission chairman, Dan Mugarura. He expects to start his campaign in Busoga and end up in Kampala. Ekanya said his task force is comprises of 27 people.

Sources said the FDC bigwigs are almost evenly split between Nandala and Gen. Muntu. Those backing Nandala include Salaamu Musumba, Kassiano Wadri, Wafula Oguttu, Amanya Mushega, Jack Sabiiti, Odo Tayebwa and Ssemujju Nganda among others.

Muntu has received the backing of Cecilia Ogwal, Alice Alaso, Abdu Katuntu and Francis Epatit.

Ekanya described his bid as a "continuous contribution to the democratic process of this country."

Asked about his strength, Ekanya described himself as an honest, reliable, patient, intelligent and approachable person who consults widely and tolerates divergent views.
 
Nandala launches FDC presidential bid at Besige's home town