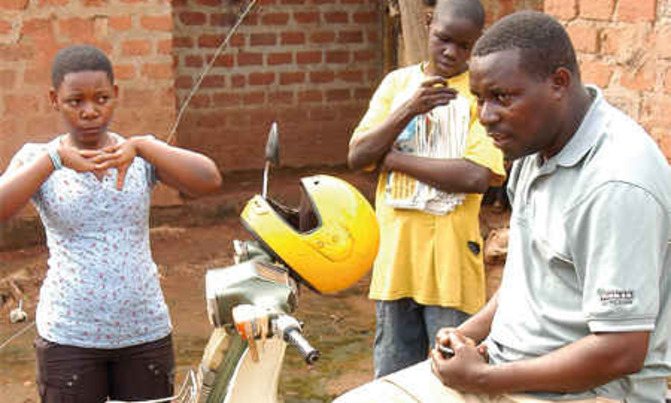 Until October 31, New Vision will devote space to highlight the plight of slum dwellers as well as profiling those offering selfless service to improve conditions in these areas. Today, FRANCIS KAGOLO brings you the story of how Jambula Orphanage is changing lives of children in Ki-mombasa
Until October 31, New Vision will devote space to highlight the plight of slum dwellers as well as profiling those offering selfless service to improve conditions in these areas. Today, FRANCIS KAGOLO brings you the story of how Jambula Orphanage is changing lives of children in Ki-mombasa
It is a squalid sight. It is a Tuesday morning. An elderly woamn with a sweaty face was preparing breakfast besides two drainage channels where used condoms freely float on filthy water. The stench is unbearable! Mounds of flies are hovering over drying faeces.
Nearby, a group of men play cards, each fighting off the smoke marijuana rolls stuck between their lips. Their bloodshot eyes look like demon's.Young girls wearing micromini skirts sit cross-legged on small stools outside a brothel where men buy sex for as low as sh1,000 per hour. The brothel operates twenty-fourseven.
Welcome to Ki-mombasawhere filth, unemployment, prostitution, drug abuse and theft are the order of the day. But amidst this squalid environment in Bwaise, Kawempe Division in Kampala is one person whose initiative has given a ray of hope to especially the orphans and destitute children.
March 5, 1998, will always remain in the mind of 19-yearold David Ssebuliba. Although he was five years old then, Ssebuliba still remembers how his mother, with disability, lay unconscious for almost an hour when his father passed on.
Life would never be the same again or so they thought and yet they were supposed to twist the hand of fate and live. His mother, Teopista Nakyejjwe, had to peddle old newspapers on the filthy streets of Bwaise to support the family.
She earned between sh1,000 and sh2,000per day from the business. Like his mother, Ssebuliba's day begins at around 5:00am to sell newspapers. "I wake up early to vend old newspapers because that is the time chapatti vendors begin working.
I can make about sh700 profit by the time I retire at about 9:00am," he says. What has Kawempe Division done? Ssebuliba's life is typical of most children in Ki-mombasa, where the Kawempe Division authorities have grand plans but very little to show on the ground.
The mayor Mubarak Munyagwa blames financial constraints and the creation of Kampala Capital City Authorty (KCCA) for their inaction. "We plan to help orphans by setting up community children's homes and bursary schemes to help with their education," Munyagwa said.
"We want to start income generating activities, especially for the prostitutes who do not have any way of generating income. "Awareness is another plan to improve the lives of our people but advocacy is all we have done, because we lack the finances to implement the the plans.
Our powers were usurped by the KCCA Executive Director, which leaves our hands tied," he argued. However, while the Division authorities simply have elaborated plans, a good Samaritan has made it possible for people like Ssemwanga to attend school and are thus optimistic of a bright future. The education opportunity has been provided by Jambula Orphanage Children's Centre (JOCC).
It is the only charitable organisation that has tried to help destitute children in Ki-Mombasa in the over 50 years the slum has been in existance, albeit with challenges. The organisation was started in 2001 by the late Desire Kalanzi, then a resident in the same slum, who selected 20 destitute children and provided them food and clothing from proceeds from his house brokerage business.
However, a few years later, the number of children rose to 60 and Kalanzi's meagre income could no longer support his philanthropy. It's then that he joined hands with Olusanya Kunle, a Nigerian-born pastor of International Christian Ministry Church in Mannheim, Germany.
When Kalanzi passed on in 2005, Pastor Kunle has continued to fund the project to date. He appointed Joseph Kiyimba, a teacher, to steer the charity after Kalanzi. Today the project benefits over 100 children according to Kiyimba who are even fully sponsored to attend the nearby schools.
Kiyimba says the orphanage's achievement has been educating the would-be failures, curbing early marriages and inculcating morals among its beneficiaries. Twelve of the children are currently in secondary school, where tuition fees range from sh80,000 to sh150,000.
"If it was not for Jambula to give us food and school fees since 2006, we would bedead," remarked Nakyejjwe. Speaking from her stall along Bombo Road where she sits from dawn to dusk, Nakyejjwe says: "My husband was poor.
Through washing cars, he lived hand to mouth. He neither left me with property nor cash. I had to struggle with my son on our own." Ssebuliba joined the orphanage in 2006 when he was in Primary Five.
He is now in Senior Five at Homeland Secondary School Kazo, where the orphanage pays for him sh88,000 in school fees every term. "On top of the school fees, the orphanage centre also gives me scholastic materials, food, uniforms and other clothes.
Sometimes they alsopay for us rent (sh40,000 a month)," Ssebuliba said. Eve Namuddu, 17, whose parents died when she was a baby, joined Jambula orphanage in 2003. She is now in Senior Four at Homeland Secondary School, Kazo.
"Since my parents died when I was young, how would I have managed the sh88,000 school fees per term if it was not for Jambula Orphanage Centre?" asked Namuddu, who wants to become a doctor. However, Namuddu's fate clawed deeper when a strange disease struck her grandmother after spending three years in Kampala, forcing her to retreat to the village, where she still lives.
"When our grandmother returned to Masaka, we declined to go back with her.We expected to operate her restaurant, but we were too young to run the business," Namuddu explains. "Life then became tough until Jambula picked us up for assistance.
For me to have a matching pair of shoes, let alone the opportunity to reach secondary school is a dream come true." Apparently, Ki-Mombasa isknown for drug and alcohol abuse, prostitution and general lawlessness, harbouring naughty children who grow up into pickpockets.
Covering about eight acres, over half of Ki-Mombasa's4,000 population are children. Majority of them are either orphans or born to prostitutes who who are not sure of the men responsible for their pregnancies, according to the area LCI chairman, Noordin Ssentamu.
"As a God-fearing orphanage, we believe He can heal the sick and broken hearted and through gospel songs and Sunday school teachings these children learn how precious they are to God," Kiyimba adds. "We believe it is important for them to grow up in the love of Jesus Christ and knowing they are not a mistake on earth."
Ssentamu commends Jambula orphanage for making Christian morals part of their daily work. "I appreciate their work although I am aMuslim. They endeavour to counsel children not to pickup bad behaviour in the area, especially prostitution," says Ssentamu.
"Some of the children like Namuddu who have grown under Jambula's care look a little different from others. One may think they are not slum children because of the way they behave." Nonetheless, due to inadequate funding, the orphanage lacks its own home.
The children are taken care of from their individual homes. Kunle says they are planning to build the children a home in Kaliro district.

true
Olusanya gives hope to Ki-mombasa