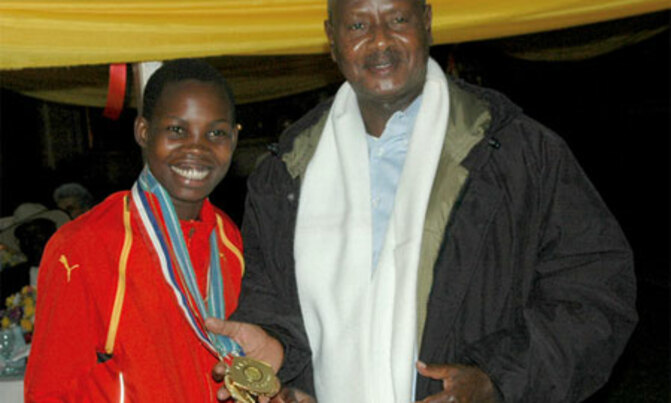 Inspire a generation. Starting July 27, London will be home to the modern Olympics for a record third time.
By Aldrine Nsubuga
Inspire a generation. Starting July 27, London will be home to the modern Olympics for a record third time. The city that inspires world business, tourism and European tradition, also inspires the modern Olympics.

Choice of the games motto, "inspire a generation," was well conceived.

Uganda for example, might have missed out on London 2012 but for an inspired generation of new local sports administrators led by the firebrand William Blick of rugby, Donald Rukare (swimming), Peninah Kabenge (Makerere University) and Dennis Galabuzi (table tennis).

They refused to back down when, with less than three months to go before the start of the summer Olympics, then UOC president, Roger Ddungu appeared to have usurped the powers of the committee in Amin-like fashion.

Armed with the constitution, resolve, brains, passion, good fortune and dynamism, the youthful administrators led a well orchestrated and constitutionally supported coup de tat.

Not only did it put a dramatic halt to Ddungu's excesses, it closed his chapter as a member of the Uganda Olympic Committee and opened the route to London 2012. On June 8, the International Olympic Committee relations director, Pere Miro, was instructive to acting UOC president Blick's interim administration.

He wrote: "You can now focus fully and entirely on the preparation of your athletes and your delegation for the summer Olympic games."

IOC upport

With those supportive words, Uganda's hopes for the London 2012 summer Olympic games were revived. Uganda, who have only missed the Olympic games once (1976) since inception in 1956, now have another shot at the Olympic medals whose count is just six before London 2012 (one gold, four silver, one bronze).

We will be among the 205 nations competing and our athletes, among an estimated 10,500 vying for the medals. While as many as 26 different sports disciplines will seek out medalists, the hopeful athletes will compete in 302 events.

It could be ominous that Dorcus Inzikuru, a former world 3000m steeplechase champion and record holder, has been training in Europe after qualifying for the games, just when the nation feared her career had prematurely ended.

Since her marriage and early motherhood, she has made more headlines off the track than on it. She has got talent and has tasted gold before. It is all the inspiration she needs. Better still, Moses Kipsiro. The 5000m and 10,000m double gold medallist at the 2010 Commonwealth Games has been the most consistent Ugandan athlete at top international competitions for the last three years.

Moreover, his season's best this year was just two seconds off the fastest time recorded in these distances. His inspiration for a shot to finish in the medal brackets could be the high altitude training camp of Iten in western Kenya.

Iten, more fondly referred to as "home of champions" for the likes of Mo Farah, the European 10,000m record holder, David Rudisha, the Kenyan 800m world record holder and Paula Radcliffe, current women's world marathon record holder, has been Kipsiro's training abode for the last month. Kipsiro, just like Benjamin Kiplagat (3000m steeplechase), Stephen Kiprotich (marathon), Abraham Kiplimo (5000m), Janet Achola (1500m), Jane Suuto (marathon) and Thomas Ayeko could richly benefit from a decision by the administration to train in the western Kenyan camp as opposed to the hilly south western Kabale town of Uganda.

Heard of wild cards?

Not surprisingly, only team captain Ganzi Mugula and wild card Jamila Lunkuse (both swimming), Edwin Ekiring (badminton) and wild card Charles Ssekyaaya (weightlifting), aren't runners among the 15 athletes to represent Uganda. The unsurprising shock of course, is the absence of a boxer on the team.

Amateur boxing has been the worst managed sport in the last decade and yet, four of Uganda's six Olympic medals are boxing medals.

It is now left to Annet Negesa (800m bronze medallist at the recent world athletics challenge in Holland) and Benjamin Kiplagat (bronze medallist at the Africa senior athletics championships in Benin) to spice up Kipsiro and Inzikuru's medal possibilities.
The late John Akii Bua's 1972 Munich medal in the 400m hurdles is still Uganda's only Olympic gold. Forty years later, we are still waiting. Could this be finally the time to inspire a new generation to a string of golds? London 2012 holds the key to the answer.