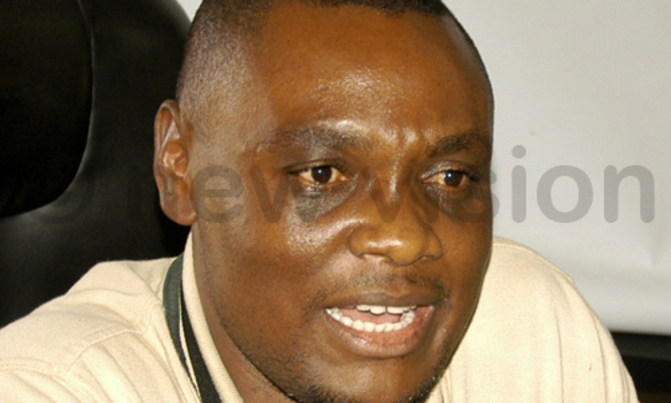 THE Department of Inspection and Legal Services, Ministry of Internal Affairs has arrested 38 foreigners, including traders illegally operating their businesses in Uganda
By Innocent Anguyo
THE Department of Inspection and Legal Services, Ministry of Internal Affairs has arrested 38 foreigners, including traders illegally operating their businesses in Uganda.
Addressing the press at the Ministry of Internal Affairs premises, Simon Peter Mundenyi, a senior immigration officer said the arrests were made in routine inspections, after months investigating the suspects for illegal stay and working without permit.
Most of the foreigners arrested operate small and median sized shops for household items. Others operate supermarkets, while some work in industries.
Undercover inspection officials even had shopping in facilities of some of the very people they arrested. 
"Usually, we would go to their shops and work places in uniforms and officials vehicles but they hide and elude arrest. This time around, we went in plain clothes and private cars and busted them," narrated Mundenyi.
Dozens of the people arrested were released within hours, but more than a dozen face deportation for immigration violations. Those who presented sureties were let go on immigration bond, while the rest were detained pending further investigations into their cases.
Officials say Immigration and Inspections agents rounded up 38 people at 3 locations in three day. Most of those arrested were Chinese nationals, while the rest comprised Indians, Pakistanis, Somalis and a Nigerian. 
The first operation on Tuesday in down town Kampala saw one person, a Chinese, Li Zhu arrested.
Thursday's raid on a car bond in Kyambogo led to the arrest of 11 people. These included Fazeer Tahir, Chand Tarlok, Far Han, Rizwan Ud Din, Muhammad Aslam Malik, Zulfiqar Ali, Haris Mirza Nasir, Qasir Muhammad, Muhamed Fahed, Fiaz Ahmed and Salah Ali Ismail.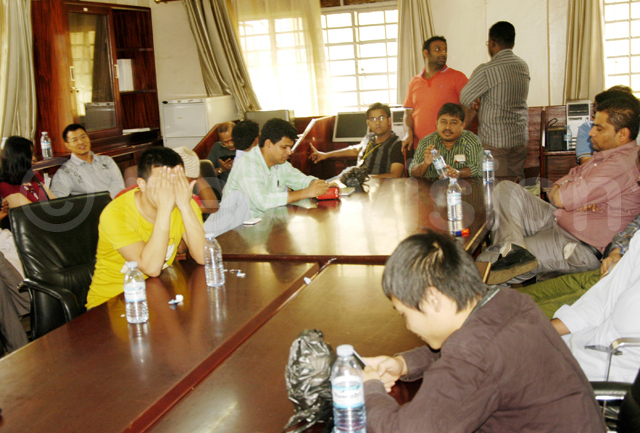 Some of the suspected illegal immigrants of Asian origin held at Ministry of Internal Affairs, Immigration department after the operation. Photo by Ronnie Kijjambu 
Those arrested on Friday, along Nubugabo road in down town Kampala were Tihumail Rajaran Sararanan, Rizwan Nazir Mirkar, Amit Kabadgi, Augustine Akudobi, Hamsi A-lahi Mohamed and Abdiaziz Mohamed Ahmed.
More included Frederick Jacobs Pieterse, Bao Jiaqi, He Shanzhi, Hamza A , Rangan Derarajan, Syed Imran Ali, Muhammad Wasin, Asif Kadiwal, Kalyanasundaram Man, Liu Hui, Yan Gong, Huang Wangwang, Kaja Mohideed Sulaiman, Zhao Hongav, and Naivedya Chaturvedi.
Others were Parvej Ali Darve, Mohamed Abdnirani Dahir, Shankar Derarajan, Ke Zhang, and Lu Jie.
By press time, the rest of those arrested were still detained in police stations around Kampala. 
Mundenyi said they targeted undocumented workers who were running businesses illegally and those whose visa had expired. Some had entered the country as tourist but now run their own businesses, or work in industries without permits.
Some travelled to Uganda for short visits, but have since lived on, sometimes three months after elapse of their official stay here. 
Mundenyi however noted that, some of those arrested could have already renewed their visa, pending endorsement by ministry of internal affairs. Such persons, he noted would be released.
However, those who are working without work permits will be deported after paying a fine of $100 a day for illegal stay in Uganda. Some will be arraigned in court for immigration violation, before eventual deportation. 
By press time, the commissioner for Inspection and Legal service was yet to determine the fate of the 38. Last year, Uganda deported 329 foreigners out of 1,114 arrests.
38 foreigners arrested, face deportation