The defence team asks court to acquit Kampala businesswoman Jacqueline Uwera accused of killing her husband.
By Michael Odeng & Edward Anyoli
KAMPALA - Defence lawyers have asked the High Court to acquit Kampala businesswoman Jacqueline Uwera,  accused of killing her husband, Juvenal Nsenga, of charges of murder.
In his final submissions on Thursday, lawyer Alan Sseruliika told court presided over by Duncan Gaswaga that prosecution had failed to prove that there was intention to kill since no witness brought forth that evidence.
"Prosecution witness four, five and six who include Joseph Kananura, Moses Kananura [the deceased brother] and Saad Ndayiza clearly stated that they had no knowledge that the accused had such intentions," he said in a fully packed court.  
He said there was no evidence of malice aforethought by the accused or knowledge of the same, and hence the death of Juvenal Nsenga was not murder as alleged by the prosecution side.
"In cases of homicide, the intention and knowledge of the person at the time of committing the offence is rarely proved by direct evidence," he added.  
"This accident killing is called a killing by misadventure or misfortune without culpable negligence. It is excusable and is subject to no punishment or forfeiture. It is my prayer that the accused is acquitted of the charges and neither is she guilty of manslaughter," he defended.
 

Lawyer Allan Sseruliika talks to Jacqueline Uwera during her trial. PHOTO/Kennedy Oryema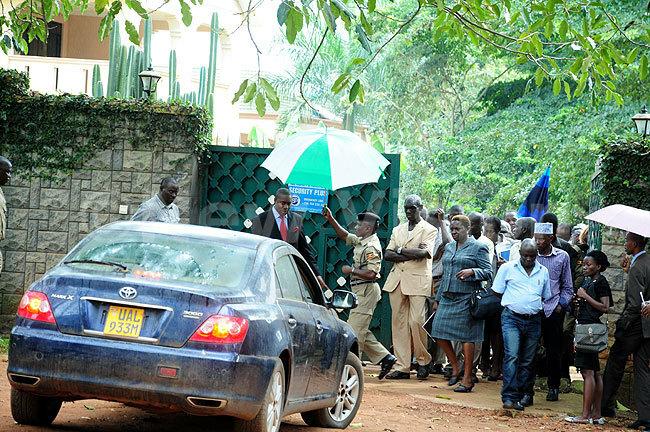 Justice Duncan Gaswaga, deputy CID Director Godfrey Musana and State Prosecutor Suzan Okalany overseeing a demonstration of the vehicle which Jacqueline Uwera Nsenga on the fateful night. PHOTO/Peter Busomoke
Sseruliika said that malice aforethought is established if the accused had the intention to cause death of any person and knowledge that the act or omission will probably cause death of someone.
He said the deceased's last words 'my wife has killed me in my own home or compound' was a dying declaration and that malice aforethought can be inferred from that. 
The defence lawyer went on to say that prosecution had intended to call more than 20 witnesses but 13 turned up, but medical personnel from Paragon Hospital who received the deceased and were present throughout until he died were not summoned to testify.
Defence wants Uwera acquitted